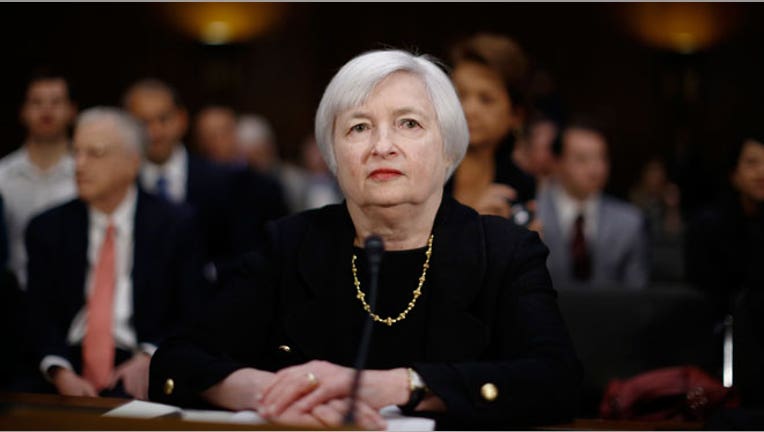 The Federal Reserve this week is widely expected to ignore a short-term inflation trend caused by lower energy prices and prepare markets for higher interest rates next year by dropping the phrase "for a considerable period" from its meeting statement.
The policy-setting Federal Open Markets Committee meets for two days -- Tuesday and Wednesday -- with the statement scheduled for release at 2 p.m. ET Wednesday and a press conference by Fed Chair Janet Yellen to follow.
The Fed added the phrase "for a considerable period" to its statement earlier this year to assure markets that interest rates would stay low well beyond the end of the Fed's bond-purchasing program known as quantitative easing. The bond-buying program ended in October and markets are now anxiously awaiting word as to when the Fed will raise rates and how central bank policy makers will communicate that move.
The Fed has said it won't raise rates until it meets its dual mandate of full employment and price stability, which it describes respectively as an unemployment rate in a range of 5.2%-5.6% and inflation at a range of 1.7%-2%.
The unemployment rate is well on its way to reaching the desired range but inflation has been more problematic, running much lower than the Fed's 2% target rate for months, mostly due to stagnant U.S. wages.
A Temporary Event
But rapidly falling oil prices have recently put even more downward pressure on inflation as a barrel of oil has fallen well-below $60, driving down the price of gasoline across the U.S. The price of oil has fallen sharply since June amid mounting supplies and concerns for a global economic slowdown that would cut into demand.
This is likely a temporary event, however, and not expected to impact the Fed's long-term thinking.
"For the Fed meeting this week, lower oil prices of course mean lower headline inflation in the short run.  However, even if oil settles at current lower prices, its fall represents only a temporary inflation break while powering stronger consumer spending and job growth in the U.S. in the year ahead," said David Kelly, chief global strategist at J.P. Morgan Funds. "For this reason, the FOMC is likely to remove its promise to keep short-term rates low for a 'considerable time' this week -- a clear warning of a first rate hike in the first half of next year."
Most analysts have interpreted the "considerable period" phrase to mean about six months, which means if the phrase is removed this week and the Fed maintains its current timetable, interest rates will likely start moving higher in mid-2015.
Some Fed policy makers have suggested the phrase "a considerable period" might be replaced with a single word, "patience." That would adhere to the dovish stance taken by Yellen and other influential members of the FOMC -- an intentionally ambiguous position designed to reassure markets that the Fed is in no hurry to raise rates but that the move is now likely to come sooner rather than later.
Fed Doesn't Like Surprises
Yellen and her dovish FOMC colleagues have been reluctant to strip away all of the Fed-initiated stimulus that has pumped cash into the economy since the 2008 financial crisis. Raising interest rates will make it more expensive for consumers and businesses to borrow money, raising the costs on everything from a mortgage to a car loan. And it will cost businesses more to borrow for capital improvements and expansion, which could cut into hiring.
For these reasons the Fed has held off on interest rate hikes, waiting until an array of economic indicators suggest that the economy is healthy enough for such a move.
Meanwhile, on the other side of the monetary policy spectrum, inflation hawks have advocated moving up the time-table for raising rates in an effort to ward off runaway inflation and potentially dangerous asset bubbles caused by all the free-flowing stimulus money.
That argument has been mostly held at bay by the stubbornly-low inflation rate. However, if inflation starts to pick up due to rising U.S. wages and a tightening U.S. labor market, the doves might reconsider their cautious approach toward lifting rates.
But that's unlikely. The Fed doesn't like surprises because markets don't like surprises, which means the Fed will almost certainly stick to a mid-2015 liftoff schedule unless something extraordinary happens between now and then.
And the Fed will probably move one step closer to liftoff this week by eliminating the "for a considerable period" phrase from its statement language.