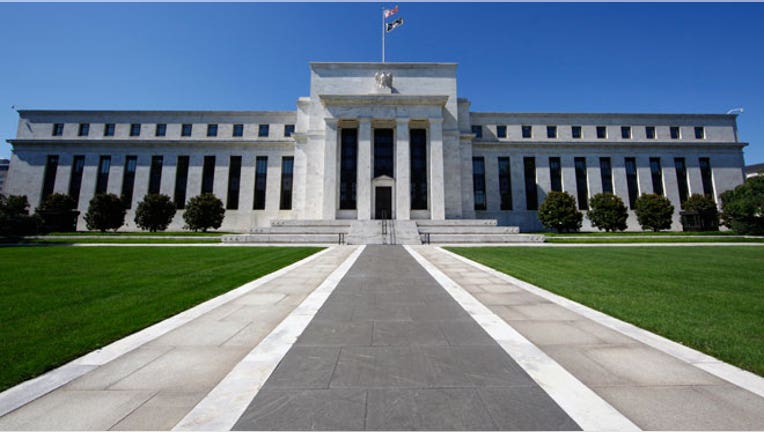 The Federal Reserve on Wednesday announced no changes to its easy-money policies, instead using its July statement to clarify and reaffirm that bond purchases will continue and interest rates will remain low for the foreseeable future.
As was widely expected, the Federal Open Markets Committee, the 12-member board that sets most Fed policy, kept interest rates at near zero percent and maintained the Fed's $85 billion monthly bond purchase program known as quantitative easing.
Analysts had predicted as much.
"At the end of the day, we're still in a slow growth economy with high unemployment and low inflation. And with that backdrop the Fed has no reason to start scaling back the $85 billion in monthly bond purchases," Greg McBride, senior financial analyst at Bankrate.com, said ahead of the release of the Fed's statement.
Stock markets added to gains after the statement's release, apparently pleased that the stimulus programs will continue.
In subtle a shift in wording, the FOMC statement said the economy is growing at a "modest" pace. Previous Fed statements have said the economy is growing at a "moderate" pace. The Fed also reiterated that fiscal policy, which has included a tax increase and cutbacks in government spending, is "restraining" economic growth.
The July statement took a stronger position on inflation than recent statements, saying the low rate of inflation – currently about 1%, well below the Fed's target rate of 2% -- could pose risks but that the long-term inflation picture isn't cause for immediate concern. The short-term concern is over deflation, which occurs when prices fall because demand is weak and can lead to a long-term stagnant economy.
Rising mortgage rates were also singled out as a concern.
The FOMC voted 11-1 in favor of maintaining its current policies, with Kansas City Fed President Esther George casting the lone dissenting vote. George has voted in dissent of easy-money policies at every Fed meeting this year.
The Fed has said for months that the key Fed funds interest rate, or the rate banks charge one another for short-term loans, will remain near zero at least until the unemployment range falls to 6.5%.
The only recent change in Fed policy regarding the funds rate is that Bernanke has taken pains to make it clear that the 6.5% unemployment rate is a "threshold" rather than a firm target. In other words, the unemployment rate could hit 6.5% but the Fed may see other economic indicators – housing, manufacturing, whatever -- that requires the Fed to keep interest rates low.
After weeks of market speculation and Fed clarification on when and how the central bank will begin phasing out bond purchases, Fed policy makers evidently want to make it clear to investors that the timing of bond purchase tapering is not connected to the timing for raising interest rates from their historic lows.
The Fed said in its statement Wednesday that low interest rates will remain in place "for a considerable time" after bond purchases are phased out.
The Fed lowered the funds rate to an historically low range of 0%-0.25% in December 2008 during the peak of the financial crisis. The Fed has also nearly tripled its balance sheet to $3.6 trillion through bond purchases since 2008. Both efforts are aimed at spurring economic activity by lowering long-term interest rates.
The Fed statement reiterated the central bank's often-stated message of recent months that bond purchases will only begin to be phased out once economic data shows that the program is no longer needed. Specifically, the Fed is looking for a stronger U.S. labor market.
Economists are predicting that the U.S. added 184,000 jobs in July, fewer than the 195,000 added in June but enough to reduce the unemployment rate to 7.5% from 7.6% in June. The Labor Department will release its July jobs report on Friday.
Meanwhile, a government report on Wednesday showed GDP expanded at a faster-than-expected 1.7 percent annual rate in the second quarter, but the figure for the first quarter was revised down to 1.1 percent from 1.8 percent.
Fed Chairman Ben Bernanke has said the unemployment rate is too high and overall workforce participation too low for the Fed to end its easy money policies any time soon.
Bernanke spooked markets last month when he suggested a hypothetical time frame for when bond purchases might be tapered, saying the process could begin as early as September and end by mid-2014. His comments sent stock markets plunging and bond yields surging.
Many investors mistakenly tied the phasing out of bond purchases to raising interest rates. The thought was that if bond purchases were ending sooner rather than later, interest rates will also be raised sooner than later as well.
Bernanke and his colleagues have spent the past six weeks vigorously attempting to clarify their message.
"The market is addicted to Fed stimulus and investors shudder at the mere mention that eventually that stimulus is going to have to be scaled back," said McBride.