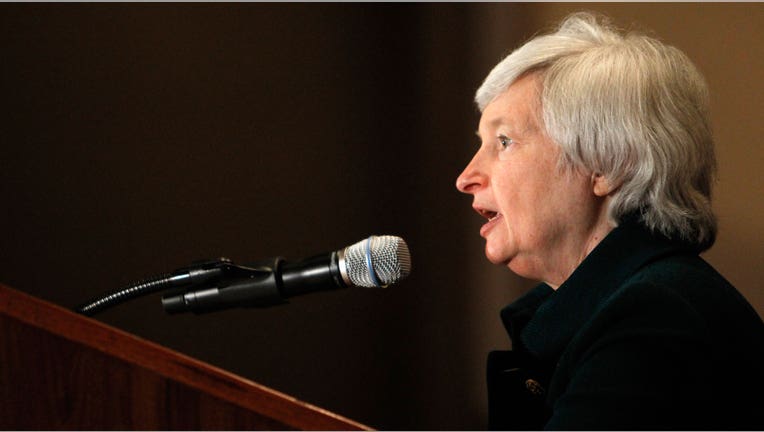 Damned if you do, damned if you don't.
That's the situation Janet Yellen finds herself in as she and her colleagues at the Federal Reserve work to wind down the central bank's unprecedented stimulus policies enacted in the wake of the 2008 financial crisis.
The markets want clarity and specifics, but then often react badly when they get them. What's more, when the Fed tried to offer a specific timetable for raising interest rates it backfired on them, forcing policy makers to recalibrate.
Nevertheless, the quest for specifics has turned into something resembling a high-stakes game of cat and mouse. The cats – financial analysts and market participants, the media and politicians – relentlessly jab their paws at the mouse – Yellen, for the most part – in an effort to glean more information on when and how the Fed plans to start raising interest rates.
Witness Wednesday's exchange between Congressman Kevin Brady, a Texas Republican, and Yellen during the Fed chair's testimony before the Joint Economic Committee.
Brady, who chairs the committee, repeatedly pressed Yellen for a specific timetable for when interest rates might start moving higher, suggesting that the longer the Fed waits the more likely inflation will rear its ugly head.
In a memorable back and forth, reminiscent of a wily prosecutor and a less-than-forthcoming witness, Brady rephrased his question several times, but with each new approach doing his level best to nail down a specific timeframe from Yellen.
The 'Brooklyn Dodger'
Yellen resisted each thrust, parrying the Congressman's jabs with non-answers such as, "there is no mechanical formula or timetable" and "there is no specific timeline for doing that."
Brady was stymied and Yellen promptly earned the moniker the "Brooklyn Dodger" from JPMorgan Chief U.S. Economist Michael Feroli, who recounted the exchange in a note to clients after the hearing was over. (Yellen grew up in Brooklyn, for those who didn't get the connection. And the Dodgers once played in Brooklyn.)
Feroli said Yellen "successfully dodged any attempts to attach more specific guidance on the timing of the first rate hike. Committee Chair Kevin Brady repeatedly goaded Yellen into giving a range of dates as to when to expect the first rate hike, but … Yellen spoke only in broad generalities, laying out the framework that will govern that decision."
And it's not just forces outside the Fed that are seeking clearer guidance on future central bank policy. In a speech on Thursday, Philadelphia Fed President Charles Plosser, an inflation hawk in contrast to the dovish Yellen, called for a shift to "rule-based behavior," or an economic model for guiding Fed decisions that would reduce uncertainty and provide more clarity on when and how the Fed sets policy.
"Systematic policies that provide important information about the policymakers' reaction function combined with other information, such as the policymakers' economic forecasts, can sharpen forward guidance in a way that reduces policy uncertainty and enhances economic performance," Plosser said in remarks to the Council on Foreign Relations.
Specifics that Ended Badly
But two very recent examples of attempts by the Fed to offer more specifics, both of them related to the market's overriding concern for when interest rates will be raised, ended badly.
About a year and a half ago the Fed set a threshold target of a 6.5% unemployment rate for moving rates higher. At the time the unemployment rate was hovering around 8% and the 6.5% target must have seemed a long way off.
As the unemployment rate fell through 2013 and into early 2014 it became increasingly clear, however, that the headline figure masked fundamental weaknesses in U.S. labor markets. Namely, that the rate was falling not because the economy was creating a tremendous number of new jobs each month but because thousands of Americans were leaving the workforce. Moreover, wages have been all but stagnant recently, and too many new jobs are either part-time or temporary, both troubling elements in an already fragile labor recovery.
In March the Fed was forced to discard the 6.5% threshold for raising rates in favor of an array of economic indicators, a move critics immediately branded as "too vague."
Yellen then exacerbated the confusion at a March press conference during which she took the bait cast by a reporter (also seeking specifics) and blurted out that interest rates could start to move higher six months after the Fed's bond purchasing program expires, expected to happen this fall. That would have moved the timetable for raising interest rates well ahead of previous expectations.
Without ever clarifying the "six months" remark, Yellen has since backed far away from it, offering instead a different set of specifics. Since making the "six months" gaffe, Yellen has said interest rates will not be raised at least until the Fed meets its dual mandate of maximum employment and price stability, described respectively as an unemployment rate of between 5.2% and 5.6% and inflation at a range of 1.7% and 2%.
The Fed – and just about everyone else who follows these sorts of things – has forecasted that happening around mid-2015. Consequently, unless the recovery stumbles badly again, just about everyone expects interest rates to start moving higher in mid-2015.
It's not concrete, but it seems pretty specific to me.