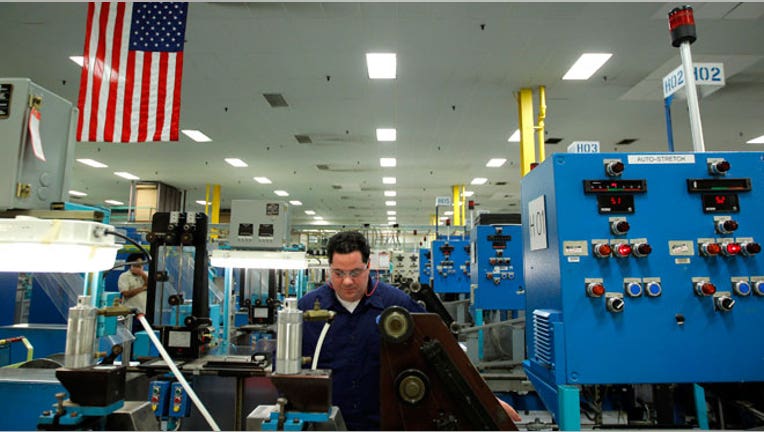 New orders for factory goods rose for a second straight month in May, adding to tentative signs of stabilization in manufacturing after a recent slowdown.
The Commerce Department on Tuesday said new orders for manufactured goods increased 2.1 percent. April's orders were revised to show a 1.3 percent rise instead of the previously reported 1 percent advance.
Economists polled by Reuters had forecast new orders received by factories increasing 2 percent.
Manufacturing slowed in recent months, weighed down by deep government spending cuts and slowing global demand, especially in China and the recession-hit Europe.
However, there are signs the loss of momentum has run its course or is at least starting to ebb.
Data on Monday showed a gauge of national factory activity bounced back into growth territory in June, with new orders pushing higher. That improving tone was also evident in reports last month showing a modest rise in factory output in May and a pick-up in business spending plans.
The Commerce Department report showed factory orders rose in most categories, though orders for motor vehicles fell 2 percent. However, new transportation orders jumped 10.9 percent.
Orders excluding the volatile transportation category rose 0.6 percent after edging up 0.2 in April.
Outside transportation there were gains in orders for machinery, computer and electronic products and primary metals. Orders for electrical equipment, and appliances and components orders also rose.
The department also said orders for durable goods, manufactured products expected to last three years or more, rose 3.7 percent instead of the 3.6 percent increase reported last week.
Durable goods orders excluding transportation were up 0.5 percent rather than 0.7 percent.
Orders for non-defense capital goods excluding aircraft - seen as a measure of business confidence and spending plans - increased 1.5 percent instead of the previously reported 1.1 percent rise.
Adding to the improving manufacturing picture, unfilled orders for factory goods rose 0.8 percent in May. Unfilled capital goods orders excluding defense and aircraft were up 1 percent. Shipments rebounded 1 percent after declining for two consecutive months.
Stocks of unsold factory goods were flat which should help the sector in the long-run, but probably not be supportive of economic growth this quarter. Factory inventories account for more than a third of business inventories.
The inventories-to-shipments ratio slipped to 1.30 in May from 1.31 in April. The unfilled orders-to-shipments ratio fell to 6.21 from 6.28 in April.