Factory, Jobs Data Highlight Struggling Recovery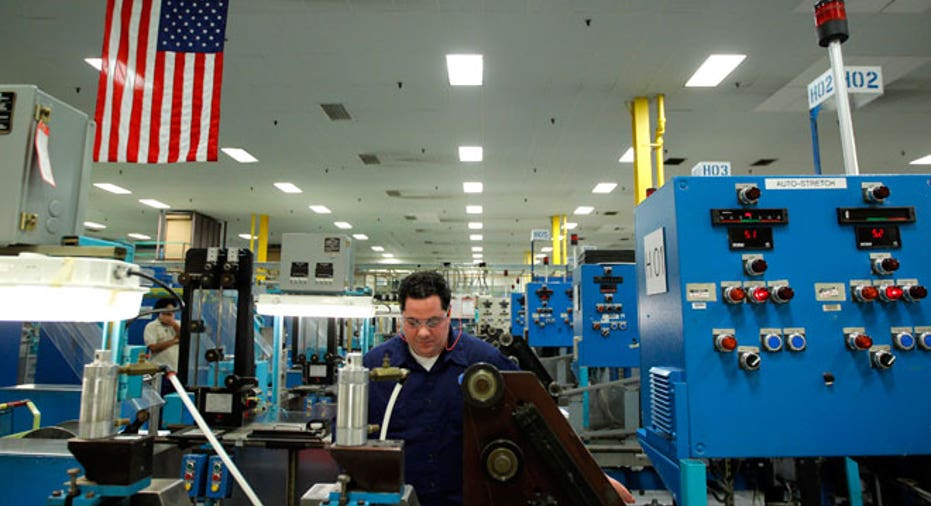 U.S. manufacturing grew at its slowest pace in 11 months in June and the number of Americans filing new applications for unemployment aid fell only slightly last week, further evidence the economy was weakening.
Other reports on Thursday underscored the difficulty the economy was having breaking out of a soft patch. Factory activity in the Mid-Atlantic region tumbled to a 10-month low in June and home resales slipped in May.
"Today's numbers are ugly. The economy is in another mid-year slump, growth will struggle to breach 2 percent and the odds are rising that the Fed will need to do more, probably as soon as its August meeting," said Ryan Sweet, a senior economist at Moody's Analytics in West Chester Pennsylvania.
The Federal Reserve on Wednesday moved to hold down borrowing costs by extending a program to re-weight securities it holds toward longer maturities. However, many economists think it will eventually launch a third round of bond purchases in a more aggressive bid to spur a stronger recovery.
The economy is going through a repeat of 2011 when growth stumbled in summer, with Europe's debt crisis and uncertainty over the course of U.S. fiscal policy making businesses reluctant to hire.
Financial information firm Markit said its U.S. "flash" manufacturing gauge fell to 52.9 in June from 54.0 in May. June's reading was the lowest since last July although it stayed above 50, indicating an expansion in activity.
For the second straight month, weaker demand from Europe and large emerging markets such as China dented sales. Markit said U.S. manufacturers reported the second largest decline in new export orders since September 2009.
JOB MARKET STAGNATING
In a separate report, the Labor Department said initial claims for state unemployment benefits slipped 2,000 last week to a seasonally adjusted 387,000. However, a four-week moving average, considered a better measure of labor market trends, hit the highest level since early December.
The claims data covered the survey week for the government's nonfarm payrolls count for June and pointed to only a marginal improvement on the paltry 69,000 jobs added in May.
"The labor market is appearing to be losing further momentum, with the economy likely to add jobs at a very modest pace in June, possibly within the 100,000 to 150,000 range," said Millan Mulraine, senior macro strategist at TD Securities in New York.
"This is likely to be well below the pace at which the Fed will feel sufficiently confident that the current economic recovery could be sustained."
The Labor Department will release its June employment report on July 6. Much of the recent weakness in the labor market has been due to a decline in hiring rather than a pick up in layoffs.
In a third report, the Philadelphia Federal Reserve Bank reported that factory activity in eastern Pennsylvania, southern New Jersey and Delaware contracted for a second month in June.
The dour reports handed stocks on Wall Street their worst day in three weeks. Prices for U.S. government bonds rose as investors sought a safe haven for their money, while the dollar notched its biggest one day gain in more than three months against a basket of currencies.
Manufacturing has been one of the strongest links in an otherwise frail U.S. economic recovery, but weaker overseas demand may be starting to take its toll.
Both the Markit index and the Philadelphia Fed survey showed weakness in employment measures.
"The close fit of the survey data with non-farm payroll numbers suggests that the official (employment) data for June will show a further weakening of the labor market," said Markit chief economist Chris Williamson.
Labor market weakness was key in the Fed's decision on Wednesday to extend its so-called Operation Twist program through the end of the year. It was due to expire this month.
In a relative bright spot, a gauge of future U.S. economic activity rebounded in May.
While sales of previously owned homes fell 1.5 percent last month, the drop followed April's hefty 3.4 percent increase and the median home price in May rose for a fourth straight month.