Exclusive: Odebrecht Peru may miss payments to creditors as assets seized - source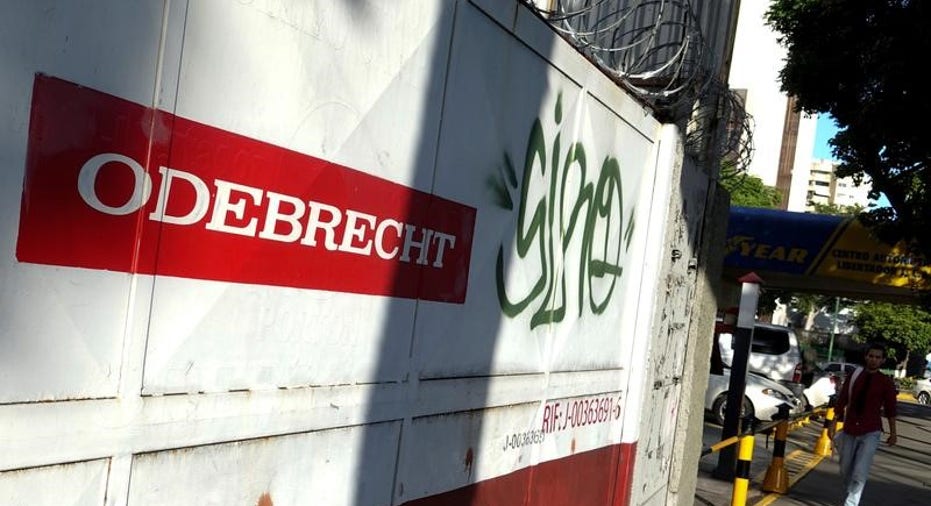 Odebrecht's Peruvian unit might not be able to pay creditors and suppliers starting next month after $30 million of its local assets were seized by authorities to ensure it will pay eventual reparations for bribes, a company source said.
The Brazilian company must make $50 million in payments in Peru in April but faces a "high risk" of not being able to because it lacks liquid assets, said the source, who spoke on condition of anonymity because he was not authorized to comment.
Odebrecht declined to comment.
Peru's tax authority Sunat said in an email that it has so far seized some $60 million in assets from Odebrecht and other Brazilian construction companies under investigation for graft, including OAS SA [OAEP.UL] and Queiroz Galvao.
Odebrecht has also been temporarily barred from transferring money abroad or receiving funds for assets it sells, because of new anti-graft laws in a decree passed by President Pedro Pablo Kuczynski last month.
The decree permits Odebrecht to transfer money from its frozen assets to pay its creditors if the justice ministry gives a green light, but a second Odebrecht source said the government has thus far refused to allow the company to do so.
The justice ministry did not immediately respond to requests for comment.
The measures are the latest financial strain for Odebrecht as it tries to offload assets to help pay down mounting debt and rapidly reach settlements in all 10 countries investigating it for corruption.
Odebrecht warned Kuczynski's government in a letter last week that its frozen accounts and seized assets might force it to miss payments to local and international creditors and scores of suppliers, the first source said. The company has asked that its properties or shares in companies be seized instead.
Kuczynski said he is merely looking out for Peru's interests.
"We want to set aside these resources in case there's a fine or compensation for the Peruvian state," Kuczynski said in a news conference last week. "To say 'go ahead, nothing's changed' is out of the question."
In December, Odebrecht admitted to U.S., Swiss and Brazilian authorities Brazil authorities that it distributed hundreds of millions of dollars in bribes to secure contracts from Peru to Panama over more than a decade.
Peru is seeking 200 million soles ($60 million) from former government and company officials accused of involvement in Odebrecht's kickbacks, including former President Alejandro Toledo. Toledo has denied any wrongdoing.
(Reporting By Marco Aquino in Lima, Additional Reporting by Tatiana Bautzer in Sao Paulo; Writing by Mitra Taj; Editing by Jonathan Oatis)