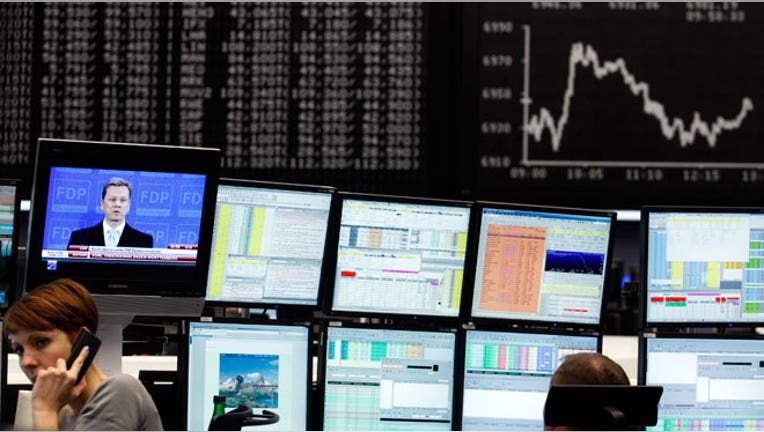 European shares bounced back on Thursday from their lowest close in more than a month as signs of progress in Washington on ending the U.S. budget stalemate whetted appetite for risk.
The FTSEurofirst 300 was up 1.2 percent at 1,239.58 by 1048 GMT, having ended the previous session at its lowest since Sept. 5. Banks and autos - both up more than 2 percent - led gains, as investors bought cyclical shares.
The Euro STOXX 50 Volatility index, or VSTOXX, also did an about-turn, down 13.6 percent after hitting a five-week high on Wednesday, signalling a sharp rise in demand for risk.
U.S. Republicans were looking into a short-term hike in the government's borrowing authority to buy time for talks on broader policy issues, a Republican leadership aide said on Wednesday. If the debt ceiling is not raised by an October 15 deadline, the United States could default on some debt.
House Republican leaders will visit the White House on Thursday. U.S. President Barack Obama has said he would accept a short-term ceiling increase as long as no strings were attached.
Despite the intense focus on the U.S. budget situation, the FTSEurofirst 300 is only 2.7 percent off a five-year high hit in September, with analysts saying that if investors really thought a U.S. default were possible, it would have fallen more.
"My attitude all along has been that it may cause a little bit of short-term uncertainty, but just keep your eye on the longer-term because it will get sorted out in one way or another," Societe Generale strategist Paul Jackson said.
"For me, growth is the most important thing at the moment, because European equity markets are cheap and what they need in order for the cheapness to result in decent returns is a little bit of economic growth which will then produce a reasonable amount of profit growth. So as long as U.S. economic momentum is okay, European economic momentum will continue to improve."
The Stoxx Europe 600 trades on a 12-month forward price/earnings ratio of 12.9 times, against the S&P 500 on 14.2 times, Thomson Reuters Datastream shows.
Jackson, who remains upbeat on European equity markets, said he would back value over growth, or the cheapest companies rather than those with growth potential. He likes miners which, according to Datastream, trade on a 12-month forward price/earnings ratio of 11.9 times.
Optimism about a U.S. breakthrough outweighed concerns about corporate earnings, with Kabel Deutschland among the latest European firms to issue a cautious outlook.
The cable firm shed 0.3 percent after it trimmed its revenue forecast for the current fiscal year and said a takeover of the company by Britain's Vodafone would hit net income.
"I think this is just the beginning of the tempering of expectations for the full-year because the first half wasn't good enough and the second-half growth isn't coming through as fast as people hoped," BTIG strategist Nick Xanders said.
Profit warnings have impacted stocks this month and analysts have cut 2013 earnings estimates for the STOXX 600 index by 3 percent since the start of the third quarter. ()