Elon Musk hints at support for new 2024 presidential candidate
Sen Tim Scott announced candidacy on Monday
Billionaire Twitter owner Elon Musk hinted at his support for newly announced 2024 presidential candidate Sen. Tim Scott on Monday.
Scott, a Republican from South Carolina, announced his candidacy at a Monday event, and his office tweeted out a live stream, saying, "Let's go!" Musk retweeted the announcement video from his own personal account, though he did not formally endorse Scott.
Scott is the latest candidate to join the growing Republican field, and more players are expected to enter the race. Currently leading the pack is former President Donald Trump, followed by former South Carolina Gov. Nikki Haley, former Arkansas Gov. Asa Hutchinson, and businessman Vivek Ramaswamy.
Fox News confirmed Tuesday that Florida Gov. Ron DeSantis will announce his intention to enter the race. He is expected to do so during a Twitter interview with Elon Musk on Wednesday at 6 p.m. ET. The scoop was re-tweeted by Musk himself.
Former Vice President Mike Pence is also widely expected to enter the race.
TIM SCOTT TELLS FOX NEWS GOP VOTERS HAVE 'HUNGER' FOR POSITIVE, CONSERVATIVE MESSAGE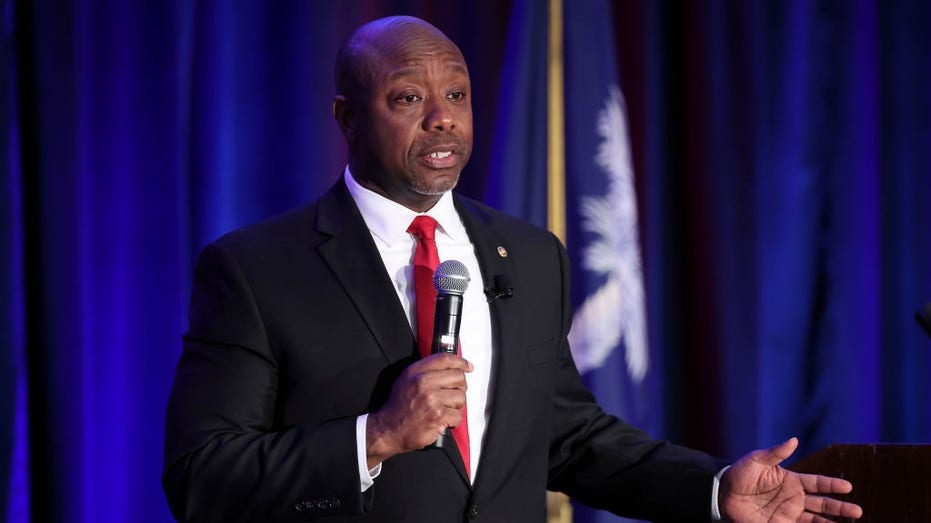 Scott, a rising star in the GOP and the only Black Republican in the Senate, is preaching what he described in an interview with Fox News on the eve of his campaign kickoff as an "optimistic, positive message anchored in conservatism."
WHO'S IN AND WHO'S ON THE SIDELINES — YOUR GUIDE TO THE 2024 GOP PRESIDENTIAL NOMINATION RACE
Scott took a swipe at Trump during his announcement speech Monday, asking, "Victimhood or victory? Grievance or greatness?"
"I choose freedom and hope and opportunity," Scott said.
CLICK HERE TO GET THE FOX NEWS APP
Scott expressed confidence Sunday that his entrance into the race will start to boost his polling numbers. Scott is currently in the single digits, far behind DeSantis and even farther behind Trump.
"I think after the announcement, I think the polls will start to change," Scott told Fox News on Sunday. "I think there's an enthusiasm that will continue to spread throughout the country. And we'll start doing the things candidates do, which will include going back to Iowa, New Hampshire, South Carolina and beyond. So, we'll spend the time, stay on the campaign trail and make sure we have the message that works."
Fox News' Paul Steinhauser contributed to this report.