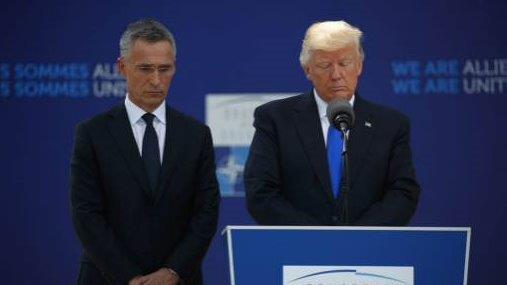 Former Defense Secretary Donald Rumsfeld on Friday praised President Trump's speech to NATO saying his message was "exactly right" when the president called out the alliance for its lack of defense spending.
"I think the message that he gave is exactly right. He said look, only five countries out of all the NATO nations are investing two percent in their national security and they need to get up and do it. They have to step up. It's the same message I gave in 1973, 1974 and five," Rumsfeld told FOX Business' Charles Payne.
In his first oversees visit to NATO headquarters in Brussels, Trump told members of the alliance that they need to reaffirm their commitment to defense spending.
"NATO members must finally contribute their fair share and meet their financial obligations … Many of these nations owe massive amounts of money from past years, and not paying in those past years. Over the last eight years, the United States spent more on defense than all other NATO countries combined," Trump said on Thursday.
The former ambassador to NATO said the president's message pressed the the intergovernmental military alliance to redirect its focus to finding a solution to combatting terrorism.
"He [Trump] basically said, this alliance was formed after World War II and it has a very good purpose and now the world has changed and things are different and this alliance, probably the most impressive military alliance in the history of the world, needs to begin looking at this problem of terrorism and it's a serious one. We just saw what happen in England and I think that message is a good one and there isn't any reason NATO countries can't calibrate their focus and be more successful dealing with terrorism," Rumsfeld said.