Divisions on Trade Dominate G-20 Global Summit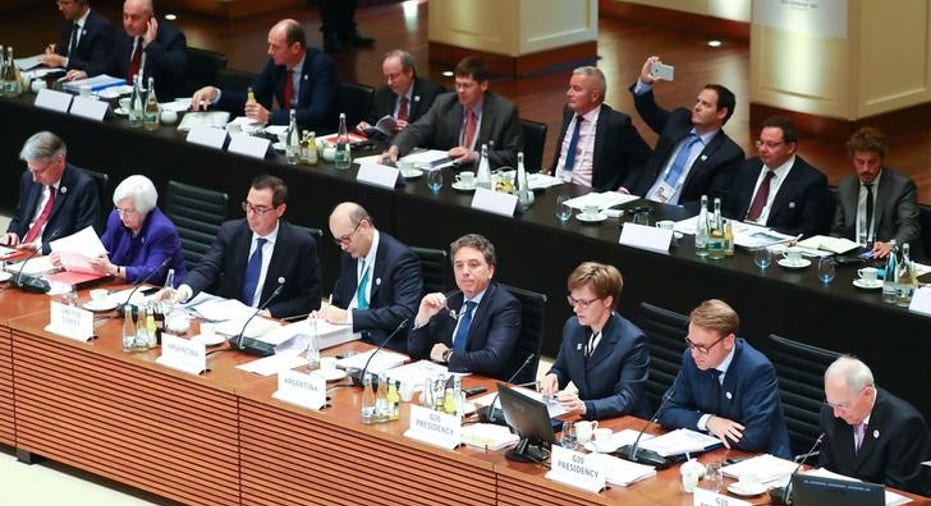 Germany-World finance chiefs struggled during a weekend of tense talks to find common ground on boosting trade in a global economy that is finally showing faint signs of momentum.
U.S. Treasury Secretary Steven Mnuchin, rejecting a concerted effort by rivals here, got finance officials to drop a disavowal of protectionism from a closely watched policy statement issued by the Group of 20 industrialized and developing nations.
For Washington, the watered-down language that emerged in their communiqué ensures the U.S. can still use sanctions or other policy tools to punish trade partners and thwart economic policies the Trump administration believes to be unfair.
Despite the pressure Mr. Mnuchin faced, Washington showed it still holds significant sway as the world's consumer of last resort: The G-20 adopted a pledge to promote fairness as it pursued economic growth.
G-20 officials warned the U.S. risks starting a tit-for-tat trade war if it acts too aggressively, but Mr. Mnuchin said Washington wants to avoid trade wars while seeking to rebalance off-kilter economic relationships.
German Chancellor Angela Merkel, who chairs the G-20 this year, signaled her frustration with global tensions over trade on Sunday, two days after a meeting with U.S. President Donald Trump, which at times appeared strained. Mr. Trump said after that meeting that he supported free and fair trade, but talks on a trans-Atlantic deal between the U.S. and European Union appear stalled.
"In times when we have to fight with many people about free trade, open borders, democratic values, it's a good sign that Germany and Japan don't fight," she said after a meeting with Japanese Prime Minister Shinzo Abe in Hannover, Germany.
Without mentioning the U.S. or Mr. Trump, her remarks seemed to be directed that way. "We want free, open markets.… We don't want to build up any barriers," Ms. Merkel said.
Mr. Trump has made trade a centerpiece of his economic agenda-vowing to win better treatment from rivals including Germany, China and Mexico.
"The United States has been treated very, very unfairly by many countries over the years," Mr. Trump said in Washington on Friday before meeting with Ms. Merkel. "That's going to stop."
But the president hasn't made it clear how hard he will push to win better trade terms or what tactics he will employ, leaving U.S. trade partners uncertain and at times frustrated.
Mr. Trump has vowed to rewrite the North American Free Trade Agreement and has threatened different measures-including tariffs on U.S. imports and punishment for U.S. companies that outsource jobs-to improve the U.S. trade position.
Saturday's G-20 statement dropped an earlier commitment to "resist all forms of protectionism," wording that appeared in a similar communiqué forged by finance officials in Chengdu, China, last July.
Most other G-20 officials pressed Mr. Mnuchin at the meeting to preserve that reference, but failed, a senior G-20 official said.
"It was not the best communiqué that was ever produced by the G-20, certainly," the EU's economics commissioner, Pierre Moscovici, said in an interview.
Although the G-20's commitments aren't binding, the promises made member countries lend the group power through diplomatic peer pressure. Past U.S. administrations believe, for example, the G-20 was effective in prodding China to appreciate its exchange rate and nudging the European Union to build a better financial firewall against sovereign-debt risks.
At a press conference on Saturday, Mr. Mnuchin said earlier language on protectionism "was not necessarily relevant from my standpoint." He also said some global trade agreements weren't being enforced, and that the new administration would be aggressive in doing so.
Cross-border trade terms can be beneficial to both the U.S. and other nations, Trump's economic envoy said. "We can do that in a way that's good for the American worker, good for our companies and that's good for our counterparties," he said.
German Finance Minister Wolfgang Schäuble, who hosted the Baden-Baden gathering, had hoped Mr. Trump's top economic envoy would offer a vision of U.S. trade policy that tempered the most aggressive threats by the president and White House officials, including unilateral tariffs and other punitive sanctions against trade partners.
But the G-20 treasury chiefs reached an impasse.
Mr. Schäuble said at a press conference that Mr. Mnuchin appeared to have no mandate to negotiate any new or creative commitments on trade.
"Sometimes you have to limit yourself at such a meeting to not asking too much of one partner. You can't ask too much of him anyway because he would then simply not agree to it," Mr. Schäuble said.
In failing to secure a written agreement from the U.S. that would repeat past G-20 vows to reject protectionism in all its forms, many officials said they were departing confused about where the Trump administration will ultimately land on trade policy.
The Treasury secretary advanced his boss's view, promoting "free and fair trade."
Mr. Moscovici, a former French finance minister, described Mr. Mnuchin as "a man who wants constructive engagement," who came to Europe "in listening mode." He said the meeting wasn't confrontational, and that it was a time "to try to identify with the new administration."
Still, Mr. Moscovici regretted the absence of a clearer mention of fighting protectionism or climate change, and pledged that the EU would push back against measures that undermined open and functioning markets.
At the meeting, Brazil Finance Minister Henrique Meirelles told the G-20 about his country's own experience with protectionism, as the country has just experienced its worst recession on record.
"We had adopted during the last years some protectionist measures for some sectors of the economy and the net result was not positive," Mr. Meirelles said in an interview. "At the end of the day, the products became more expensive and Brazil…became less competitive. In Brazil, we are moving toward a more open trade policy."
China was among the most vocal advocates for preserving the protectionist language, even though the country's industries, cross-border cash flows and exchange rate are still tightly managed by the Communist Party.
"China is positioning itself as an advocate for a free and open economy," said former top U.S. Treasury diplomat Nathan Sheets. "But in order for that to be credible, China would have to complement it with true steps to open up and liberalize its economy."
G-20 officials said they see both a new U.S. administration struggling to get up and running and competing power centers with different views on trade.
"Nobody knows what the endgame is," a senior G-20 official said. "Either the meeting is several months too early or it's perfect timing," giving the G-20 an opportunity to help temper U.S. policy before it is cemented.
Investors are still confused, for example, about the administration's dollar policy, having been given different signals from Mr. Trump and his lieutenants.
Asked who markets should heed, Mr. Mnuchin said: "They should listen to the president first and listen to me as well."
Evidence that it may just be too soon for the U.S. to offer the G-20 anything substantive on trade, financial regulation, tax overhauls and other policies, Mr. Mnuchin relied on senior civil servants to conduct much of the detailed negotiations at the meeting. The secretary's international diplomats have only recently been nominated and still must go through a lengthy confirmation process.
If trade czar Peter Navarro and Steve Bannon, a top Trump adviser and self-described economic nationalist, have their way, many officials fear the White House could trigger a trade war. The administration has advocated applying unilateral actions that eschew a rules-based multilateral order, including submission to the World Trade Organization's authority.
Others in the administration, including Mr. Mnuchin and Gary Cohn, director of the National Economic Council, hold a more internationalist view of the world. If they prevail in guiding administration policy, many G-20 officials see fiery campaign rhetoric being tamed in the coming months.
Mr. Schäuble said all G-20 delegations had agreed on opposing protectionism, but that it wasn't always clear what they meant.
Some countries are worried that failure to temper aggressive trade policy could not only trigger a round of retaliatory tariffs and a rise in other trade barriers that would damage global growth, but it also could exacerbate geopolitical tensions.
Last week, for example, U.S. Secretary of State Rex Tillerson raised the option of a pre-emptive strike against North Korea because Pyongyang's nuclear-missile program poses a growing threat to U.S. ally South Korea.
China traditionally is able to strong-arm Pyongyang into cooling hostilities. But if U.S.-China trade tensions escalate, Beijing may in the future be less cooperative in playing that role, some analysts warn, raising the risk of a dangerous regional conflict.
The U.S. delegation found a rare ally in Japan, which came to Mr. Mnuchin's defense, saying talks over American protectionism were overblown.
"I feel that many of those talks are exaggerated and made up," Finance Minister Taro Aso said, adding that a summit meeting held earlier this year between Messrs. Trump and Abe involved "no discussions whatsoever that smacked of protectionism."
Still, the International Monetary Fund is worried.
"We should collectively avoid self-inflicted injuries," IMF Managing Director Christine Lagarde warned the group. Global cooperation can boost world growth, she said, but "the wrong ones could stop the new momentum in its tracks."