Dina Powell, Gary Cohn may face headwinds post-Trump if they return to Wall Street
Is there a life on Wall Street after working for President Trump?
That's the question facing Dina Powell, who resigned last week as President Trump's deputy national security adviser and almost immediately began reaching out to her old friends and former colleagues at Goldman Sachs (NYSE:GS), the big Wall Street firm where she worked before joining the Trump administration in 2017. It's unclear exactly what was communicated by Powell during these interactions, other than touching base with her old firm that she was leaving the administration, according to people with direct knowledge of the matter.
It's also a question looming for another Goldman Sachs alum, Gary Cohn, the former No. 2 of the big Wall Street firm who is currently director of the White House's National Economic Council, one of the president's top economic advisers. Cohn has recently indicated to his Wall Street contacts that he too will be leaving the administration sometime in 2018, after he finishes his work spearheading the president's tax-cut plan, according to people with direct knowledge of those conversations. The Trump tax plan includes something that will endear Cohn to the Wall Street crowd: A massive corporate tax cut, taking the federal rate to around 20% from its current level of 35% – one of the highest in the world.
Either way, Powell and Cohn have signaled they want to come back to Wall Street, even though working in the volatile Trump White House might pose more difficulties than what other former executives faced after spending some time in government, these people add. Some people on Wall Street say both will have a difficult time, in particular, returning to Goldman, the powerful investment bank that Trump railed against during the 2016 presidential campaign even as he began poaching some of its former executives for his administration.
People close to Cohn say he is unlikely to return to a major investment bank, while those close to Powell say she still has enough support inside Goldman possibly to return if she wants to, though it might not be easy given the internal politics at the big bank.
"I don't think they will have a problem getting a job somewhere on Wall Street," said Chris Whalen, an independent bank analyst. "But for a lot of reasons, they may not return to Goldman or a firm like Goldman. Still, they will get jobs because they're talented people."
Powell, a smart and genial former government affairs official at Goldman for nine years, is said to be admired by many executives on the Goldman board as well as the firm's powerful chief of staff and executive vice president, John Rogers. But it's unclear if the firm's CEO, Lloyd Blankfein, will support her return, say people close to the company. Blankfein had been a longtime supporter of Hillary Clinton, who Trump beat in the 2016 presidential election.
For 27 years and until he joined the administration in early 2017, Cohn was a hyper-aggressive former commodities trader at Goldman before he became Blankfein's second-in-command during some of Goldman's most lucrative years of big trading profits and dark times amid losses during the 2008 financial crisis that nearly tanked the firm.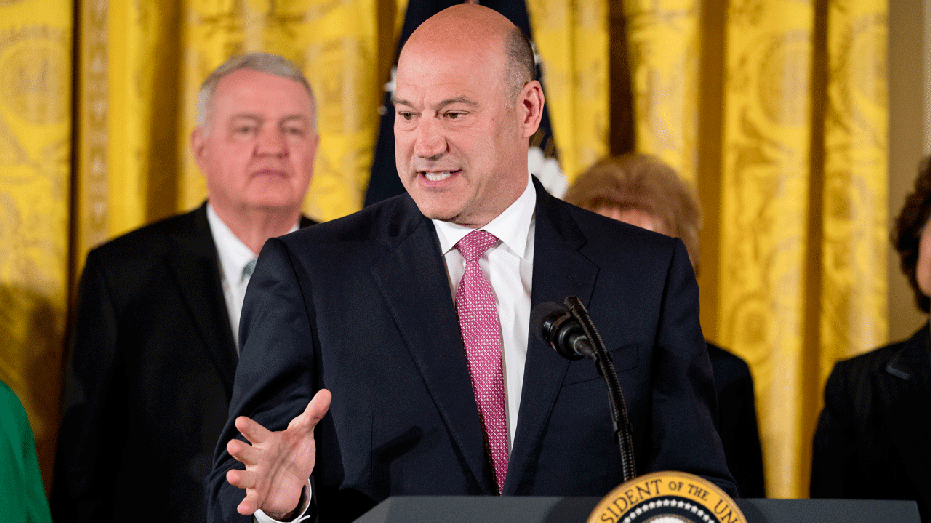 People at Goldman say he has an even slimmer chance to returning to the firm than Powell primarily because Blankfein, who may soon announce a retirement date, has already signaled his successor from inside the company's management ranks, the firm's co-presidents, Harvey Schwartz and David Solomon.
A White House spokesman declined to comment about Powell's contacts with Goldman and referred all questions about Cohn's future to several interviews where he said he would stay long enough to help the president's economic agenda without citing any particular timeframe for a possible departure. FOX Business was also referred to recent comments by Deputy Press Secretary Raj Shah, who called Cohn's pending exit "pure speculation."
A Goldman Sachs press official wouldn't comment on the contacts with Powell, but would not deny they occurred last Friday when she announced her departure that will take place sometime early next year.
Experience in government has traditionally been a precursor to bigger paychecks for Wall Street executives given the power and control exerted by the federal government over various business issues. Goldman was often referred to as "Government Sachs" since many of its executives went on to prominent jobs in Washington and the firm hired prominent government officials for key posts. But this same experience working in the Trump White House may not translate into big bucks given the unique nature of the current administration, some of its economic policies, and the president himself.
At the end of the president's first year in office, his economic agenda contains an odd mix of both pro-business edicts on regulations and taxes, and a strident form of anti-big business populism (such as the president's often stated goal of ditching the North American Free Trade Agreement) and other policies that are embarrassing to business leaders. The president's volatile nature and his frequent use of Twitter to harangue political opponents and even reporters are also points of embarrassment for prominent Wall Street executives.
Case in point: During the summer, Trump seemed to equate neo-Nazis and peaceful demonstrators during a protest over Confederate war memorials in Charlottesville, Virginia, in what was seen as a clumsy move to appease certain members of his ultra-right-wing base.
Trump's statement that there were "very fine people" on both sides of a rally prompted a number of top CEOs, including people like JPMorgan's (NYSE:JPM) chief Jamie Dimon and Steve Schwarzman, the CEO of private equity giant Blackstone (NYSE:BX), to quit and ultimately disband major business advisory boards.
CEOs privately stated that they were uncomfortable seeming to remain close to Trump over fears of backlash from the general public if they appeared to be endorsing his remarks. Reflecting the views of these businesses executives, both Cohn and Powell immediately stated privately they were unhappy with the president's remarks.
Cohn then went further in an interview with the Financial Times, stating emphatically that the peaceful protesters should never be equated with neo-Nazis, a rebuke to the president that appeared to incense Trump so much that it cost Cohn possible presidential appointment to replace Janet Yellen as Fed chair, which instead went to Jerome Powell (no relation to Dina Powell).
It's unclear how Dina Powell's remarks, which like Cohn's were leaked to the press, were viewed by the president or even her colleagues on Wall Street.
But with this and other types of controversies swirling around the administration, working for Team Trump will not carry the same cache as working for past administrations, according to Wall Street executives.
"Business people inside the administration know working for Trump has hurt them somewhat," said one high level Wall Street executive. "I guess we will soon find out just how much it has hurt them when they start leaving and looking for job."