Despite tough talk, Canada seen unlikely to walk away from NAFTA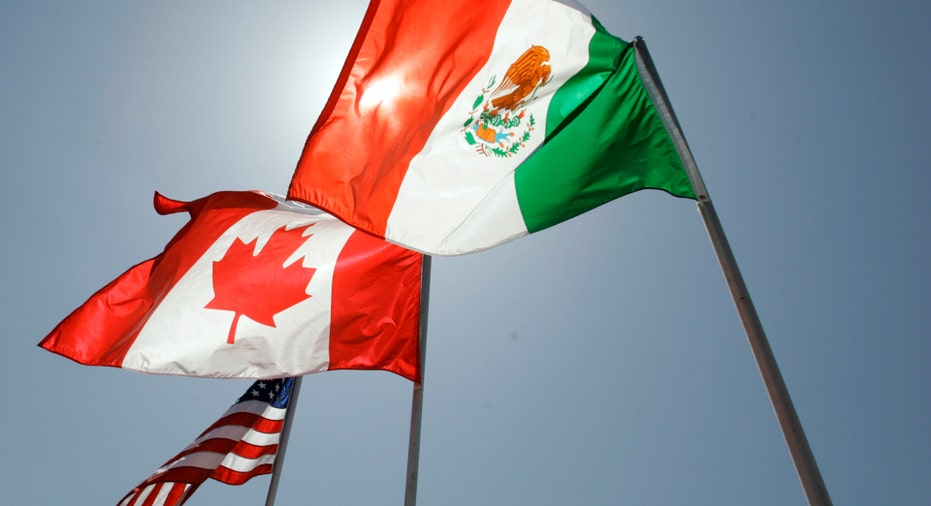 Despite Canada's threats to walk away from NAFTA talks if necessary, its limited success in diversifying exports leaves the nation too reliant on U.S. markets to play hardball, government insiders and trade experts say.
Negotiators from Canada, Mexico and the United States will gather in Ottawa on Saturday for the third round of talks on modernizing the North American Free Trade Agreement with many tough items yet to be broached.
U.S. President Donald Trump says he will ditch the pact unless major changes in are made. Canada last month suggested it could walk away if the United States pushed to remove a key dispute-settlement mechanism.
But insiders say leaving the table remains very much a last-ditch measure for the government of Liberal Prime Minister Justin Trudeau.
"The desire is 100 percent to modernize ... it is still true to say no deal is better than a bad deal but obviously that would be a pretty extraordinary set of circumstances," said one person familiar with government thinking.
The United States accounts for 75 percent of goods exports from Canada, where firms flourish operating next to the world's largest economy. Transport costs are low, both nations operate in English and employ the same business practices.
If NAFTA ceased to exist, Canadian and Mexican exports would in theory be subject to a 3.5 percent tariff applicable to members of the World Trade Organization.
A survey by Export Development Canada last year predicted that under such scenario, Canadian gross domestic product would shrink by 1.9 percent a year and many jobs would be lost.
Since NAFTA came into force in 1994, supply chains have become so integrated that borders barely exist, especially for key sectors such as the auto industry.
"Is this the most important trade agreement for Canada? Damn right it is," said Dennis Darby, president and CEO of the Canadian Manufacturers and Exporters, adding that dismantling the deal would be like trying to "unwind a clock."
Mexico, which has a much more tense relationship with Trump than Canada does, is more assertive. While an even greater share of its exports - around 80 percent - go to the United States its officials point out that half of that is not subject to NAFTA rules.
Experts say some Mexican firms choose to pay WTO tariffs rather than follow complex procedures to get their goods into the United States duty-free.
Mexican Foreign Minister Luis Videgaray last week told Reuters "there would be no leap into the abyss" if NAFTA vanished and said Mexico would deepen trade with other nations.
ENDURING CONCERN
Similar data for Canada was not immediately available, but Canadian exports of softwood lumber, for example, are not covered by NAFTA.
The dependence on a single market has worried Canadian governments on and off since the early 1970s, when the Liberal administration of Pierre Trudeau - Justin's father - tried to boost access to Japan and the European Union.
Yet by 2000, the share of Canadian goods exports going to the United States had risen to a staggering 84 percent from 67 percent in 1973.
"The major economies outside of North America have trouble taking Canada seriously ... it's not easy being Canadian," said Derek Burney, a former Canadian ambassador to Washington who worked on NAFTA.
It took Canada the better part of a decade to nail down a free trade deal with the European Union, which went into effect on Thursday.
Trade Minister Francois-Philippe Champagne says this means Canada will be a market that has preferential access to more than 1.2 billion consumers in 40 nations.
"The United States will always remain our largest trading partner because the geography dictates that. It's been a very fruitful relationship ... but you also have to look at the future," he said.
Whether firms see it that way is another matter. Burney and others have long complained about what they see as a lack of global ambitions.
"For many companies, why should they go beyond North America? It's just there, it's a big market, it's easy and why try to go to Europe or Asia? It's a lot of work and it's difficult," said University of Ottawa professor Patrick Leblond, one of Canada's leading trade experts.
Burney said Canada could use more leverage when negotiating with the United States by intensifying efforts to diversify exports to China.
"Right now, they (the Americans) think both Mexico and Canada don't have any other options," he said.
But although the Liberals came to power in 2015 promising to expand trade with China and India, those familiar with the pace of exploratory negotiations say it could take a decade for significant deals to be signed.
(By David Ljunggren; Additional reporting by Frank Jack Daniel and Adriana Barrera in Mexico City; Editing by Tomasz Janowski)