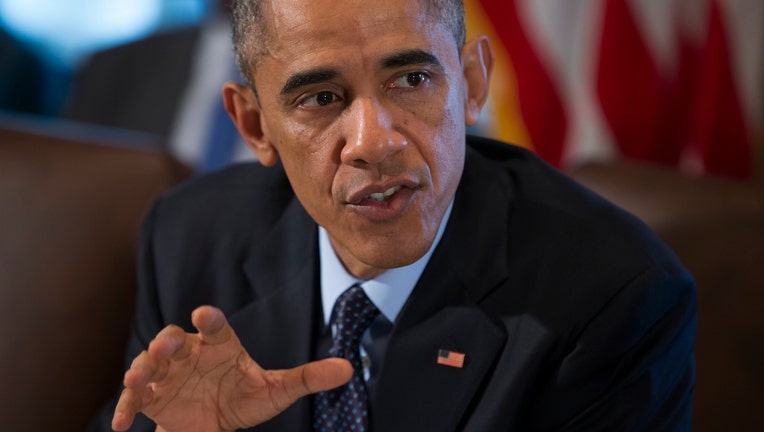 President Barack Obama on Friday called the latest jobs report a testament to the hard work and resilience of Americans in the aftermath of the financial crisis, but also acknowledged concerns about the economy for many in the country.
"Despite this solid growth, despite the drop in unemployment, there are still a lot of folks out there who are anxious about their futures, who are having trouble making ends meet at the end of the month or saving for their kid's college education or being able to make sure they are able to retire with dignity and respect," Mr. Obama said ahead of a meeting with his cabinet.
Nonfarm payrolls grew a seasonally adjusted 214,000 in October, the Labor Department said Friday, while the unemployment rate fell to the lowest level since 2008. Earnings were up 2% compared with a year earlier, just above the rate of inflation.
"Everything that we do over the next two years is designed and geared towards ensuring that folks who work hard in this country are able to get ahead," Mr. Obama said.
The White House had struggled to advance much of its agenda ahead of midterm elections. And on Tuesday, the president's party was beaten badly by Republicans. The GOP now controls both chambers of Congress for the first time since 2006.
Mr. Obama called the election results "significant," adding that he also was looking forward to working with Republicans on issues such as trade, early childhood education and ways to expand manufacturing employment.
"All these issues are ones in which there is the strong possibility of bipartisan cooperation as long as we set politics aside for a moment," Mr. Obama said.
The president is scheduled to meet with congressional leaders later Friday at the White House.
Mr. Obama also touched on foreign affairs, saying his administration would remain focused on the fight against Ebola both in the U.S. and in West Africa, and efforts to destroy Islamic State.
"We have made progress in building the kind of public-health infrastructure we need to deal with any eventualities with respect to Ebola but it is still a concern both here domestically but most importantly still a concern internationally," he said.