Death Toll Climbs as Sandy Recovery Continues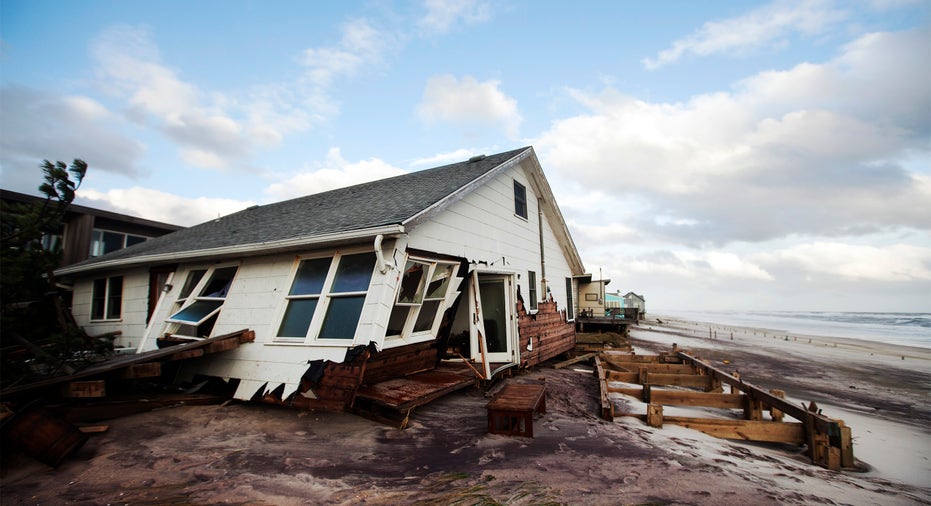 Four days after superstorm Sandy smashed into the U.S. Northeast, rescuers on Friday were still discovering the extent of the death and devastation in New York and the New Jersey shore, and anger mounted over gasoline shortages, power outages and waits for relief supplies.
The total killed in one of the biggest storms to hit the United States jumped by a third on Thursday, to 98. In New York City, 40 people have been found dead, half of them in Staten Island, which was overrun by a wall of water on Monday.
Among the dead in Staten Island were two brothers, aged 2 and 4, who were swept from their mother's arms after her car stalled in rising flood waters. Their bodies were found near each other in a marshy area on Thursday.
U.S. Secretary of Homeland Security Janet Napolitano and Federal Emergency Management Agency Deputy Administrator Richard Serino planned to visit Staten Island on Friday amid angry claims by some survivors that the borough had been ignored.
Scenes of angry storm victims could complicate matters for politicians, from President Barack Obama just four days before the general election, to governors and mayors in the most heavily populated region in the United States. Obama so far has received praise for his handling of Sandy.
"They forgot about us," said Theresa Connor, 42, describing her Staten Island neighborhood as having been "annihilated." "And (Mayor Michael) Bloomberg said New York is fine. The marathon is on!"
Citing the boost it brings to the city's economy, New York Mayor Bloomberg decided to hold the world's largest marathon on Sunday, as scheduled.
Adding to heated tempers, New York, New Jersey and Connecticut drivers were also confronting a shortage of gasoline. Even before dawn on Friday, long lines of cars snaked around gasoline stations around the area, and police were in place at many spots to keep the peace between furious, frustrated drivers.
In one instance, a man was charged in the New York City borough of Queens with threatening another driver with a gun after he tried to cut in on a line of cars waiting for gas.
COLDER WEATHER AHEAD
Forecasts for colder temperatures only added to the tension, since many in New Jersey and elsewhere have been using fuel-powered generators to run lights and heaters while waiting for utilities to repair downed power lines.
At a Hess Station on late Thursday night in Fairfield, New Jersey, people waited more than three hours to fill-up their cars and gas cans. Four police officers directed traffic.
"This is a pretty apocalyptic situation. How far do we have to go to get gas - Tennessee?" said Ricardo Meehleib, 30, as he waited in line.
While power was expected to be returned throughout Manhattan by Saturday, it could be another week or more in suburbs and more distant towns along the coast. About 4.5 million homes and businesses in 15 U.S. states remain without power.
Fury has been escalating throughout New York at Bloomberg's decision to proceed with the marathon on Sunday, vowing the event - which attracts more than 40,000 runners - would not divert any resources storm victims.
"If they take one first responder from Staten Island to cover this marathon, I will scream," New York City Councilman James Oddo said on his Twitter account.
Staten Island, which lies across New York Harbor from lower Manhattan, is home to about 500,000 residents, many blue-collar workers whose families have lived there for generations.
In New Jersey, where at least 13 people were killed, entire neighborhoods in oceanside towns were swallowed by seawater and much of the Atlantic City boardwalk was destroyed.
"There's nothing more precious to people than their homes. Those are where their families are, their memories and possessions of their lives, and there's also a sense of safety to home," New Jersey Governor Chris Christie said.
"That sense of safety was violated with water rushing into people's homes at an enormous rate of speed and people having to literally swim, climb, jump for their lives," he said.
COSTLY CATASTROPHE
The financial cost of the storm promised to be staggering. Disaster modeling company Eqecat estimated Sandy caused up to $20 billion in insured losses and $50 billion in economic losses, double its previous forecast.
At the high end of the range, Sandy would rank as the fourth costliest U.S. catastrophe ever, according to the Insurance Information Institute, behind Hurricane Katrina in 2005, the Sept. 11, 2001, attacks and Hurricane Andrew in 1992.
In blacked-out New York City neighborhoods, some residents complained about a lack of police and expressed fears about crime. Some were also concerned about traffic safety.
"People feel safe during the day but as soon as the sun sets, people are extremely scared. The fact that Guardian Angels are on the streets trying to restore law just shows how out of control the situation is in lower Manhattan," said Wolfgang Ban, a restaurant owner in Manhattan's Alphabet City neighborhood.
The Guardian Angels are a group of anti-crime volunteers.
Sandy started as a late-season hurricane in the Caribbean, where it killed 69 people, before smashing ashore in the United States with 80-mile-per-hour (130-kph) winds. It stretched from the Carolinas to Connecticut and was the largest storm by area to hit the United States in decades.
The presidential campaign has returned to full swing after being on hold for several days because of the storm. Obama, locked in a tight race with Republican challenger Mitt Romney head of next Tuesday's election, appeared to gain politically from his disaster relief performance.
Christie, a vocal Romney supporter, praised Obama, and Bloomberg, a political independent, endorsed Obama on Thursday.