Crops Get a Relief from Historic Drought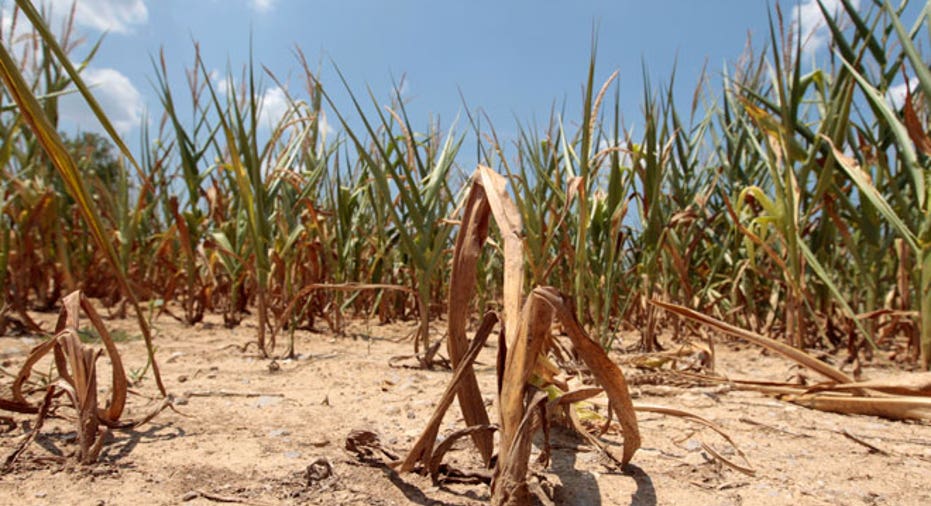 Rain and cooler temperatures in the drought-stricken U.S. Midwest crop belt will provide relief for late-season soybeans, but the change in the weather is arriving too late to help the already severely damaged corn crop, an agricultural meteorologist said on Wednesday.
"It's definitely better than what we've had but I'd be hesitant to call it a drought-buster. Longer-term outlooks still look like a return to warm and dry," said Jason Nicholls, meteorologist for AccuWeather.
Nicholls said 0.25 inch to 0.75 inch of rain, with locally heavier amounts, was expected in roughly 75 percent of the Midwest from Wednesday through Friday morning, and a similar weather system is expected next week.
"Temperatures will be cooler into the weekend, much more seasonal, then warmer again next week, but not the extreme heat we've had," Nicholls said.
Temperatures in the 80s (degrees Fahrenheit) are expected in the Midwest for the next several days, rather than the 90s F and low 100s F that have been slashing corn and soybean production prospects.
"For the next 10 days we'll chip away at the moisture deficit, but it looks warmer and drier again longer term," Nicholls said.
Corn and soybean prices were driven to record highs in late July as the drought worsened, trimming crop production. Prices for both have since been easing a bit due to the turn to cooler weather accompanied by some showers.
Commodity Weather Group (CWG) on Wednesday said about one-third of the Midwest soybean crop could remain under significant stress from lack of moisture.
CWG also said the popular weather models on which forecasts are based were in some disagreement on Wednesday about the amount of moisture the Midwest is likely to receive over the next couple of days. The dueling forecasts led to some skepticism that significant rains would fall.
And the worst drought in over a half century has spread to the lush U.S. Delta crop region in the lower Mississippi, where vast areas of soybeans, cotton and rice are grown.
"Rain chances are slim in the Delta in the next five days, and stress continues to hinder ... crops in the northwestern half of the region, mainly double-crop soybeans in Arkansas, Mississippi, western Tennessee and western Kentucky," said CWG meteorologist Joel Widenor.
Relentless heat and drought have slashed prospects for the U.S. corn crop to a five-year low. The supply of corn next year is expected to fall to its lowest level in nearly 20 years.
The U.S. Department of Agriculture (USDA) on Friday will release its August crop report; traders were bracing for the worst.
U.S. soybean inventories could fall to their lowest level in 32 years as the drought continues to trim U.S. soybean production prospects.
Soybean conditions began to stabilize last week on improved weather in a broad swath of the Midwest, while corn conditions declined again. The ratings for both remained the worst since 1988.