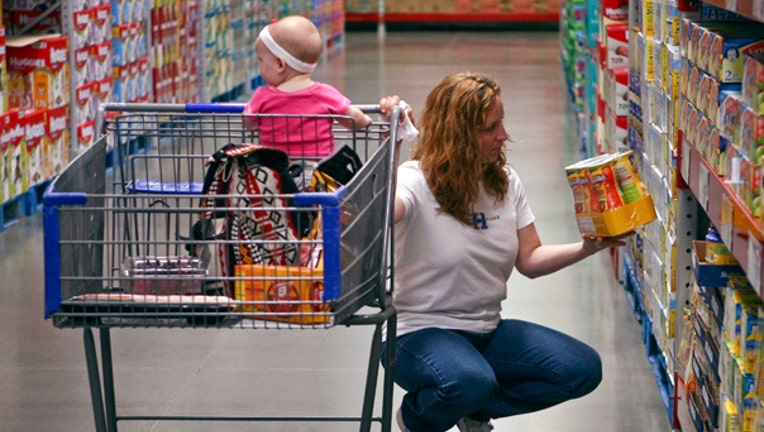 Consumers stayed frugal in April, choosing to save and pay down debt rather than go out to the mall and spend extra money gained via cheaper gas prices, according to data released Monday by the Commerce Department.
"It is becoming blatantly obvious that the so-called consumer gasoline price dividend is not motivating the average American household to increase their discretionary spending in any meaningful manner. Most likely, Americans are using their pump price savings to pay down debt, increase the money they put aside and for dining out," said Chris G. Christopher, director of consumer economics at IHS Global Insight.
U.S. consumer spending was unchanged in April from the prior month, the Commerce Department reported. Economists had predicted consumer spending, which accounts for more than two-thirds of U.S. economic activity, would rise by a modest 0.2% in April.
Inflation also stood still in April, with a widely-watched consumer price index showing its weakest gain since late 2009.
Consumer spending was widely expected to pick up following a steep decline in energy prices that began in late 2014 when supply gluts caused the price of a barrel of oil to fall by more than 50%. But the boost in spending never happened for a number of reasons.
First, many consumers are still recovering from losses incurred during the 2008 financial crisis, when home values plunged and millions of Americans lost their jobs and were unable to payoff mortgages, credit debts and car loans.
Now many badly-burned Americans are committed to paying down their debts and putting aside some money for another rainy day.
Second, wages for most working class Americans have hardly risen for months despite a job market that has tightened in recent months. If consumers are uncertain when and if they are going to get a raise they are unlikely to increase their spending habits.
But analysts believe wages will start to move higher later this year as long as the jobs market continues to gain momentum and employers find it more difficult to fill opening with qualified workers.
"Looking ahead, we expect consumer spending to increase faster in the third and fourth quarters, as long as job prospects and income growth cooperate," said Christopher.
In April, personal income rose 0.4% after remaining unchanged in March. The increase reflected a slight jump in wages and salaries. With income outpacing consumer spending, the saving rate increased to 5.6 percent.
With consumption muted, inflation pressures were benign in April. A price index for consumer spending was unchanged after rising 0.2 percent in March. In the 12 months through April, the personal consumption expenditures (PCE) price index edged up 0.1 percent, the smallest gain since October 2009.
Excluding food and energy, prices ticked up 0.1 percent for a third straight month. The so-called core PCE price index increased 1.2% in the 12 months through April. The PCE is widely regarded as the Federal Reserve's favorite inflation measure.
The year-over-year change in core PCE has been below the Fed's 2% inflation target for 36 consecutive months.
Most analysts believe the tepid consumer spending and inflation numbers released Monday are further proof that the Fed will not raise interest rates at their June meeting.
"The inflation data should eliminate any lingering June rate hike call with the headline flat and the core up just 1.2%," said Steven Ricchiuto, chief economist at Mizuho Securities.