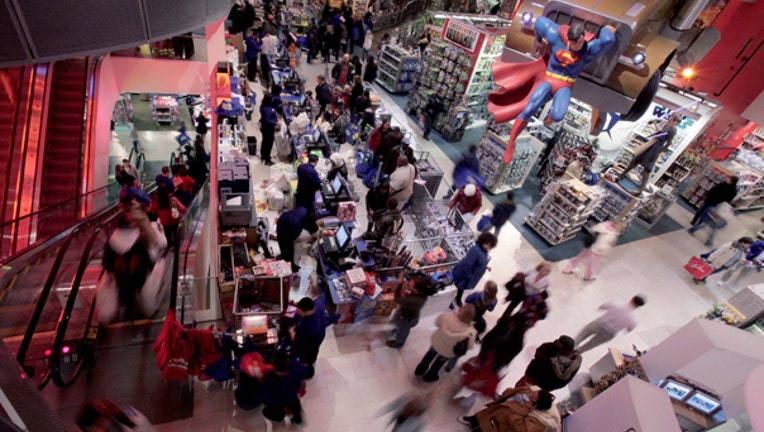 Consumers helped the U.S. economy return to growth after a downbeat winter, as pent-up demand fueled spending in the second quarter.
The Commerce Department said Wednesday gross domestic product increased at a seasonally adjusted annual rate of 4% in the latest period, surpassing expectations for 3% growth. The first quarter was upwardly revised to a 2.1% decline from 2.9%.
The economy eked out growth of 0.9% for the first half, while GDP in the last six months of 2013 expanded at an annualized 4%. That reflects the best half-year figure in 10 years.
Markit chief economist Chris Williamson said the big upturn in growth was due in part to weakness in the first quarter, when businesses suffered from adverse weather conditions.
"However, this is not just a case of better weather," Williamson wrote in a research note. "There is evidence to indicate that there has also been an underlying improvement in the economy, and that robust growth will be sustained into the third quarter."
Several categories that were drags on first-quarter GDP turned into tailwinds. Consumer spending improved at a 2.5% pace after shrinking at an annualized 1.2% in the prior quarter. Spending on cars and home furnishings lifted personal consumption during the period, and healthcare spending returned to growth.
Chris Christopher, an economist at IHS Global Insight, said there was significant pent-up demand in consumer spending that carried over from the winter, particularly in automobiles.
"The economy is back on track for the most part," Christopher added. "The way they compute healthcare spending, that sent consumer spending flying around a lot. That aside, things seem to be back on track. The second half is going to be stronger than the first half."
Private inventories contributed 1.66 percentage points to second-quarter GDP, mirroring a trend from the second half of 2013. Christopher said strong data on consumer spending dampens concerns over the quarter's hefty inventories.
"It has to be watched carefully, but it's not going to be the overall theme in the latter half of this year," Christopher explained.
BTIG chief strategist Dan Greenhaus noted real final sales can provide a better picture of growth, given the inventory component's volatility from the first to second quarters. Excluding changes to inventories, GDP moved higher at a 2.3% rate compared to a 1% drop in the first quarter.
The economy also got a boost from business spending, which advanced 5.5% amid strength in equipment demand. Government expenditures rose at a rate of 1.6% on higher spending by states and municipalities.
Imports continued to weigh GDP growth, rising 11.7% in the quarter. U.S. exports were up 9.5%.
Real Estate Signs
The GDP report showed a 7.5% annual growth rate for spending on home building and improvement, called residential fixed investment, turning things around from two consecutive quarters of declines.
The real estate market has noticeably cooled this year. Housing starts continued to decline in June, while pending sales of existing homes surprised economists with a decline. The latest S&P/Case-Shiller report said home prices for the 12 months ended in May grew at the slowest pace since February 2013. A price index for 20 major cities rose 9.3%, down from 10.8% in April and below the consensus estimate.
Construction spending indicates "people feel a little more comfortable buying that house," Christopher said, although rising student loan debt, an aging population and other issues still face the housing market.
Winter Impacts Validated?
Overall, Christopher believes the report "sort of vindicates what many economists have been saying."
"[The first quarter] was a little bit of an odd character," he remarked.
Greenhaus also said the better-than-expected economic growth confirms first-quarter GDP was an outlier. BTIG maintains its view the economy will expand by roughly 3% in the second half and interest rates will inch higher.
The personal consumption expenditure price index, an inflation gauge used by the Federal Reserve, topped the central bank's 2% target for the first time in two years. According to the Commerce Department, second-quarter inflation widened at an annual pace of 2.3%.
The Fed "will feel vindicated in exiting the asset purchase program," Greenhaus wrote in a research note to clients.
Although the economy saw strong gains in the second quarter, concerns persist over the strength of the recovery. The economy has been in a see-saw since 2009, and economic growth over the last five years represents the slowest rate of recovery since World War II.
"Despite the recent strength, and including revisions to the last few years of data, the current recovery still pales in comparison to the last few recoveries," Greenhaus said. "This isn't exactly the best comparison (given the nature of the recession) but it does illustrate the degree to which the economy is lagging."