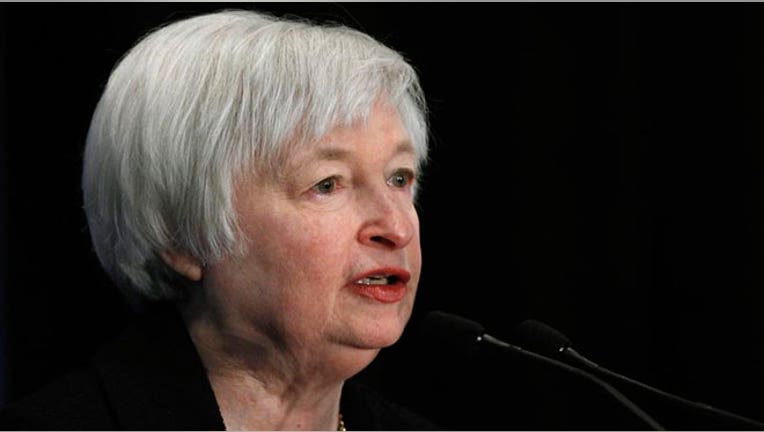 Settling on consistency rather than courting controversy, President Barack Obama on Wednesday nominated Federal Reserve Vice Chair Janet Yellen to succeed Ben Bernanke in January.
Yellen, 67, has served as Bernanke's second-in-command for two years and has been one of the biggest supporters of the easy-money policies that have defined Bernanke's term in the wake of the 2008 financial crisis.
If confirmed by the Senate, Yellen will become the first woman ever to lead the 100-year-old Fed.
Yellen said during a press conference with the president in Washington, D.C., to announce her nomination that "more needs to be done to strengthen the economy."
"While we have made progress, we have farther to go," Yellen said. "The mandate of the Federal Reserve is to serve all the American people, and too many Americans still can't find a job and worry how they will pay their bills and provide for their families. The Federal Reserve can help, if it does its job effectively."
Obama praised Yellen for her intellect, collegiality and ability to forecast economic conditions.
Bernanke, who joined Yellen and Obama at the press conference, said in a statement, "President Obama has made an outstanding choice in nominating my colleague and friend Janet Yellen to chair the Federal Reserve Board. Janet is exceptionally well qualified for the position, with stellar academic credentials and a strong record as a leader and a policymaker."
Yellen is widely expected to maintain the course set by Bernanke, gradually reducing the Fed's bond buying program known as quantitative easing when economic data justifies the phase out, and keeping interest rates near zero for the foreseeable future.
"In the short run, we will not see any major drastic changes under the new chairman. The supertanker is on course, which is to figure out how to get the economy to continue to roll and not have the Fed harm the economy in any way," said attorney Ernie Patrikis, a former general counsel of the New York Fed and alternate member of the Federal Open Market Committee.
Yellen emerged as the front-runner to replace Bernanke, who will step down Jan. 31, after Obama's reported favorite Lawrence Summers, a long-time Washington, D.C. economic guru and close advisor to the president, pulled himself out of the running on Sept. 15.
Summers' potential nomination had drawn the ire of a handful of influential Democratic Senators who could have pulled the plug on his approval during Senate hearings. Long a controversial figure, Summers was criticized by opponents of his nomination for overseeing a major deregulation of the banking industry as an advisor to and Treasury Secretary under President Bill Clinton.
Meanwhile, 20 Senate Democrats in July sent a letter to the president in support of Yellen and a broad array of economists and policy makers, including several former Fed vice chairs, publicly endorsed Yellen.
"She's an excellent choice, and I believe she'll be confirmed by a wide margin," Senator Charles Schumer (D-NY) said in a statement.
Stock markets responded favorably the announcement from the White House with traders citing a Yellen nomination for keeping stocks in positive territory even as the Congressional budget standoff grinds through its second week. The Dow Jones Industrial average closed up 26 points at 14,803, rising for the first time in three sessions.
Yellen will now be in charge of the timing for winding down the Fed's unprecedented interventionist policies put in place to keep the U.S. economy from slipping into the abyss following the housing and credit crisis that plunged the world into recession five years ago.
For months the Fed has signaled its intention to begin scaling back on its $85 billion a month bond purchase program. Markets were convinced the move was coming in September but the Fed surprised nearly everybody by holding off, citing a stubbornly weak labor market.
Yellen has been a central figure among the Fed's so-called doves who have supported activist policies ostensibly until the U.S. economy is in a position to stand on its own. Fed hawks, led by Dallas Fed President Richard Fisher and Philadelphia Fed President Charles Plosser, believe too much stimulus will eventually lead to runaway inflation.
The trick for the new Fed chair will be in the timing. Easing the economy off stimulus too soon could hinder the already-fragile recovery, while waiting too long could prompt inflation.
Before rising to Fed vice chair, Yellen served for six years as president of the San Francisco Fed. Prior to that she served as an economic advisor in the Clinton Administration.
Yellen's reputation grew in stature among many after minutes of Fed meetings held in the months leading up to the financial crisis were released publicly for the first time in January. Yellen, more than most of her colleagues, presciently warned of the potentially devastating fallout from a sharp decline in U.S. housing prices.