Congress to Take More Action on Libor Scandal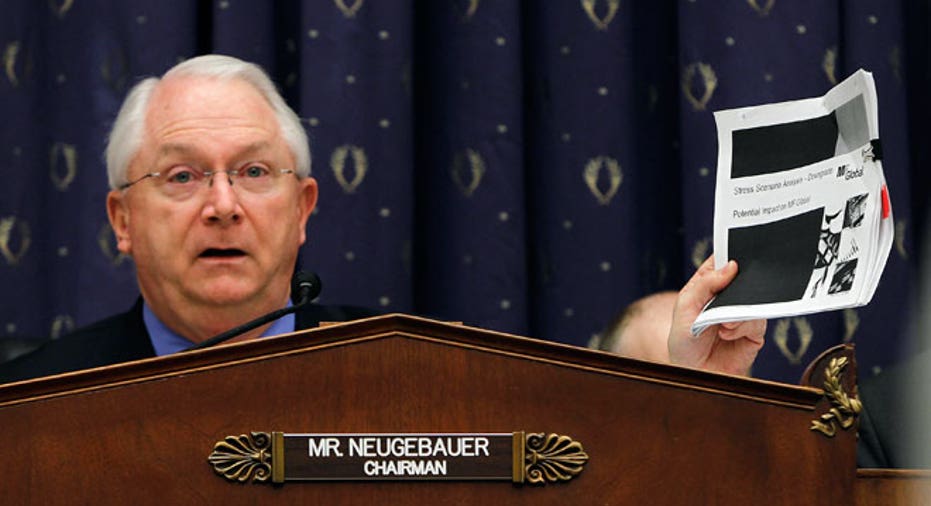 A Congressional investigations subcommittee plans to widen its probe of the Libor interest rate scandal to include U.S. banks, its chairman said.
"We want to expand this investigation a little bit," Rep. Randy Neugebauer, (R-Texas), told FOX Business in an interview Wednesday. He chairs the oversight and investigations subcommittee of the House Financial Services Committee.
He added that a subcommittee hearing on the matter is "a real potential."
Last week, Neugebauer demanded and received background documents from the Federal Reserve Bank of New York (FRBNY) relating to its knowledge and handling of manipulation of Libor by Barclays bank of London. Last month, Barclays paid $450 million to U.S. and U.K. regulators to settle charges that it tried to rig the Libor process.
Trillions of dollars of mortgages, credit cards, student loans and other loans are based on Libor, an interest rate set each day by more than a dozen U.S. and foreign banks. The rate currently sits around  0.5%, and is the rate they charge to borrow from each other.
Neugebauer said he is preparing another request for information from the FRBNY, this time covering the three U.S. banks that participate in setting Libor--JPMorganChase (NYSE:JPM), Bank of America (NYSE:BAC) and Citigroup (NYSE:C).
U.S. and British financial supervisors have said they also are investigating additional banks.
"What we want to do is get as much information as we can, so we know to ask the right questions, so that we'll get the right answers," Neugebauer said. "So we continue to request additional information and well digest that."
The full House Financial Services Committee has not scheduled a specific hearing on Libor price fixing; neither has the Senate Banking Committee.
But the full House panel grilled Federal Reserve Chairman Ben Bernanke on the issue at a hearing on the economy and monetary policy on Wednesday. The Senate panel did the same on Tuesday.
The full House and Senate committees plan to question Treasury Secretary Timothy Geithner on the Libor scandal next week at hearings on financial regulation. Geithner was president of the FRBNY in 2007 when, documents indicate, it may have first learned of possible Libor manipulation by Barclays and other banks.
In 2008, the FRBNY reported possible LIBOR problems to Fed officials in Washington, the U.S. Treasury and other regulators. That June, Geithner sent British financial supervisors suggestions for reforming the Libor process.
Whether the FRBNY or any other U.S. regulator took any steps with the three U.S. banks that help set Libor is unclear. In his testimony this week, Bernanke noted Libor is regulated by British authorities, not American.
Neugebauer called the FRBNY's responses to the Libor disclosures in 2007 and 2008 "fairly lukewarm."
"[It] was a pretty important issue because this is an index that is used widely, costs our financial community, and impacts trillions of dollars worth of transactions," he said. "I'm just not sure we had the right response on that, and what we need to do is see who knew what, and what was done and why things weren't done."
Neugebauer's first letter to the FRBNY last week and its response "was primarily focused on the Barclays issue," he said. "But I think we want to expand that to see what other kinds of communications that the FED may (have been) having with other banks, just to kind of get a picture of how widespread this was…What we're trying to do is see if anybody was asking around."
He added: "It really troubles me when I find out that regulators knew things a long time ago but then it surfaces and becomes a problem that we didn't address then but were trying to address it now. So that's one of the reasons that it's important, I think, to get to the bottom of this…to determine exactly what happened and see what the next step is."
In a research note Tuesday, Capital Alpha Partners, a Washington, D.C., policy research firm, said, "The Fed appears to have done nothing to reach out directly to the U.S. banks to warn them not to misreport [Libor]…Four years after the investigations began, there does not seem to be any clear answers about whether any U.S. banks engaged in any misreporting of Libor data."
A FRBNY spokesperson declined to comment.