Coal Investors Betting on a Romney Win?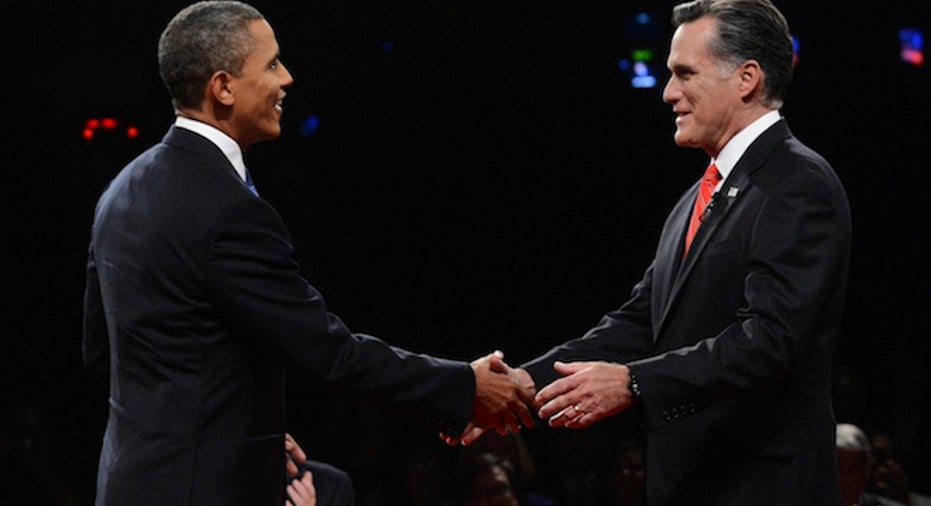 If the world learned anything about Mitt Romney over these last few weeks it's that the Republican presidential nominee really, really likes coal.
So could the recent rally in coal stocks be a sign Wall Street is betting on a Romney win in November?
Coal-company stocks have soared almost 30% over the last three weeks since the first debate on Oct. 3, by far outperforming the S&P 500, which has slumped by 1%.
The buying frenzy could be a sign investors are anticipating a Romney win, which would likely ease regulations on coal companies.
Romney's campaign has criticized President Barack Obama's tight regulations on the energy industry and has declared that it is prepared to squash the President's "war on coal."
"And by the way, I like coal," Romney said in the first debate.
Major coal players including Peabody (NYSE:BTU), Consol (NYSE:CNX), Alpha Natural Resources (NYSE:ANR), Arch Coal (NYSE:ACI) and Walter Energy (NSE:WLT) rallied after the first debate.
St. Louis, Mo.-based Peabody climbed more than 30%, while Canonsburg, Pa.-based Consol jumped nearly 22% and those of Birmingham, Ala.-based Walter soared nearly 23%. Shares of Alpha Natural Resources grew by about 44% while those of Arch Coal rallied more than 33%.
"Stocks really did take off after the first debate," said S&P 500 equities analyst Jim Corridore, adding that some investors are indeed taking into account the possibility that Romney wins in November.
Morningstar equities analyst Joung Park agreed with the Romney-rally theory, but both analysts said many other factors, such as the rise in natural gas prices over the last two years and growing coal demand, are also supportive.
"If [the debate] has had an effect at all, which is hard to tell, it's because [investors] think that a Romney presidency would help ease some of the regulations against coal," Park said.
(Note: The blue line is a coal stock index consisting of 5 major players in the industry: Peabody Energy (BTU), Consol Energy (CNX), Arch Coal (ACI), Alpha Natural Resources (ANR), and Walter Energy (WLT))
The top executives of major oil companies have pledged support for the Romney campaign, including Murray Energy CEO Robert Murray and James River Coal Company CEO Peter Socha.
While Washington, D.C.-based American Coalition for Clean Coal Electricity (ACCCE) won't outright endorse a candidate, the organization has commended Romney on his coal focus.
The ACCCE recently launched a campaign urging voters to "stand up to the EPA's anti-coal agenda," encouraging them to elect candidates who stand up for coal.
"Right now there are some hefty regulations being planned for coal," Park said, including stricter regulations that would force some older coal plants, or smaller ones that can't afford to comply, to shut down.
After mixed debate performances from both candidates this month, the outcome of the election is anyone's guess. And while it's easy to attribute Tuesday's decline in coal stocks to debate No. 3, which was deemed a win for Obama, analysts say it could have also been a reflection of a 2% slump in oil prices and a sell-off from Monday's highs after Peabody posted better-than-expected earnings and boosted its outlook.
The coal rally earlier this month has also been attributed to third-party factors, such as higher natural gas prices that have made coal prices more attractive to power generators, as well as growing exports to places like China, the world's biggest coal consumer.
"The environment for coal has been really bad for the last year and a half," Corridore said, pointing to the warm 2011 winter. "While still not great, it's better than it was year ago."