China's Xi Says Silk Road Plan Boosts Finance, Security Ties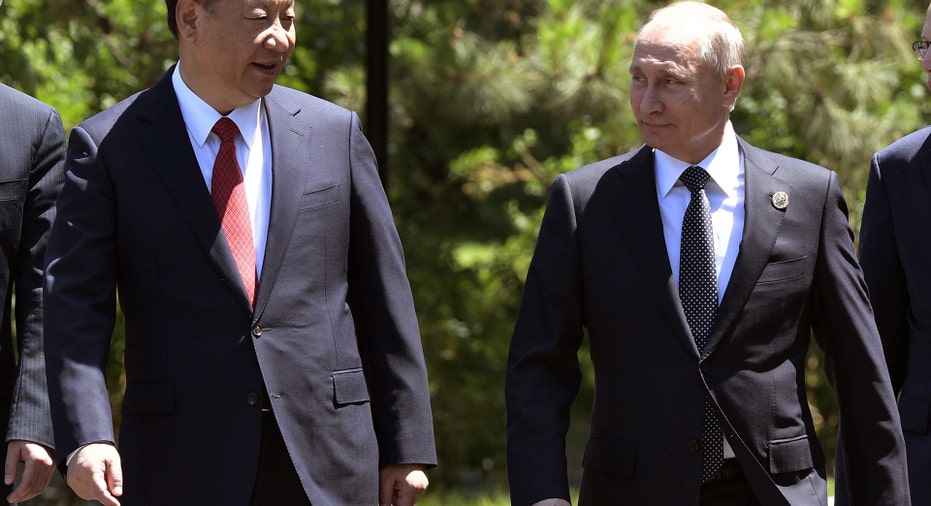 BEIJING (AP) — Pledging more than $100 billion in financing, Chinese President Xi Jinping called Sunday for closer cooperation across Asia and Europe in areas from anti-terrorism to investment as leaders from 29 countries gathered to promote a Chinese initiative that could increase Beijing's global influence.
The "Belt and Road Initiative" calls for building ports, railways and other facilities in a vast arc of 65 countries. Other countries welcome the investment, but governments including the United States, Russia and India have expressed unease that Beijing also might be using the effort to increase its political stature.
Speaking before an audience that included Russian President Vladimir Putin, Xi said his government has "no desire to impose our will on others." But he called for "economic integration" and cooperation on financial regulation, anti-terrorism and security — fields in which China's heft as the world's No. 2 economy would make it a dominant player.
"We should foster a vision of common, comprehensive, cooperative and sustainable security," said Xi. He called for stepped-up action against terrorism and what he called its root causes of poverty and social injustice.
In a reminder of potential security threats, North Korea test-fired a ballistic missile Sunday that flew for a half-hour and reached an unusually high altitude of 2,000 kilometers (1,240 miles).
The launch was seen as a challenge to a new South Korean president who was elected last week and came as U.S., Japanese and European naval forces gathered for war games in the Pacific.
The "Belt and Road" is Xi's signature foreign policy initiative. The two-day meeting that started Sunday gives the Chinese president a platform to promote his image as a global leader and free trade advocate in contrast to President Donald Trump, who has called for import restrictions.
China is hardly the first government to promote regional trade links. Japan has given billions of dollars in grants and low-cost loans to Southeast Asian nations to build ports and other facilities, and governments including South Korea have launched trade initiatives. But Beijing's effort is the most ambitious and is backed by China's financial muscle and status as the biggest global trader.
Chinese officials have said previously that "Belt and Road" is purely commercial, though Xi's comments Sunday indicated Beijing sees that as including a broad array of regulatory and other coordination with potentially far-reaching consequences.
Some diplomats and political analysts say Beijing is trying to create a political and economic network centered on China, push the United States out of the region and rewrite rules on trade and security. The United States and Japan, which Beijing sees as rivals for influence in Asia, are not part of "Belt and Road."
China and Russia already are partners, along with Central Asian governments, in the Shanghai Cooperation Organization, a security group widely seen as an effort to counter U.S. influence in the region.
Putin, Turkish President Recep Tayyip Erdogan and Prime Minister Nawaz Sharif of Pakistan echoed Xi's theme that economic development would help to nurture political stability and neutralize support for radical groups.
The Russian leader complained about "illegal sanctions" — a possible reference to U.S. trade penalties imposed on Moscow over Ukraine — and warned that trade protectionism is creating a "breeding ground" for terrorism.
Closer economic integration "should change the very political and economic landscape of the continent, bringing Eurasia stability, prosperity," said Putin.
Referring to Beijing's plan, Erdogan said, "This is going to be the kind of initiative that puts an end to terrorism."
Xi called for regional cooperation in finance — a field where China's huge state-owned banking industry and $3 trillion of foreign currency reserves would make it the dominant player.
"We should establish a sustainable financial system that keeps risk under control," said Xi.
The president also announced additional Chinese financing for "Belt and Road" totaling 780 billion yuan ($113 billion).
That includes lending totaling 380 billion yuan ($55 billion) by two noncommercial state banks, up to 300 billion yuan ($43 billion) from state-owned commercial lenders and a 100 billion yuan ($14.5 billion) contribution to the Silk Road Fund, set up in 2014 to finance infrastructure projects.
Xi said his government also would provide aid worth 60 billion yuan ($8.7 billion) to developing countries and international organizations.
He said Beijing plans to announce dozens of new investment and other agreements during the two-day event.
Pakistan's government announced it had signed memoranda of understanding on Saturday with China on possible projects worth a total of $500 million. That is on top of railway, power and other projects announced previously in an "economic corridor" linking China's far west with the Indian Ocean that Pakistani officials have said are worth up to $55 billion.
Other leaders at the gathering included Premier Paolo Gentiloni of Italy and President Michelle Bachelet of Chile. No major Western leaders attended, though Britain, France and Germany were represented by top finance officials.
A U.S. delegation was attending the meeting, led by Matt Pottinger, special assistant to Trump and senior director for East Asia at the National Security Council.
The United States and other governments have said "Belt and Road" is a natural outgrowth of China's status as the biggest global trader, and U.S. officials have said they want to work with Beijing on infrastructure. But they also have expressed concern that Beijing might undermine human rights and international standards for lending or leave poor countries with too much debt.
Pottinger spoke in the afternoon at a side event at the forum, where he stressed the importance of private-sector participation in major infrastructure projects, according to remarks released by the U.S. Embassy in Beijing. He was due to meet Monday with Chinese officials and representatives of U.S. companies looking at potential "Belt and Road" opportunities, said embassy spokeswoman Mary Beth Polley.
Details on which companies were involved and what activities the work group will undertake were not immediately available, Polley said.
Chinese state-owned lenders have put up most of the money for "Belt and Road," but Beijing says it wants projects to attract private investment.
Speaking at Sunday's event, former U.S. Treasury Secretary Henry Paulson said Beijing needs to make its initiative more transparent to attract partners.
"I know the United States has been among those countries apparently most skeptical," said Paulson, who was in office in 2006-09. "The more China can demonstrate the 'Belt and Road Initiative' is open to outside participation in this way, the more it will be embraced by global and even American firms and suppliers."
India delivered an implicit criticism Saturday in a statement that said such an initiative should meet international norms and not create unsustainable debt.
India has objected to Chinese state-owned companies working in the Pakistani-held part of Kashmir, the Himalayan region claimed by both sides. New Delhi sees that as an endorsement of Pakistan's control.
"No country can accept a project that ignores its core concerns on sovereignty and territorial integrity," the statement said.
"Belt and Road," named for dual trade routes through the Indian Ocean and Central Asia, is the biggest of a series of initiatives launched by Beijing over the past decade to gain a global leadership role to match its economic success.
China led the creation in 2014 of a new regional lender, the Asian Infrastructure Investment Bank, to finance ports, highways and other projects.
Xi promised to avoid forming a "small group" of allies, which he said might harm regional stability.
Instead, he said, Beijing wants "partnerships of friendship" and a "big family of harmonious coexistence."
Also Sunday, Hungary's foreign minister, Peter Szijjarto, said the Chinese government's Export-Import Bank presented a financing proposal for a railway line from Budapest to Belgrade in neighboring Serbia.
The line would be China's first major rail project in the European Union. The ability to supply such financing has helped Chinese builders land contracts abroad, but the rail project faces hurdles after EU officials said they would look into whether Hungary improperly picked contractors without competitive bidding.
The 20-year Chinese loan at 2.5 percent annual interest would cover 85 percent of the rail line's estimated cost of 550 billion forints ($1.9 billion), according to a statement by Szijjarto posted on a government website.
___
Associated Press writers Matthew Brown and Gillian Wong in Beijing, Muneeza Naqvi in New Delhi and Zarar Khan in Islamabad contributed to this report.