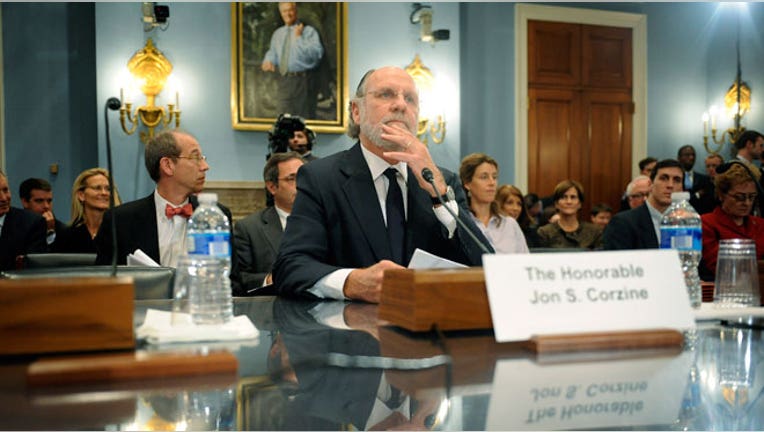 The Commodity Futures Trading Commission on Thursday filed civil charges against Jon Corzine and another top executive at MF Global Holdings, the commodities brokerage firm that collapsed into bankruptcy last fall.
The CFTC charged former CEO Corzine and former assistant treasurer Edith O'Brien with illegally using segregated customer funds in an effort to cover losses incurred on bets tied to the European debt crisis.
Corzine and O'Brien's actions "harmed thousands of customers and violated fundamental customer protection laws on an unprecedented scale," the CFTC said in a statement.
MF Global has agreed to settle all the charges by paying 100% restitution of the approximately $1 billion lost by its customers when the firm collapsed in October. The settlement also includes a $100 million fine.
CFTC Commissioner Jill Sommers said, "There is nothing more important than doing everything possible to make full restitution to all commodity customers."
According to the CFTC's complaint, Corzine, a former U.S. Senator and New Jersey Governor who led Goldman Sachs (NYSE: GS) before going into politics, joined MF Global as CEO in March 2010 with the intention of transforming the firm from a futures broker into a major investment bank.
"Corzine's strategy called for making increasingly risky and larger investments of the firm's money," the regulatory agency said.
As Corzine's bets on the European debt crisis soured last summer and into the fall, Corzine failed to take appropriate measures to stem the bleeding of cash and to ensure that segregate customer funds weren't used to cover losses.
"Ultimately, these failures contributed to the massive customer losses," the CFTC said.
The CFTC said in its complaint that Corzine was warned about the firm's liquidity stresses, and was aware that the firm had violated its own policy designed to protect customer funds.
In November 2011, FOX Business' Charlie Gasparino was first to report that MF still hadn't completed an upgrade of its "compliance" systems as the firm was taking outsized risks in the bond market that led to its eventual demise.
MF Global executives were also aware of the improprieties. In recorded phone calls obtained by the CFTC, one executive allegedly said, "We have to tell Jon that enough is enough. We need to take the keys away from him."
Finally, with all its cash depleted in the last week of October, "the firm repeatedly and unlawfully used customer funds for firm needs, ultimately leaving it nearly $1 billion short of customer funds," the CFTC said.
Corzine, according to the CFTC, was aware the firm had no cash but directed employees to continue paying large debts without asking how the firm could raise the needed money.
As an MF Global "control person," Corzine is being held responsible for the firm's illegal use of segregated customer funds.
David Meister, the CFTC's Enforcement Director, said, "Turning a profit is not the only job of the person at the top of a CFTC-regulated firm. Particularly in times of crisis, the person in control, like the CEO here, must do what's necessary to prevent unlawful uses of customer money, so that customers' money is still there if and when the music stops."
O'Brien is charged with aiding and abetting the firm's misuse of customer funds. According to the complaint, she was directly involved in improper transfers of hundreds of millions of dollars from customer accounts to help cover losses.
In a telephone conversation, O'Brien allegedly told a colleague, it "could be game over" from a regulatory perspective if funds were not returned to customer accounts on Friday, October 28, 2011, MF Global's final business day.
Corzine and O'Brien have also been charged with failing to notify the CFTC immediately about deficiencies in its customer accounts; filing false reports that failed to show the deficits in the customer accounts; and using customer funds for impermissible investments.