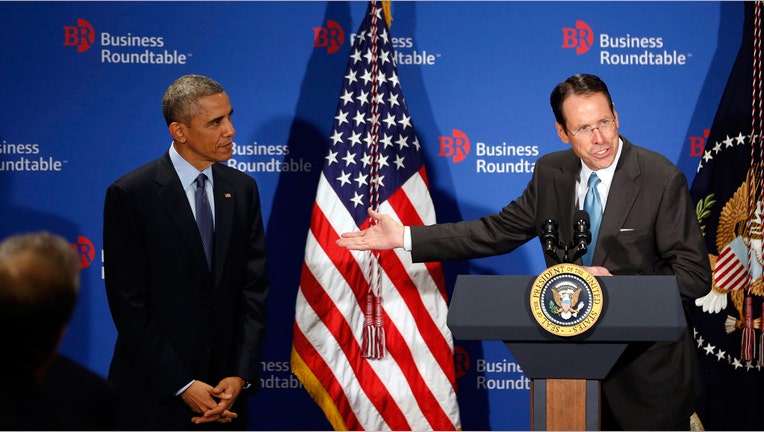 CEO confidence in the U.S. economy is dwindling. The Business Roundtable CEO Economic Outlook Index for the 4Q, which looks out six months, fell to the lowest level in three years
Randall Stephenson, Chairman of the BRT and Chairman and CEO of AT&T (NYSE:T), blamed the "uncompetitive" U.S. tax code and uncertainty in Washington as among his members biggest gripes. "We are hampering and burdening capital investment in the U.S.," Stephenson said while responding to questions during a conference call on Tuesday.
The U.S. corporate tax rate sits at 39%, the highest among all the Organization for Economic Co-operation and Development (OECD) countries, as tracked by the BRT.  This is just one of the factors driving U.S. companies overseas. Last month, Pfizer (NYSE:PFE) and Allergan (NYSE:AGN), confirmed their $160 billion merger which could move its headquarters to Ireland where the tax rate is 12.5%. "This tells us something is fundamentally wrong," said Stephenson who thinks we are likely to see more headlines like this in the coming months.   
The survey, which compiles CEO projections for sales and plans for capital spending, fell for the third straight quarter to a reading of 67.5. Most notable was a sharp drop in plans for capital spending which tumbled nearly 17 points and shows that 26% of CEOs plan to decrease spending in the next six months. Hiring expectations were flat relative to last quarter, with CEOs split roughly evenly between increasing or decreasing their payrolls in the next six months.
The 4Q fourth quarter is primetime for CEOs to hammer out corporate budgets and tax planning for the coming year, however the survey shows that this is problematic for many.  "You can't forecast when you have lack of clarity," said Stephenson who also noted that the Paris terror attacks have added a new layer of concern, along with the slowing growth of economies outside of the U.S.
And in what is their first GDP estimate for the coming year, CEOs expect the U.S. economy to post modest growth of 2.4% in 2016. That would be little changed from the current pace. Through the 3Q  '15, the U.S. economy grew at a clip of 2.1%. Friday's November employment report will shed more light on the health of America's businesses.  Employers are expected to add 195,000 jobs according to estimates with the unemployment rate holding steady at 5%.
This is Stephenson's final year as BRT Chairman.