Casinos Face Long Road In Return to Cuba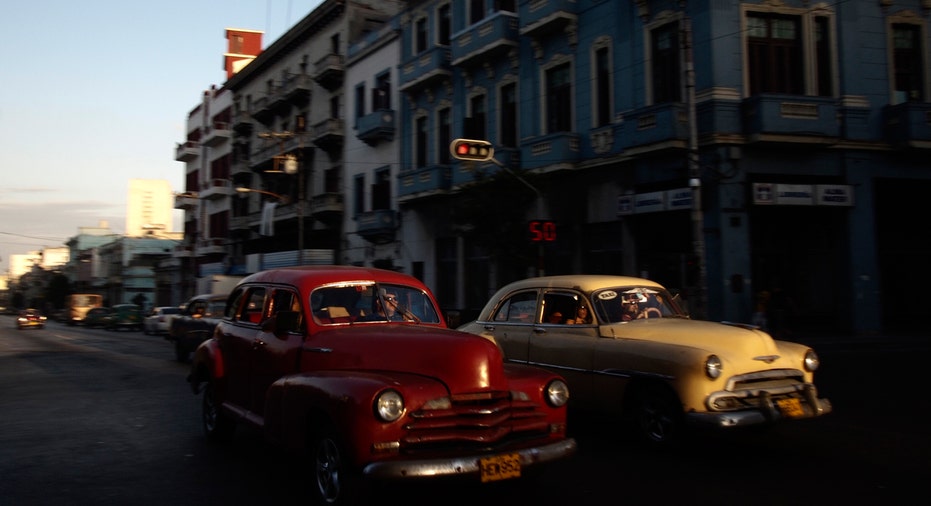 There are two prevailing images of Havana in the public minds of most Americans.
First, there's the Havana of the 1950s, brought to life in the famous Godfather movies, awash in mob-run casino money, Latin-inflected jazz wafting across a warm Caribbean breeze. And then there's contemporary Havana, a crumbling shell of 1950s Havana, frozen in time, the clock stopped at midnight January 1, 1959, around the time rebel leader Fidel Castro overthrew corrupt dictator Fulgencio Batista.
Can the latter be converted back into the former now that diplomatic relations have been restored between the U.S. and Cuba after more than five decades of a mini-Cold War? More specifically, will the giant casino corporations that have saturated the U.S. market in recent years look to Havana to expand their footprint in the Caribbean?
That bet is anything but a sure thing.
Havana's reputation in the years before the 1959 revolution was that of the Las Vegas for the East Coast. Casino gambling and a general sense of bacchanalia first permeated Havana in the 1920s during prohibition in the U.S. By the 1950s Havana's casinos numbered about a dozen and all were said to be under the direct rule of U.S. mobsters. They operated around-the-clock and provided all manner of off-shore entertainment for well-heeled Americans. Frank Sinatra and his new wife Ava Gardner were frequent visitors to the island paradise.
Ideology, Politics Standing in the Way But all that ended shortly after Castro came to power, a seismic shift in the Western Hemisphere that led to the 1960 U.S. embargo against Cuba that has effectively shut down tourism to the island ever since. Now, as the Obama administration seeks to thaw relations with Cuba, even the most optimistic industry insiders believe it would take years to develop a profitable casino resort in Havana, and that gambling will only return to Cuba after the current Castro-led regime is replaced with new leadership. "It should happen right now but it won't because of the politics," said I. Nelson Rose, an author, law professor and expert on gambling law. "They could do it right now but ideology and politics are standing in the way."
Still, U.S. casino operators are "absolutely" interested in Havana, said Roger Gros, publisher of Global Gaming Business Magazine, a trade magazine for the casino industry. "They're keeping a close eye on it. It would be a great place to operate," he said. Gros' industry contacts have told him that a couple of casino companies have hired consultants who know the Caribbean to explore a potential project in Cuba. The obstacles are many, however.
"First of all, gambling is not legal (in Cuba) and I don't see a huge government shift right now," Gros said. "Still, it's 90 miles from Florida… Miami has millions of people and one casino serving them. A casino in Havana would certainly be an attraction for the people of Southern Florida."
Other gambling industry experts are far more skeptical, noting that even if the Castro regime is eventually replaced by a government that welcomes gambling potential developers would face myriad logistical problems that could push costs sky high. "It's fun to speculate about, but we're talking decades and decades away," said Bob Jarvis, a professor at Nova Southeastern University in Fort Lauderdale, Fla., who studies the gambling industry.
A 'Crumbling, Decaying Wreck' Cuba is a "crumbling, decaying wreck," said Jarvis, and the costs to build a casino there would be "enormous." Potential developers would essentially have to start from scratch by building new structures from the ground up, as well as the infrastructure needed to transport gamblers from the U.S. into Havana and then to the resort/casino site. That would likely mean building roads and possibly a new airport.
Furthermore, foreign casino operators would need a guarantee from the Cuban government that they could operate in Cuba in an environment similar to that in the U.S. and that they could repatriate their profits back to the U.S. without restrictions. That's not likely to happen under a Communist regime, or under a corrupt regime that might replace the Castro family down the road.
"If I'm going to build a billion dollar resort in your country I need a guarantee that I can build it there successfully and bring the profits I make back to the U.S.," said Jarvis.
Spokesmen for three of the largest U.S. casino operators -- Wynn Resorts (NASDAQ:WYNN), MGM Resorts (NYSE:MGM) and Caesars Entertainment (NASDAQ:CZR) – did not respond to a request for comment on whether they were exploring Cuba as a potential development site.
Major League Baseball has already expressed an interest in establishing some type of official presence in Cuba, possibly state-of-the-art training facilities. That could eventually lead to an investment in capital improvements throughout the baseball-crazy island, undoubtedly beginning in Havana. If that were to occur, other U.S. businesses (such as casino operators) could piggy-back off that investment and see it as a positive sign that Havana is ripe for development.
"Baseball will go there and I think the casino industry will say let them pave the way, upgrade the infrastructure. I think the casinos will be in the back rather than the front," said Jarvis.