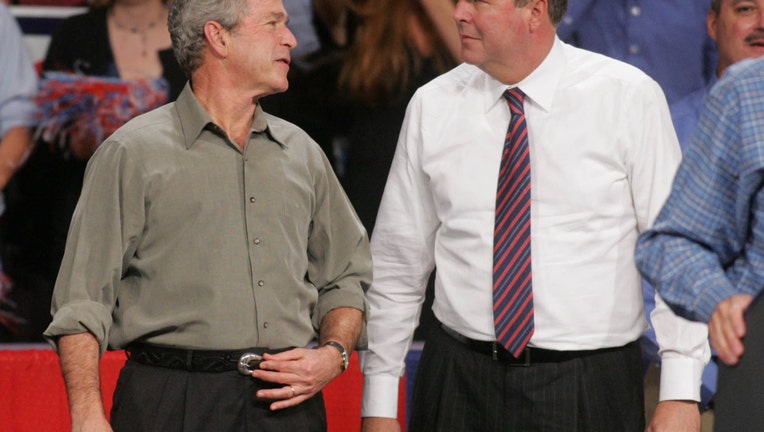 With just five days left before the South Carolina Republican primary, former Florida Governor Jeb Bush is counting on his brother, former President George W. Bush to tip the scales in his favor among voters. On Monday night, Bush will join Jeb for the first time on the campaign trail for a rally at the North Charleston Coliseum and Performing Arts Center.
The Bush campaign began promoting the event last week on Twitter (NYSE:TWTR):
"Honored to have my brother joining me on the trail this week. Join us Monday in Charleston."
Thousands are expected to attend and there is already a wait list for the event. The Bush campaign did not immediately respond to requests for ticket distribution totals.
Over the weekend, Bush and Republican presidential frontrunner Donald Trump went head to head on the GOP debate stage arguing over George W. Bush's tenure as commander in chief. Bush stood his ground saying his brother kept America safe after the terrorist attacks on 9/11, but Trump struck back calling the Iraq War a "big fat mistake" and adding, "The World Trade Center came down during the reign of George W. Bush - He kept us safe? That is not safe," said Trump.
Gibbs Knotts, the political science chairman at the College of Charleston in South Carolina, says the battle on the debate stage is a preview of the Bush tag team appearance which is already creating intrigue in the media.
"Everyone is talking about it and wondering if George W. is going to take on Trump. Bush was known for being a tough president with this 'Texas cowboy' image. He talked tough and was willing to use the military, so it will be interesting to see what he says," said Knotts.
According to a Bloomberg Politics Poll conducted by Selzer & Company in November of 2015, former President George W. Bush's approval rating was 45% nationally. However in the Palmetto state, the 43rd president along with his father, former President George H.W. Bush is highly regarded, and both won the South Carolina primary during their White House bids.
Knotts says South Carolina is a state that puts a lot of stock in the military and national security issues which are a strong area for George W. Bush who is still a very popular president when it comes to his support for the troops.
"The Bush's have done well in South Carolina over the years. I think it is smart to bring out George W. Bush in a place like South Carolina where he will be better received. Bush is a former president, so he might help Jeb emerge as an establishment candidate," said Knotts.
"To have a former president who's dealt with some of the worst crises that this country has faced like 9/11 to say look I have done the job I know how difficult protecting the U.S. is and I feel like this person, who happens to be my brother, has demonstrated that level of leadership – that can be very powerful."
Doubling down on his attack of George W. Bush's legacy over the weekend, Trump took to Twitter on Monday with a warning:
"Now that George Bush is campaigning for Jeb(!), is he fair game for questions about World Trade Center, Iraq War and eco collapse? Careful!"
Now that George Bush is campaigning for Jeb(!), is he fair game for questions about World Trade Center, Iraq War and eco collapse? Careful!

— Donald J. Trump (@realDonaldTrump) February 15, 2016
Trump followed up with another jab at Jeb Monday  afternoon during a campaign rally in Mt. Pleasant, South Carolina.
"I think he [Jeb Bush] should have used his family a long time ago… he would've done better," said Trump.
Radio and TV ads featuring the former president also started running in South Carolina last week endorsing Jeb Bush's ability to lead. In the 30-second spot Bush says, "The first job of the president is to protect America. The next president must be prepared to lead. I know Jeb. I know his good heart and his strong backbone."
The 2016 campaign trail is looking more and more like a Bush family affair; ahead of the New Hampshire primary Bush tapped his 90-year-old mother, former first lady Barbara Bush, to join him. According to exit polls in the Granite state, Bush finished in 4th place with 11% support.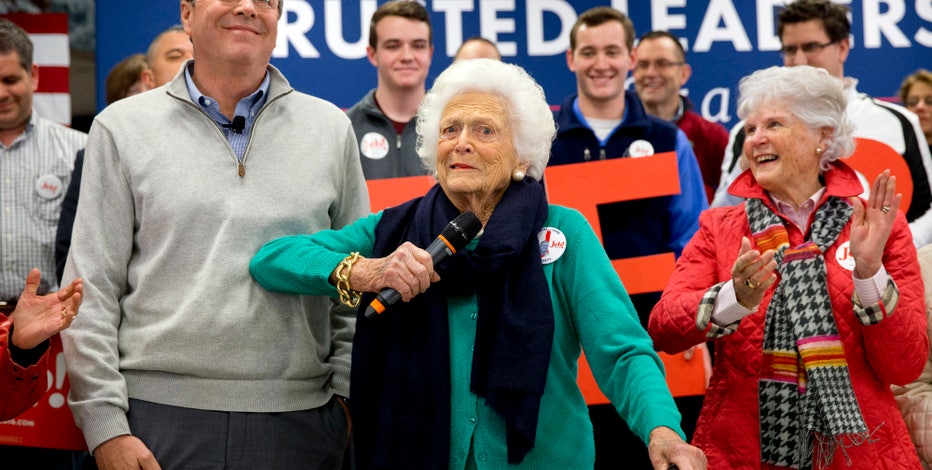 In a recent CBS News/YouGov poll, Bush ranks in 5th place with 6% support from likely South Carolina GOP primary voters; Trump holds a commanding lead with 42%.
South Carolina Republican primary voters will head to the polls on Saturday, February 20.