California Gov. Declares State of Emergency as Wildfire Spreads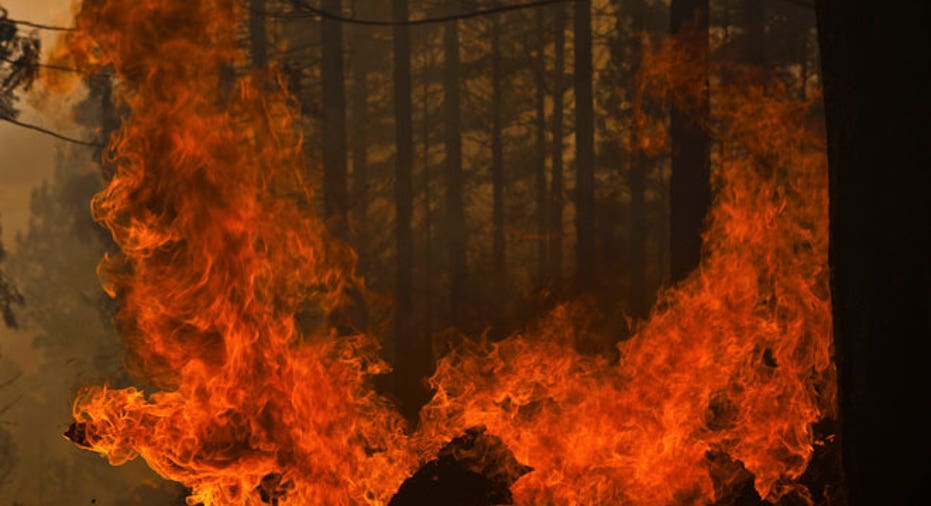 California Governor Jerry Brown declared a state of emergency in three Northern California counties on Wednesday after a wildfire that has already destroyed 64 homes advanced with 75-foot flames on a tiny community at the doorstep of a national park.
Firefighters scrambled to head off the so-called Ponderosa Fire, which had scorched 24,000 acres, before it reached the outskirts of Mineral, a community of less than 200 people just south of Lassen National Volcanic Park.
Authorities issued an evacuation warning for Mineral as flames roared 75 feet high on the side of Highway 36, the main route into town, and burned through a rocky canyon where firefighters struggled to make a stand.
Crews also bulldozed a trench to serve as a last line of defense between the fire and the town as thick smoke and ash choked the air for miles.
"All the vegetation is ready to burn and so once the afternoon winds begin to blow up the canyon, those fuels burn aggressively and you have what we call blow-up conditions," Chico Fire Division Chief Shane Lauderdale told Reuters.
"It pushes the firefighters out of the area they are working and goes over the (containment) line and creates situations where we have to back out," Lauderdale said.
Beth Glenn, who said her family owns most of the businesses in tiny Mineral, said the town survived a fire that roared up the same canyon in the 1990s, but she worried the Ponderosa blaze could be worse.
"I don't know what's going to happen tonight," said Glenn, 58, whose motel and general store in the heart of Mineral were being used by fire officials to disseminate information to residents.
Glenn said the fire had prompted cancellations for the motel during its typically busiest month of August, and she was forced to tell guests not to come after losing power for five days.
TWO SMALL COMMUNITIES SAVED
The lightning-sparked fire was threatening Mineral after crews had turned it away from two small communities to the west, Shingletown and Manton.
All told, more than 3,000 people have been forced to flee their homes in the rural California counties of Tehama and Shasta, about 125 miles north of the state capital, Sacramento, although evacuation orders had been lifted by Wednesday afternoon from Shingletown and several other areas.
Highway 44, the main artery into Lassen Volcanic National Park, was also reopened, although portions of the Lassen National Park Highway were closed along with some trails and campgrounds, according to an alert on the park's website.
The blaze was 50 percent contained as of Wednesday afternoon, fire officials said, but they listed 500 homes, 10 commercial properties and 30 outbuildings as still at risk of being consumed by the explosive fire.
Officials say 64 homes had already been lost, along with 20 other structures.
The Ponderosa fire is one of dozens burning across drought-parched states in the U.S. West, including a blaze that destroyed dozens of homes this week in Washington state and another that threatened a town in Southern California.
"Firefighters are working aggressively to build approximately 11 miles of line and strengthen existing containment lines," the California Department of Forestry and Fire Protection said on its website.
"As additional resources arrive, firefighters will continue to diligently defend structures, construct containment lines and build bulldozer perimeter lines," it said.
Two firefighters have suffered minor injuries fighting the blaze.
Brown's state-of-emergency declaration, which frees up funds to help combat the fires, cited the Ponderosa blaze, along with the Chips Fire in nearby Plumas County, which is roughly twice as big.