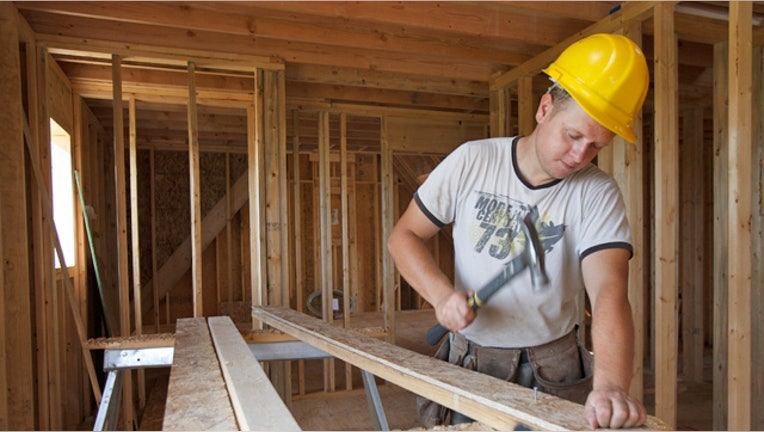 Despite a sell-off among the nation's biggest homebuilders this week, a decline in builder sentiment last month shouldn't derail the broader housing market recovery.
Toll Brothers (NYSE:TOL) earlier on Wednesday said softer home prices weighed on its revenue last quarter, pushing sales below Wall Street's consensus despite stronger orders and closings.
Its shares fell more than 6% following the results and weighed on the entire industry. KB Home (NYSE:KBH) slumped 6%, while D.R. Horton (NYSE:DHI) and Hovnanian (NYSE:HOV) fell 4% and Beazer Homes' (NYSE:BZH) slid 5%.
The National Association of Home Builders (NAHB) on Tuesday said its key measurement of homebuilder confidence declined in February from a six-and-a-half year high of in January, the first drop in 10 months.
The index was below Barclays (NYSE:BCS) and other expectations, though economists aren't ready to call an end to the nascent housing comeback.
"This is not a data point to choke over it, simply means that we have come out of the gate with a gain that needs (to be) tempered and possibly reset modestly lower in the near term," said Knight Capital's (NYSE:KCG) Peter Kenny.
Some of the concern is coming from broader economic worries like the sequestration as well as what he called "a flat lining economic landscape caught in the midst of an apparent stall."
Job cuts and unemployment remain major concerns and consumers are carefully monitoring Washington, where $85 billion in federal spending cuts are set to begin next month.
Barclay's analyst Cooper Howes said he does not see the February drop as evidence of a slowing housing recovery, while Gus Faucher, senior macroeconomist at PNC (NYSE:PNC), noted there's going to be month-to-month variation but expressed optimism that the overall trajectory of the recovery will continue to improve.
While the industry sell-off comes as many builders report a decline in traffic by prospective customers ahead of the critical spring season, the index, which took into account responses from 402 builders, comes amid strengthening housing demand, low interest rates and improving home prices in some markets.
Sales of new homes climbed 20% last year to 367,000, the highest level of sales in three years, and foreclosures on a national level have fallen sharply, despite continuing to rise in certain regions.
Consumer sentiment, meanwhile, continues to improve, rising to 76.3 in February above the consensus view of 74.8, according to the University of Michigan's preliminary index released on Friday. If the trend continues through the end of the month, it will mark the second consecutive monthly improvement after a sharp drop in December on fiscal cliff concerns.
At the same time, other housing indicators, including sales and prices, continue to look favorable and are expected to push higher over the next few months. Builders' outlook for sales over the next six months improved by a point to 50 in February.
Faucher said last month's sentiment decline could even be attributed to poor weather, which can weigh on housing demand and can be reflected in the index despite seasonal adjustments.
"I don't perceive any particular reason for concern," he said. "Housing demand continues to improve."
The NAHB index is still above its six-month average of 44 and stands 19 points higher than a year ago. All regional indices except in the South showed solid gains, particularly in the Northeast, with few changes in the Midwest and the West.