Boehner: Raise Debt Limit, But Cut Spending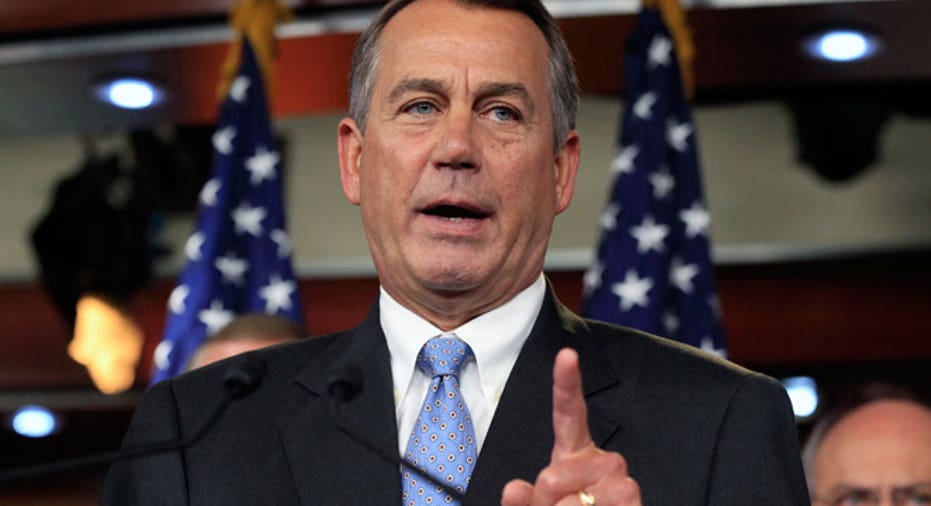 U.S. House of Representatives Speaker John Boehner took a tough line Tuesday on end-of-year legislation to increase the government's borrowing authority, saying he would only support it if it locks in a new round of spending cuts.
Boehner said he will insist "on my simple principle of cuts and reforms greater than the debt limit increase," according to excerpts of remarks the top U.S. Republican was to deliver later in the day at a Peterson Foundation fiscal forum.
Boehner staked out that position last year as Congress and President Barack Obama struggled to raise the debt limit.
That fight, which nearly brought the country to a historic default on its outstanding loans, culminated in an August deal forcing around $2 trillion in spending cuts over 10 years.
Some conservative "Tea Party" activists in Congress, who were elected on a smaller-government platform, had urged Boehner and other Republican leaders to allow a default rather than fail to address the rapidly growing U.S. national debt.
At the end of this year, following the Nov. 6 presidential and congressional elections, Congress likely will be faced with another request from the Treasury Department to raise borrowing authority that is quickly being exhausted and could run out in early 2013.
The U.S. debt currently is at about $15.6 trillion and borrowing authority is capped by law at $16.4 trillion.
Boehner reaffirmed his call for "reforms" that would squeeze savings out of large government "entitlement" programs such as the Social Security retirement and Medicare healthcare programs for the elderly, according to an aide.
The aide added that Boehner will say in his speech that tax hikes cannot be included in an end-of-year debt limit deal. But Boehner will discuss tax reform, the aide said.
"We shouldn't dread the debt limit. We should welcome it," Boehner said of the debate that is sure to consume Congress at year's end. He called it "an action-forcing event."
Obama and fellow Democrats have insisted on a balanced package to address the country's deficit problems, including getting more tax revenues from the rich. Failing to do so, they argue, puts too much pressure on the poor and middle class for reining in budget deficits that top $1 trillion a year.
Tax reform could include a range of actions, including lowering corporate and individual tax rates while taking away tax breaks for some. But reforming the archaic U.S. tax code is an ambitious effort that is expected to stretch into 2013 and possibly longer.
At year's end, Congress will be confronted with important decisions besides the debt limit and spending cuts. There also is expected to be a spirited debate over whether broad tax cuts enacted in 2001 and 2003 will be allowed to expire on Dec. 31 or whether parts or all of them will be renewed, at least temporarily while Congress debates a comprehensive reform bill.
A payroll tax cut backed by Obama also is set to expire then and Congress already has begun looking at ways to replace automatic spending cuts that are kick in at the New Year. Meanwhile, Congress might still be grappling with funding many day-to-day government operations through Sept. 30, 2013.
These unresolved issues are contributing to nervousness among investors and voters in the runup to November's election.