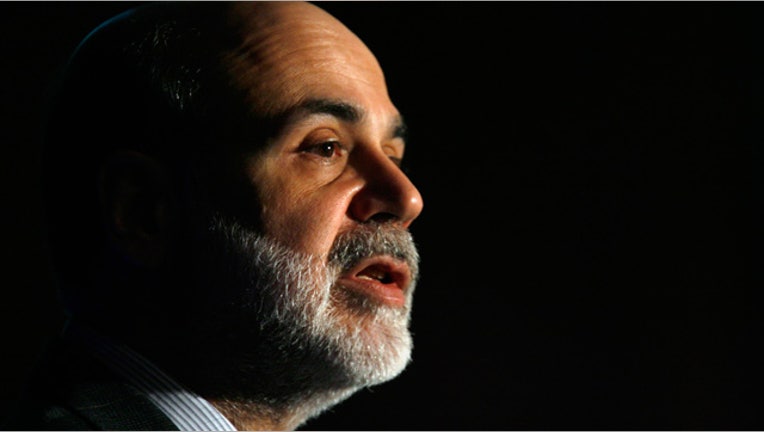 Federal Reserve Chairman Ben Bernanke said Wednesday that the central bank could begin scaling back its easy money stimulus policies – namely its $85 billion a month in bond purchases -- later this year and wrap up the program by mid-2014.
But tapering the program will be entirely dependent on a stream of positive economic data, Bernanke stressed during a press conference following two days of Fed meetings.
"Policy is in no way predetermined," Bernanke said.
In an effort to provide clarity to the Fed's plans for slowing the program known as quantitative easing, Bernanke for the first time offered a specific timeline for potentially winding down the bond purchases.
Stock markets fell in the wake of Bernanke's attempt at clarification, with the Dow falling as much as 170 points. Bond yields rose to a 15-month high.
Markets have gyrated for weeks on speculation, fueled by mixed messages from the Fed, over when and how the Fed will ease out of quantitative easing. Stock markets have soared for three years under the program and many analysts are expecting a selloff and increased market volatility when the Fed announces a firm date for scaling back the purchases.
Bernanke stressed that nothing is written in stone. The asset purchases will start to wind down only if labor markets show real traction. In addition, economic data released between now and later in the year will have to justify ending the purchases, he explained. Finally, inflation will have to be climbing back toward the Fed's target rate of 2.0.
"Our policies are tied to how the outlook evolves," Bernanke said.
Bernanke also backed away from a specific target for when the Fed may start raising interest rates. The Fed has said for months that it won't raise rates until unemployment falls to 6.5%, but Bernanke on Wednesday called the 6.5% rate a "threshold" rather than a target.
Other factors will have to be in play, such as 2% target rate inflation, for the Fed to start raising rates when unemployment hits 6.5%, he said.
Inflation has fallen in recent months to nearly 1%, raising fears of deflation.
Using a car as an analogy, Bernanke said the Fed's eventual tightening policies will be akin to "letting up on the gas pedal as the car picks up speed."
Earlier, the Fed announced in its policy statement no significant changes to its stimulus programs. The Federal Open Markets Committee (FOMC), which sets most monetary policy, wrapped up two days of meetings on Wednesday and released its latest forecasts and statement at 2 p.m.
The Fed said it will continue buying assets at a clip of $85 billion a month, and hold short-term interest rates at essentially 0% for the foreseeable future.
The central bank, leaving its options open, said it is prepared to increase or reduce its purchases based on the trajectory of the economy. However, downside risks have 'diminished' since the fall.
The central bank also said it sees the unemployment rate falling faster than it forecast in March. It now sees the jobless rate clocking in at 6.5% to 6.8% next year, from 6.7% to 7%. At the same time, it also upped its forecast for economic growth in 2014 to 3% to 3.5%, from 2.9% to 3.4%.
Two Fed policy makers, James Bullard, president of the St. Louis Fed, and Esther George, president of the Kansas City Fed, dissented from the majority of Fed members, a sign of growing disfavor with the central bank's long-term loose fiscal policies.
In wording remarkably similar to each of its recent monthly statements, the Fed said its policies will remain intact until labor markets stabilize and the recovery gains firm traction.
In its statement, the Fed said the economy continues to grow at a "moderate pace" and that labor markets are strengthening. The unemployment rate, however, remains too high.
Economic data since the FOMC last met in May has been mixed. The unemployment rate ticked slightly higher to 7.6%, but mainly because more people returned to the workforce looking for jobs, a positive sign. Meanwhile, consumers spending rose to its highest levels since the financial crisis despite higher payroll taxes and mandated government spending cuts that went into effect in May. And housing prices have been rebounding in many areas of the country throughout the first half of 2013.
Scaling back quantitative easing could raise mortgage rates, which has raised concerns that the strengthening housing market could be negatively impacted.
For months Bernanke had been intentionally cagey about the Fed's intentions, insisting that the central bank is ready to start tapering off from its bond purchases. But he's been vague about when and how that might happen. He was far more specific on Wednesday.
Bernanke is called a "policy dove" because he supports stimulus policies. In recent months he has faced an increasingly vocal group of opponents within the FOMC who believe too much easy money will lead to runaway inflation and other unintended consequences. This group is known as "policy hawks."
Bernanke declined to comment on his future during the press conference. Speculation that he won't be nominated for another term as Fed chairman grew earlier this week after President Barack Obama hinted that Bernanke's term is likely over.
Fed Vice-Chair Janet Yellen, a strong supporter of Bernanke's loose fiscal policies, is widely expected to replace Bernanke.