Bernanke Implores D.C. to Reach 'Sensible' Deal on Fiscal Cliff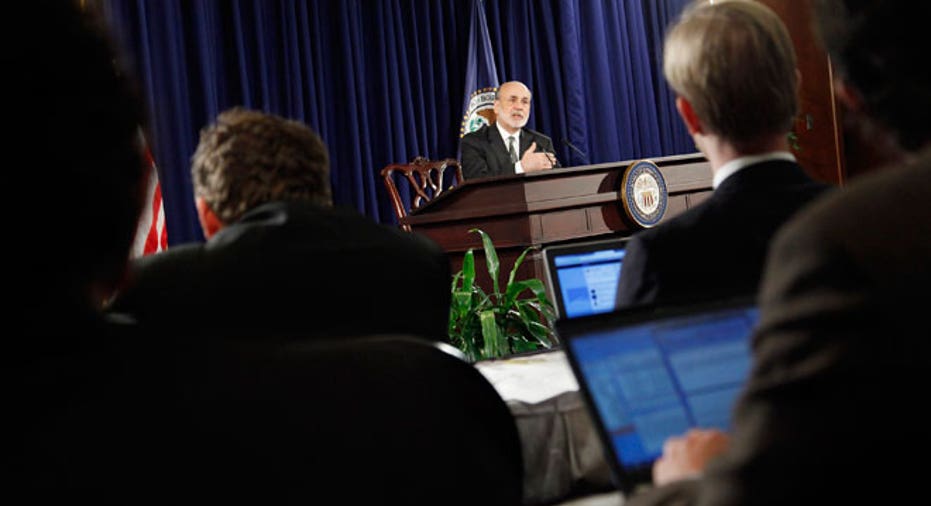 Federal Reserve Chairman Ben Bernanke pleaded with Congress and the White House on Wednesday to reach a "sensible agreement" on the fiscal cliff before the looming batch of spending cuts and tax hikes derails the economic recovery.
In a press conference in Washington after the Fed unveiled new monetary policy thresholds and an extension of a Treasury-buying program, Bernanke also sought to explain the central bank's efforts to keep the U.S. economy float and drive down unemployment.
He warned that the $600 billion combination of tax hikes and spending cuts contained in the fiscal cliff "could have a very negative effect on hiring, jobs, wages, economic activity and investment."
"It's exceptionally important and urgent that Congress come to a sensible agreement" on the fiscal cliff, Bernanke said.
Yet Bernanke sought to avoid spooking investors and consumers about the fiscal cliff, a term he coined.
"It's always a delicate balance. You don't want to scare people," said Bernanke. "I actually believe that Congress will come up with a solution and I certainly hope they will."
Sensible Agreement Sought
Bernanke urged Congress to do the "right thing," describing a two-pronged approach: modify fiscal policy in a way that doesn't "create enormous headwinds for the economy in the near term" and at least begin to form a framework for "sustainable" fiscal policy in the long term.
He said the fiscal-cliff talks shouldn't be deemed a success unless both parts are achieved. "There is a problem with kicking the can down the road," Bernanke said.
The Fed chief also spoke about the central bank's latest efforts to lower unemployment, which has decreased in recent months but remains painfully high at 7.7%.
"If we could wave a magic wand and get the unemployment rate down to 5% tomorrow, obviously we would do that," Bernanke said.
Bernanke was also asked whether he would consider staying on board when his term expires in January 2014 if President Obama asked him to.
Bernanke said he hasn't had any conversations with Obama on the matter, noting that the president has "quite a few issues he's got to be thinking about" like the fiscal cliff. "I haven't been spending time thinking about my own future," he added.
Increased Transparency 
In a major switch from the Fed's traditionally qualitative basis for monetary policy, the central bank pledged on Wednesday to keep interest rates extraordinarily low so long as the unemployment rate remains above 6.5% and inflation stays below 2.5%.
But Bernanke said monetary policy is not on "autopilot" and said the new thresholds are aimed at encouraging increased transparency.
"If news comes in that the economy is stronger or weaker, then financial markets and the public will be able to adjust their expectations for when policy tightening will occur," Bernanke said.
The Fed's decision to undertake specific thresholds hadn't been expected to be announced just yet, but came after what Bernanke described as "a good bit of discussion."
"There was a lot of agreement that having a more explicit connection between rate policy and the state of the economy was more transparent and more helpful to the markets and the public," the Fed chief said.
QE4?
In an effort to help boost the economy, the Fed also announced plans to continue buying about $40 billion of Treasury bonds a month when a current program expires. However, the central bank will no longer sterilize the program by selling assets, meaning its balance sheet will grow.
Yet Bernanke described the decision merely a "follow-through" on its September signal to continue asset purchases, saying: "I don't think we have significantly added to accommodation."
Bernanke said the Fed could increase its asset purchases "a bit" if the U.S. goes off the fiscal cliff, but warned: "We cannot offset the full impact of the fiscal cliff. It's just too big given the tools we have available."
Some have pushed back at the Fed's QE3 and other asset programs, expressing concern about unforeseen consequences and a distortion in market dynamics.
Just over 50% of economists polled by The Wall Street Journal believe the risks of continued Fed action outweigh potential benefits.
"If potential unintended side effects or risks become apparent as the balance sheet grows, we will modify the program," Bernanke said.
While Wall Street responded positively to the Fed's initial decision, with the blue chips climbing as much as 80 points, the markets slipped into the red as Bernanke's lengthy press conference wrapped up.
Bernanke also took a number of questions about his roots in an economically-depressed area of South Carolina.
He noted that the negative consequences of the U.S. going over the fiscal cliff would be "felt by everybody, but certainly areas like where I grew up would no doubt feel the greater brunt."