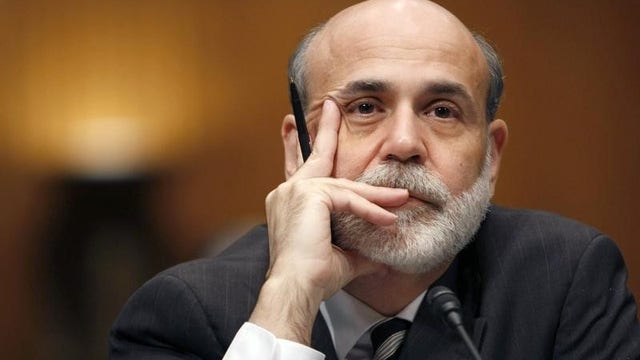 Former Federal Reserve Chairman Ben S. Bernanke became more animated in federal court on Friday, pushing back against assertions that the government's 2008 rescue of American International Group Inc. was designed to punish the company and describing at length the central bank's role in combating a crisis.
On his second day of testimony in federal court, Mr. Bernanke maintained that officials sought to save AIG, not punish it. "The company was on the brink of default, and our intervention would spare it the discipline of the market," he said.
The testimony is part of a trial of a class-action lawsuit filed in 2011 by Starr International Co., which is headed by AIG's former and longtime Chief Executive Maurice R. "Hank" Greenberg. The lawsuit contends that the government went beyond its authority in the rescue package, by taking a 79.9% ownership stake in AIG and imposing what it calls an "extortion" interest rate. Starr was AIG's largest shareholder in 2008.
Mr. Bernanke, now a fellow at the Brookings Institution, during most of the morning session continued with his pattern from Thursday of giving mostly one- and two-word answers to plaintiff's attorney David Boies's questions.
Mr. Bernanke perked up noticeably when Mr. Boies ended his first round of questioning and turned the dais over to Kenneth Dintzer, the Justice Department's lead attorney. The former Fed chairman leaned forward, spoke into the microphone, smiled on occasion, and gave much longer, explanatory answers to questions.
At one point, when discussing the causes of the financial crisis, Mr. Bernanke gave a response so voluble that the court reporter had to ask him to slow down. Mr. Bernanke paused, then said, "I don't know if I can."
The courtroom erupted in laughter and even the judge cracked a smile.
Mr. Dintzer walked Mr. Bernanke through the history of the Federal Reserve, and its role as "lender of last resort." The questioning was seemingly designed to show how the central bank contained emergency lending powers for decades that had never been used until the financial crisis.
Mr. Bernanke, former chairman of the Princeton University economics department, was in full-professor mode at this point, speaking about Bagehot's Dictum and 19th-century views on central banking to explain why economists had long believed that the central bank should be able to make emergency loans. The Fed's legal authority to make these emergency loans is known as Section 13(3), referencing the part of U.S. law that makes them legal.
Mr. Bernanke said many companies, including AIG, wanted the Fed to give them 13(3) loans during the financial crisis, but the Fed often rejected the idea. He said, for example, that major auto companies wanted the Fed to make them these loans during the crisis, but the Fed found it to be outside their purview. "Our focus was on the financial system," he said.
Mr. Bernanke said "moral hazard" was a chief concern for many Fed officials during the financial crisis for at least two reasons. He said he thought any bailout, which is how he described the AIG assistance, would signal to other firms that excessively risky behavior would receive a federal backstop. And he said firms would also stop trying to seek private financing if they felt the government would always step in.
"We very, very much did not want to make a loan of the sort" to AIG, Mr. Bernanke said.
Mr. Bernanke was expected to continue his testimony after a lunch break.
The rescue came on Sept. 16, 2008, amid concerns that AIG's failure would cause widespread damage to an already rapidly deteriorating economy.
The $85 billion emergency loan extended by the Federal Reserve Bank of New York averted a bankruptcy filing by the giant financial-services company, after an 11th-hour private-sector effort to raise $70 billion or so was unsuccessful, court testimony and filings have shown.
Starr's lawsuit suit also alleges that the government unlawfully sought to punish AIG, without analysis or investigation to understand the financial-services company's role in the crisis compared with other financial companies.
Mr. Bernanke's testimony on the 10th day of the trial followed that of Timothy Geithner, president of the New York Fed when AIG nearly collapsed, and before him, former U.S. Treasury Secretary Henry Paulson. After more than two days, Mr. Geithner wrapped up his testimony just before Mr. Bernanke took the stand Thursday.
As Mr. Boies, who is representing Starr, repeatedly pushed Mr. Bernanke about aspects of the rescue, the former Fed chairman responded: "You are asking me about legal details of the agreement that I simply do not know."
Also on Friday morning, Judge Thomas Wheeler admonished Mr. Boies on two occasions to move more quickly after days of methodically walking the former government officials through documents that were already in the public record.
"I understand the court's desire, and I will move on," Mr. Boies said.
AIG, whose primary business is selling insurance, nearly toppled as a result of its sale of an unregulated type of insurance that protected banks and other large clients against losses on complex mortgage bonds.
The suit seeks $40 billion for shareholders.
The AIG rescue package swelled to $184.6 billion in government assistance and taxpayers' stake peaked at 92%. AIG fully repaid the assistance by late 2012, and the government has calculated it received a positive return of about $23 billion.