Baked: Drought Conditions Intensify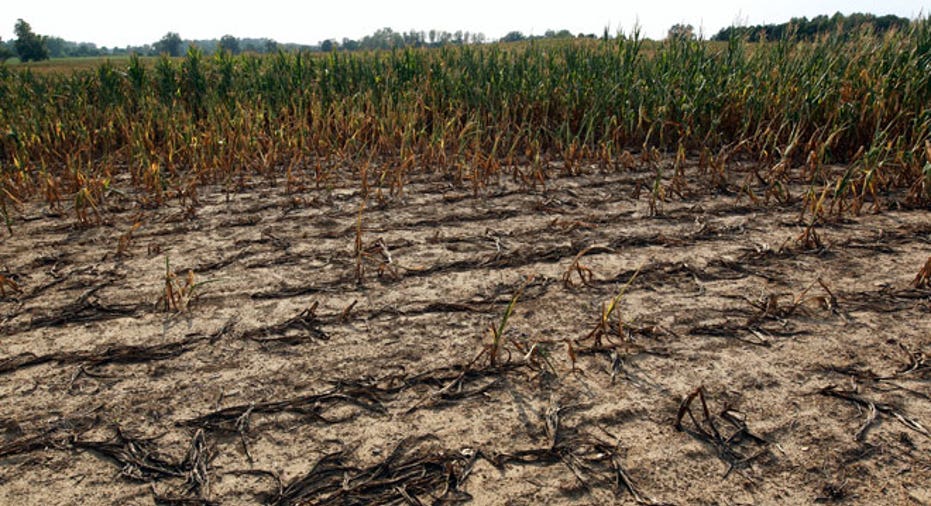 The worst U.S. drought in 55 years intensified over the past week as above-normal temperatures and scant rainfall parched corn and soybean crops across the Midwest and central Plains, a report from climate experts said on Thursday.
Nearly two-thirds of the contiguous United States was under some level of drought as of July 31, more than a fifth of it classified as extreme drought or worse, according to the Drought Monitor, a weekly report compiled by U.S. climate experts.
The drought intensified in most major farm states, including Illinois, Nebraska, Kansas, Missouri and Iowa, the top U.S. corn and soybean producer, as temperatures were 5 to 10 degrees (Fahrenheit) above normal and rains were largely scattered and light.
Crop condition ratings for corn and soybeans have fallen to the lowest since the major drought of 1988, propelling prices of both crops to all-time highs last month. Extreme drought covered about 32% of the nine-state Midwest and about 5% of the region was under exceptional drought, the most dire classification which results in widespread crop and pasture losses and shortages of water in reservoirs, streams and wells.
About 31% of Iowa was under extreme drought as of Tuesday, up from 28% the prior week.
Exceptional drought covered much of southwest Indiana, portions of southern Illinois and southeast Missouri, far west Kentucky and a wide swath of northern and central Arkansas.
"The region continues to be impacted not only by oppressive heat, but also by depleted soil moisture, desiccated pastures and widespread crop damages, livestock culling and elevated fire risk,'' said Mark Svoboda of the National Drought Mitigation Center.
About 48% of the six-state High Plains region was suffering under extreme drought, including 88% of Kansas, up from 73% a week ago, and 83% of Nebraska, up from 64%, the drought monitor showed.
Light, scattered rains offered some relief to areas of the U.S. farm belt on Thursday, but another buildup of heat was expected next week in the central and western Midwest, an agricultural meteorologist said.