Automakers are responsible for Takata air bag recalls: NHTSA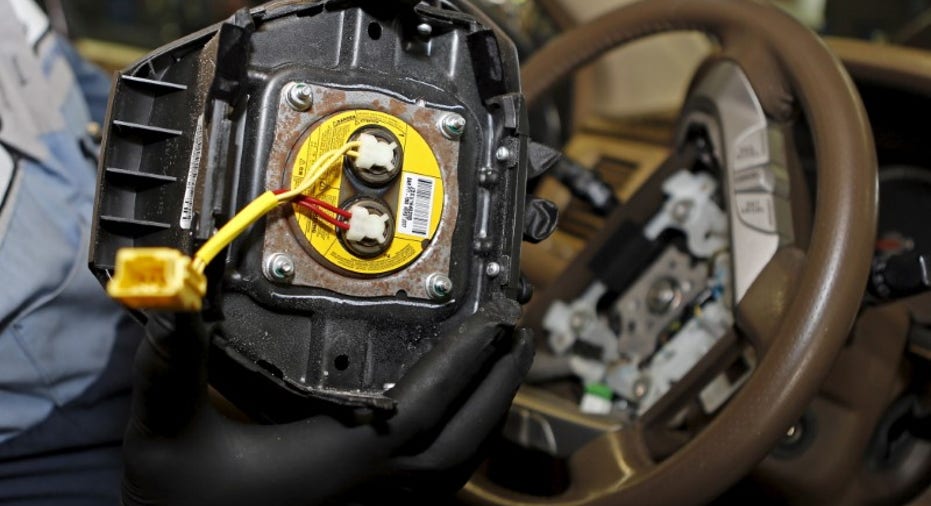 Automakers have "ultimate responsibility" for the costs of replacing potentially deadly Takata Corp <7312.T> airbags, no matter what happens to the Japanese supplier, the top U.S. vehicle safety regulator said on Wednesday. 7312.T>
Mark Rosekind, the head of the National Highway Traffic Safety Administration, told reporters in Detroit he is concerned that not enough is being done to find and fix more than 300,000 older vehicles, mostly made by Honda Motor Co <7267.T>, that have Takata airbags with a 50 percent chance of exploding in a crash. 7267.T>
Honda said it continues to explore and evaluate new methods of convincing owners of vehicles affected by Takata airbag inflator recalls to complete the necessary repairs.
Honda associates have started conducting targeted home visits to owners of the older-model 2001-2003 vehicles that the NHTSA has determined are at the highest risk of experiencing a Takata inflator rupture, Honda said in a statement to Reuters.
Takata is seeking a buyer, amid speculation the company could seek bankruptcy protection as part of a deal. Rosekind said his agency believes it has "several layers of protection" to assure that recalls of up to 70 million potentially defective Takata airbag inflators are completed as agreed with the company.
Automakers worldwide are ramping up the industry's biggest-ever recall after Takata, under pressure from U.S. authorities, agreed earlier this year to declare more of its air bags as defective in the United States and other countries.
U.S. safety regulators have linked 11 deaths in the United States to Takata airbags that ruptured, sending metal shrapnel flying inside vehicles. The most-recent reported U.S. fatality was of a 50-year-old woman who died in a 2001 Honda Civic after a Sept. 30 crash in Riverside County, Calif.
Her death is one of 16 worldwide now linked to defective Takata airbag inflators and the NHTSA said the Honda Civic involved in the crash belonged to the high-risk population of vehicles the agency is targeting.
"We have had a significant number of meetings with Honda," Rosekind said after appearing at a conference in Detroit. The urgency of replacing the faulty airbag inflators could require knocking on doors or sending mobile repair teams to neighborhoods to fix vehicles, Rosekind said.
Honda has said it is cooperating with regulators and said in connection with the Riverside death that it had mailed 20 recall notices to owners of the vehicle since 2008, but the car was never fixed.
Separately, Rosekind said the NHTSA's decision to demand that San Francisco self-driving car startup Comma.ai demonstrate the safety of a proposed aftermarket system to enable vehicles to pilot themselves on the highway represented the agency's effort to be more proactive in addressing emerging technology.
"Our expectation is you're going to come and let us know what you are doing," Rosekind said. The Transportation Department's proposed guidelines for autonomous vehicles are meant to encourage innovation, Rosekind said. "That is not a free-for-all."
(Reporting by Joseph White; Editing by Steve Orlofsky, Alan Crosby and Gopakumar Warrier)