AT&T touts Time Warner merger at U.S. Senate hearing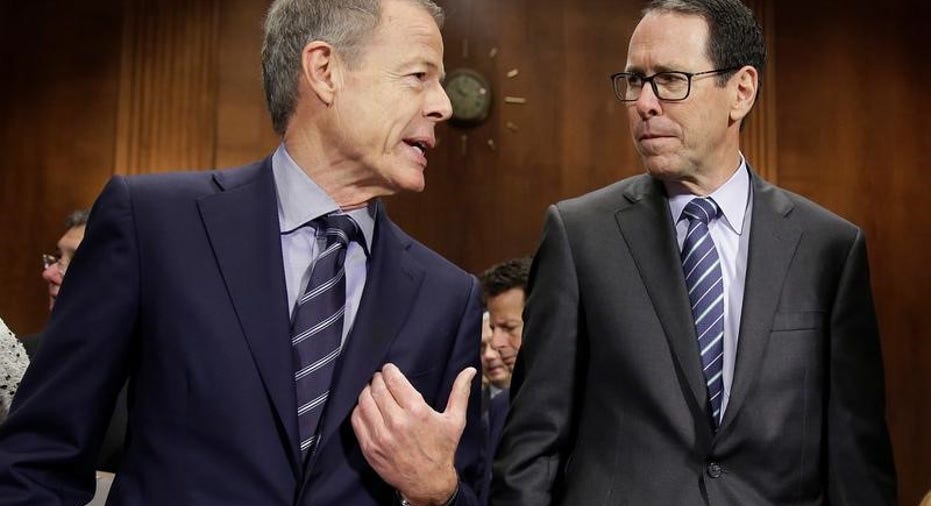 AT&T Inc Chief Executive Officer Randall Stephenson told U.S. lawmakers on Wednesday that his company's planned $85.4 billion acquisition of Time Warner Inc would increase innovation, bring "better-priced options" to consumers
and "reshape the competitive landscape."
"By owning Time Warner content, we will be able to innovate more quickly, experiment more readily, tweak our offerings as we gauge customer response and bring consumers the options they seek," Stephenson said at a Senate hearing.
Senator Mike Lee, a Republican who chairs the panel that held the hearing, said the antitrust review by the U.S. Justice Department would be "very fact-intensive."
"Consumer welfare is maximized by protecting competition, not necessarily by protecting competitors," Lee said.
The Justice Department will determine whether the deal is legal under antitrust law. If the agency decides to stop a deal, it must convince a judge to agree.
Senator Amy Klobuchar, the ranking Democrat on the Judiciary Committee's antitrust panel, expressed concern that the deal would create incentives for AT&T to refuse to license Time Warner content to competitors. She also said AT&T could favor its own movies and television shows over independent content.
Time Warner owns HBO, CNN, Cartoon Network and the Warner Bros film studio.
Stephenson said at a New York conference on Tuesday that the Justice Department had begun reviewing the deal, which was announced in October. "This obviously will require extensive analysis," he said.
The Federal Communications Commission would also review the deal if AT&T decides to assume any of Time Warner's licenses, he added.
"They own a number of licenses here and there, everything from walkie-talkie, wireless licenses to satellite licenses on bands for CNN," he said.
U.S. President-elect Donald Trump, whose administration will decide whether to approve the merger, had said during the campaign that it should be blocked.
Stephenson told Reuters before the hearing that he had no contact with Trump.
Billionaire investor Mark Cuban told the Senate panel that the merger would create another competitor against large companies like Apple Inc , Google , Microsoft Corp , Amazon.com Inc and Facebook Inc .
"Delivering content to consumers in this app-driven world is not easy," he said in written testimony. "Alone, it will be very difficult, if not impossible for either AT&T or Time Warner to compete."
(Reporting by David Shepardson and Diane Bartz; Editing by Lisa Von Ahn)