As Trump Falters on Corporate Tax Cut, Wall Street Could Plummet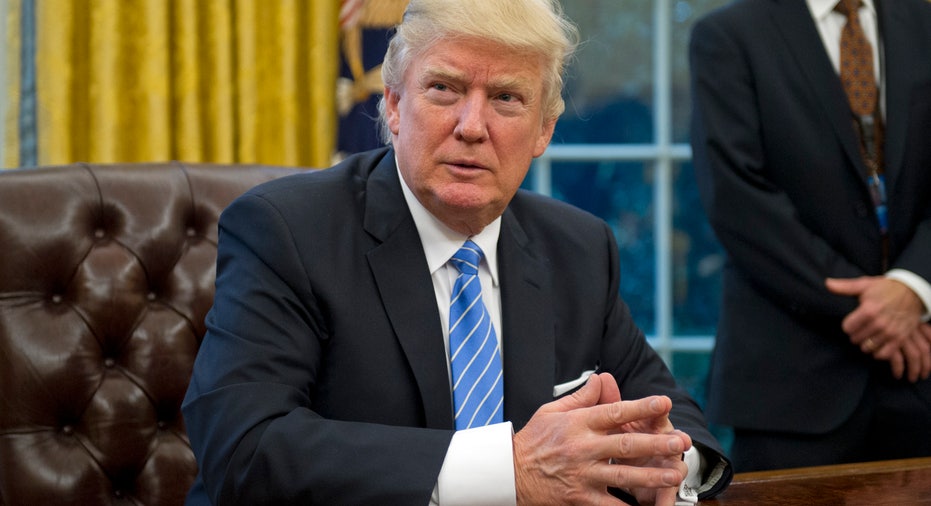 Wall Street may not be getting that big corporate tax rate cut after all.
White House aides tell FOX Business President Trump's plan to dramatically reduce corporate taxes on U.S. businesses is in flux and when the White House does craft the proposal it could be more modest than what was promised in order to enable corporations to repatriate profits held overseas. A portion of the repatriated money would be used to finance infrastructure spending, White House sources say.
The so-called deemed repatriation process would tax those overseas corporate profits at 10 percent as opposed to 35 percent, and a percentage of the money returning to the U.S. would be used to finance an infrastructure fund to build the roads and bridges that President Trump has recently been touting.
Trump and his economic advisers floated the repatriation-infrastructure idea during the 2016 presidential campaign at the same time as they were touting a massive cut to the federal corporate income tax to around 15 percent from its current level of 35 percent, as well as cuts to individual tax rates.
Trump's fiscal policy was supposed to be a combination of increased infrastructure spending and tax cuts aimed at spurring a U.S. economy that has grown haltingly in the wake of the 2008 financial crisis. Economic growth was also slowed by the Obama administration's heavy propensity toward regulation and taxes.
The U.S. has one of the highest corporate income tax rates in the world, and some economists consider it an impediment to job creation.
But what is new in the current White House discussions is that the tax break for repatriated foreign profits would replace the massive corporate tax cut that Trump has pushed, according to people with direct knowledge of the matter. White House aides were hoping to use savings from health care reform to fund their fiscal policy goals like tax cuts.
Without health care reform, the White House is looking at a scaled back tax cut proposal, White House aides tell FOX Business. If the White House does indeed replace a significant corporate tax cut plan with the repatriation proposal, the move could disappoint stock market investors who have already priced in significantly lower corporate taxes and the notion that the reduction would cause an immediate accrual of corporate profits.
"If they went with repatriation instead of a corporate tax cut, that's going to take a lot of wind out of the markets sails," Chris Whalen, an independent financial analyst, said.
Since the election, the Dow Jones Industrial Average has risen more than 2000 points, or 11%, based largely on President Trump's proposed economic policies, including a tax overhaul. Still, since the beginning of March when questions started to emerge about the timing and the size of potential tax cuts, the Dow has declined more than 600 points, or around 3%.
When asked about whether the Trump corporate tax cut plan would be replaced by the repatriation proposal, a White House spokeswoman said "all options are on the table."
On Tuesday, White House budget director Mick Mulvaney told Fox News: "All of these issues …have been discussed, from corporate tax reform, individual tax reform, (to) how do you repatriate earnings overseas. We don't have a policy yet."
Worries that drastic cuts to the corporate tax rate could cause the budget deficit to swell are causing Trump to falter on one of his signature campaign promises. Trump recently told Maria Bartiromo of FOX Business that the failed effort to reform health care makes enacting tax cuts more difficult because the budget is deprived of the health-care related savings.
Trump told FOX Business the administration will continue to try and enact health care reform legislation in the hopes of getting those savings and cutting taxes. In the meantime, with less money to play with, the White House is looking at several alternatives to achieve its fiscal policy goals of cutting taxes and building infrastructure, while not busting the budget.
The deemed repatriation concept is something the administration hopes might satisfy all those goals, people with knowledge of the White House's rationale say.