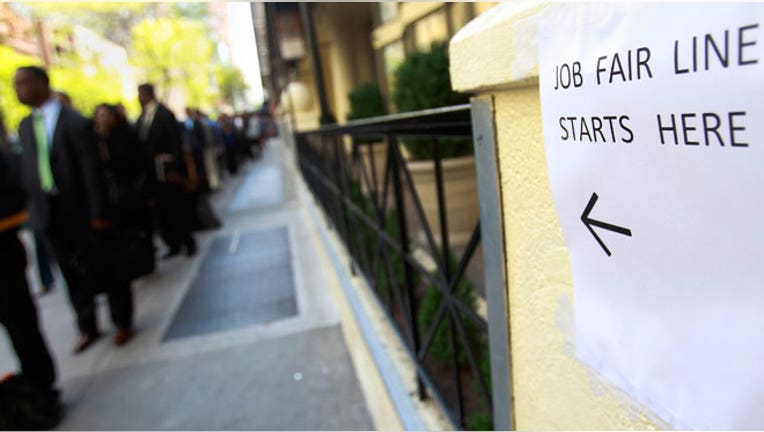 As if Friday's weaker-than-expected jobs numbers weren't enough bad economic news, a new survey by Glassdoor shows more U.S. workers lost confidence in the first quarter, with nearly one in five employees growing concerned that layoffs could be in the cards for them over the next six months.
The report comes as American employers hired at the slowest pace in nine months in March, with the economy adding just 88,000 jobs, according to the Labor Department, below economists' forecasts of a 200,000 rise.
About 25% of employees, or a quarter of the 1,107 people surveyed who identified themselves as employed, think it is unlikely they'll be able to find a job in the next six months that matches their experience and current compensation should they lose their current job.
Roughly 31% of the 947 poll participants who claimed to be unemployed said they are less optimistic they'll be able to find a job of the same caliber of their previous job, down six points from last quarter.
The study, conducted by Harris Interactive on behalf Glassdoor, a jobs ratings and reviews company, polled a total of 2,054 adults in the U.S. from March 20-22.
The pessimism regarding layoffs and re-hiring come despite the fact that 45% (498 people) of polled employees believe their company's business outlook will improve over the next six months.
"While employees are hopeful for the future of their company's business outlook, they remain cautious as to how that optimism will impact their financial stability," said Rusty Rueff, Glassdoor's career and workplace expert in a statement, who previously ran global human resource departments at both Electronics Arts (NYSE:EA) and PepsiCo (NYSE:PEP).
As a result, he said, today's workforce is feeling "increasing productivity pressure."
Nearly one in three currently-employed respondents reported cutbacks at their organization last quarter, according to the poll. Of those, more than half said cutbacks were related to changes in compensation or reductions in pay, up four points from the fourth quarter.
Only 10% of working respondents reported positive news over the past six months.
External factors, such as the monthly unemployment numbers and broad fiscal problems, can weigh on confidence. Roughly 36% of the unemployed (341 people) in the Glassdoor study said they are influenced by the jobs numbers, while 17% of employees (188 people) say they are likely to be influenced by layoff news and rumors.
British banking giant HSBC (NYSE:HBC), for example, was reported last month to be nearing plans to cut another 5,000 jobs as part of a multi-billion dollar annual savings plan. Zynga (NASDAQ:ZNGA), looking to streamline, said in February it would slash about 1% of its workforce, and a Reuters report on Friday speculated that media conglomerate Walt Disney (NYSE:DIS) could start a new round of layoffs within the next two weeks.
Confidence has slid off over the past year after reaching a three-year high last July in Glassdoor's quarterly survey. Since then, employees and job seekers have been hit with disappointing fiscal issues in the U.S. and Europe, with the fiscal cliff and sequester prompting employers and consumers to cut back their spending.
The disappointing March job numbers signal continued sluggish growth despite recent improvements in consumer confidence and housing starts. The stock market hit record highs last quarter, however broader economic news continue to weigh on hiring prospects.
While unemployment edged a point lower to 7.6%, economists warn the improvement could have been more a reflection of people giving up hope and ending their job search than an actual recovery.
The Dow Jones Industrial Average plummeted 150 points in early trading Friday following the labor numbers.