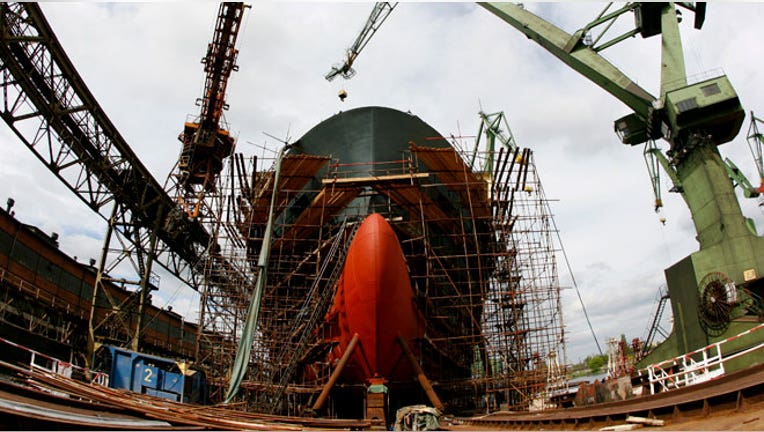 American exports rose for the first time since early summer, a sign that stabilizing overseas economies could support U.S. growth in coming months.
U.S. exports rose by 1.8% to $192.7 billion in October from September, the Commerce Department said Wednesday. That was their highest level on record. Imports rose by a more a modest 0.4% to $233.3 billion.
Strengthening exports helped to shrink the trade gap to $40.6 billion from $43 billion in the prior month. Economists surveyed by Dow Jones had predicted an October trade deficit of $40.2 billion.
The rebound in exports provided new evidence the lackluster U.S. recovery could get a boost from a stabilizing global economy. Weakness abroad, together with government spending cuts, had weighed on U.S. producers earlier this year and last year.
Recent manufacturing data, a bellwether for broader economic output, has pointed to steady expansion in much of the world.
Chinese factory output grew in November at the same pace as in October, a sign of stabilization after the Chinese economy rapidly cooled earlier in the year.
U.S. exports to China from January through October rose 6.9%, compared with the same period a year earlier. October exports to China of $13.1 billion were the highest on record.
Factory output in Europe continued to expand overall, though some countries showed weakness. Output contracted in France and Spain in November, a sign the region's economy struggles to gain solid footing after emerging from its longest downturn since World War II.
Exports to the European Union were down 1.7% in the first ten months of the year.
Exports to Canada, the nation's largest trading partner, were up 2.3% in the same period.
U.S. exports of petroleum products in October were the highest on record, a new sign of booming domestic energy production. Exports of industrial supplies and consumer goods were also strong.
Surveys of purchasing managers at U.S. manufacturing companies have pointed to stronger exports in the months ahead. In its November report on manufacturing, the Institute for Supply Management said its gauge of export activity rose to the highest level since February 2012.
Subdued import growth in October could be an indication of weak consumer demand in the run-up to the important holiday shopping season. Retail sales sagged over Thanksgiving weekend, according to early reports from the sector's trade group, though other data have been stronger.
October retail sales rose for most types of products, while the Thomson Reuters/University of Michigan consumer sentiment index edged higher in November after concerns of budget battles in Washington weighed on confidence in prior months.