Alejandro Villanueva is NFL's top-selling jersey since standing for anthem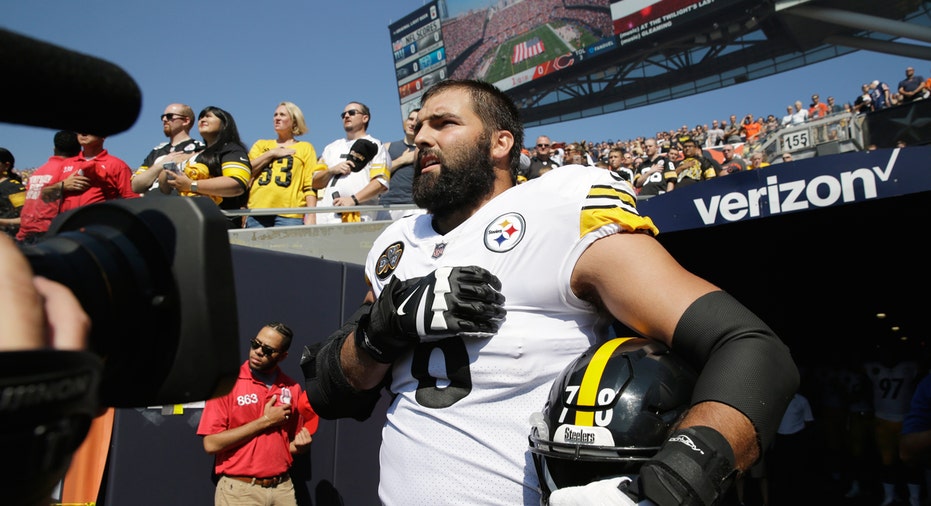 Sales of Pittsburgh Steelers offensive lineman Alejandro Villanueva's jersey are spiking Monday, hours after the former Army Ranger-turned-NFL player was the sole member of his team to exit the locker room for the pregame rendition of the national anthem.
Over the last 24 hours, Villanueva is the top-selling NFL player in terms of jerseys, T-shirts and other merchandise on the NFL Shop, according to Fanatics, which operates NFL Shop, the league's online store. A company spokesman did not provide specific sales data.
Villanueva was the only Steelers player to emerge from the locker room on Sunday during the playing of the "Star-Spangled Banner." The 6-foot-9 offensive tackle stood just outside the tunnel with his hand on his heart, in an image that quickly went viral on social media.
The rest of the Steelers' roster opted to remain in the locker room after Trump called on NFL owners to fire players who knelt during the national anthem. Dozens of NFL players took part in demonstrations on Sunday, while league officials and most of the 32 team owners expressed solidarity with their actions.
While Villanueva was unavailable to the media after Sunday's game, he addressed the idea of national anthem protests last fall, when former San Francisco 49ers quarterback Colin Kaepernick's decision to kneel kicked off a nationwide debate.
"I don't know if the most effective way is to sit down during the national anthem with a country that's providing you freedom, providing you $16 million a year ... when there are black minorities that are dying in Iraq and Afghanistan for less than $20,000 a year," Villanueva told ESPN at the time.
Villanueva, 29, served three tours of duty in Afghanistan before joining the NFL. He has played left tackle for the Steelers since 2014, singing a four-year, $24 million extension with the franchise last July.