Airports, Air Traffic Control on Trump's Infrastructure to-do List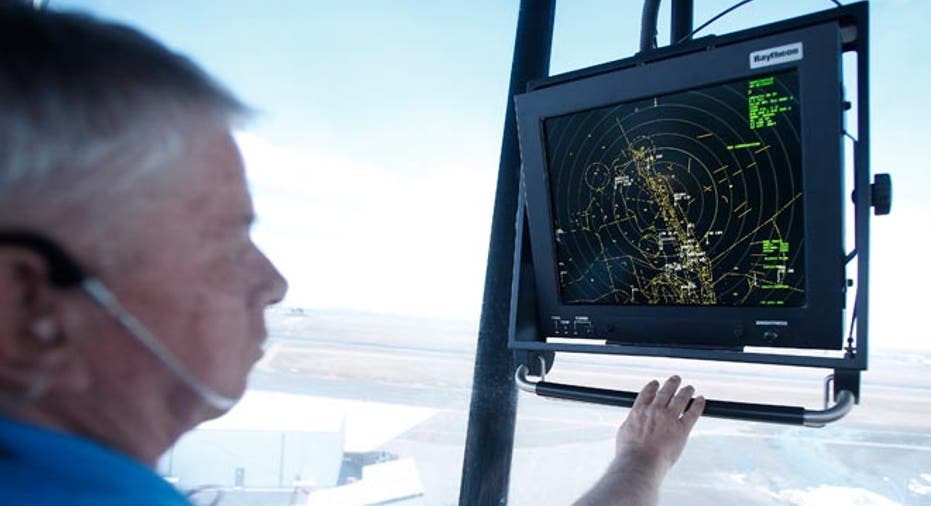 President Donald Trump hosted another gathering of CEOs Tuesday at the White House and improving the nation's crumbling roads, bridges and airports was on the agenda yet again.
"The U.S. is now 16th in the world in infrastructure, and anybody who goes to our airports or drives on our roads is in close touch that we could do better… our infrastructure is in a very sub-par position, said Blackstone Group Chairman Stephen Schwarzman during an interview on FOX Business' "Mornings with Maria," ahead of the meeting. "This is… not that hard because we know we have a huge, multi-trillion dollar need and it's just a question of how you finance it."
Trump's push to combine private-public infrastructure reform may advance some government proposals already in the works, including a GOP plan to reform America's ever-aging air traffic control system (ATC).
The Aviation Innovation, Reform, and Reauthorization Act (AIRR), introduced by Rep. Bill Shuster (R-Pa.) and Rep. Frank LoBiondo (R-NJ) last year, proposes spinning-off ATC operations from the Federal Aviation Administration, which could result in less time spent waiting at the airport for travelers. Shuster cited outdated technology as a major reason for pushing forth the new bill, and said it may help reduce overall flight times and improve on-time performance. According to the Pennsylvania Republican, flight delays cost the economy $25 billion last year.
Travelers and the airline industry were brutally reminded this week of the intense pressure to keep planes on a tight schedule. A United Airlines (NYSE:UAL) passenger was forcibly removed from a flight and bloodied after being asked to give up his seat on a trip that was allegedly overbooked. The graphic video, which went viral, forced CEO Oscar Munoz to issue a public apology late Tuesday.
Reforming ATC wouldn't just help airlines minimize scheduling issues, it would also have a "very positive impact" on taxpayers, according to Rep. Shuster, who heads the House Transportation Committee.
"Taxpayers have spent over 30 years and billions upon billions of dollars on our air traffic control system," he told FOX Business adding, "We have spent well over a billion dollars on next generation technology that was studied and scrapped without any use. We are literally throwing away taxpayer money."
President Trump's budget blueprint for 2018, which calls for a 13 percent funding cut to the Department of Transportation, includes this proposal to spin-off air traffic control operations from the Federal Aviation Administration to an "independent, non-governmental organization;" part of a larger move within the Trump administration to reorganize the administrative state. Today, more than 60 other countries have shifted control of air traffic services to an independent provider.
Though ATC operations would no longer be under the FAA, Shuster said the agency would be free to focus more on its "core mission:" safety. Aviation fatalities were significantly lower than highway and train deaths in 2015, according to the Bureau of Transportation Statistics.
Last week, during a separate meeting with business leaders at the White House, U.S. National Economic Council Director Gary Cohn reiterated the administration's plans for improving America's infrastructure, singling out the country's air traffic control system as a sector with significant upside potential. "Air traffic control is probably the single most exciting thing we can do," he said.
Currently, the FAA is still in the process of implementing its "NextGen" program, aimed at modernizing air traffic control operations, including the transition from 1950s-era ground-based radar to satellite (GPS) radar technology. This plan is expected to help reduce delays and provide controllers with a more accurate representation of where airplanes are in the sky. The FAA said its investment in NextGen improvements through 2030 is $20.6 billion, though its target date for completion is 2025.
Reaction From Airlines
Major U.S. air carriers, including Southwest (NYSE:LUV), American (NASDAQ:AAL), JetBlue (NASDAQ:JBLU) and Alaska Airlines (NYSE:ALK), support the move to reform air traffic control. Delta Airlines (NYSE:DAL), however, does not. According to a company sponsored study, "operational costs for ATC in the United States could increase by 20 to 29 percent after ten years" and "likely lead to a rise in the cost of airline tickets in the U.S."
While the airline declined to comment further on the spin-off of ATC, they did provide a statement to FOX Business: "Delta remains committed to working with the FAA and other industry stakeholders to make U.S. airspace more efficient, with the goals of reducing delays, improving traffic flows and enhancing airline performance."
Other airline executives disagree. "If in fact the airspace is managed more effectively, there will be more flights, more landings, more takeoffs, and therefore more total revenue from the airlines' point of view," said Bob Crandall, former president and chairman of American Airlines.
The National Air Traffic Controllers Association, the union representing the FAA's 14,000 controllers, has supported Shuster's AIRR legislation. In a statement to FOX Business, the union said it will continue to "evaluate the President's proposal," stipulating that certain criteria must be met in order for the organization to support any reform.
"I would want to make sure that all the work agreements, things like that, would stay in place," Martin Lauth, who worked 27 years as a controller and now teaches courses in air traffic management at Embry Riddle Aeronautical University, told FOX Business. "That the controllers' pays aren't going to be slashed [either]."