Advocacy Groups Sue Trump Over '1 for 2' U.S. Regulations Order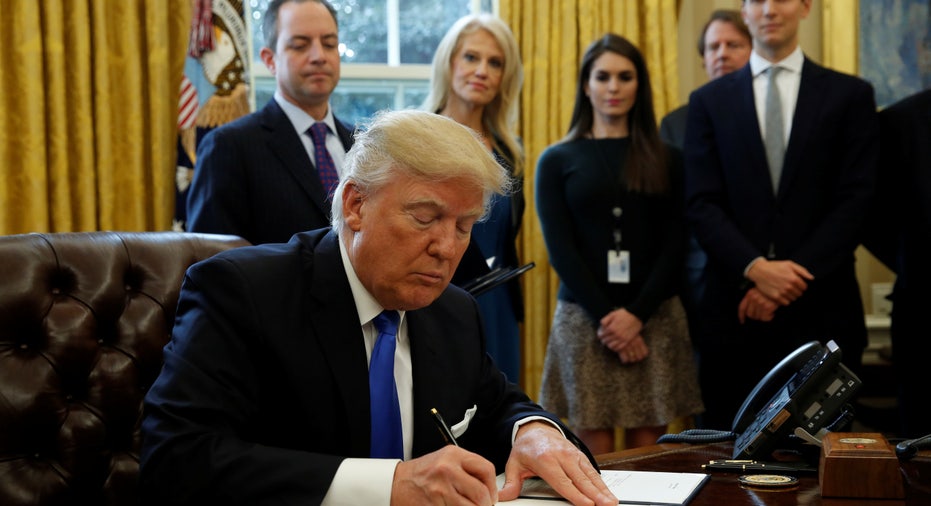 Several advocacy groups have sued the Trump administration over the president's executive order to U.S. agencies to rescind two government regulations for every new rule introduced, according to a court document filed on Wednesday.
The National Resources Defense Council, Communications Workers of America, and Public Citizen said in their lawsuit that the Jan. 30 order would harm the public.
They said it would "block or force the repeal of regulations needed to protect health, safety, and the environment, across a broad range of topics - from automobile safety, to occupational health, to air pollution, to endangered species."
The White House had no immediate comment on the lawsuit.
The order does not apply to most of the financial reform rules introduced by the Obama administration or to rules mandated by statutes.
Republican President Donald Trump's order is a part of his party's larger effort to undo many of the actions of former President Barack Obama, a Democrat who left office last month after two four-year terms.
In Congress, conservative lawmakers have already moved to stamp out five Obama-era rules on corruption, the environment, labor and guns.
Companies have lauded the effort to deregulate, saying it will help boost their businesses and the larger U.S. economy. On Wednesday, Tokyo-based Softbank, whose chief executive has backed Trump's efforts, said easing rules will make it easier to do business in the United States.
In addition to Trump, Wednesday's lawsuit in U.S. District Court for the District of Columbia named federal departments and agencies, particularly those with jurisdiction over environmental, transportation and energy issues.
The groups argued that Trump overstepped his constitutional power and that the order "directs federal agencies to engage in unlawful actions that will harm countless Americans, including plaintiffs' members."
(Reporting by Susan Heavey, Roberta Rampton and Joseph Ax; editing by Grant McCool)