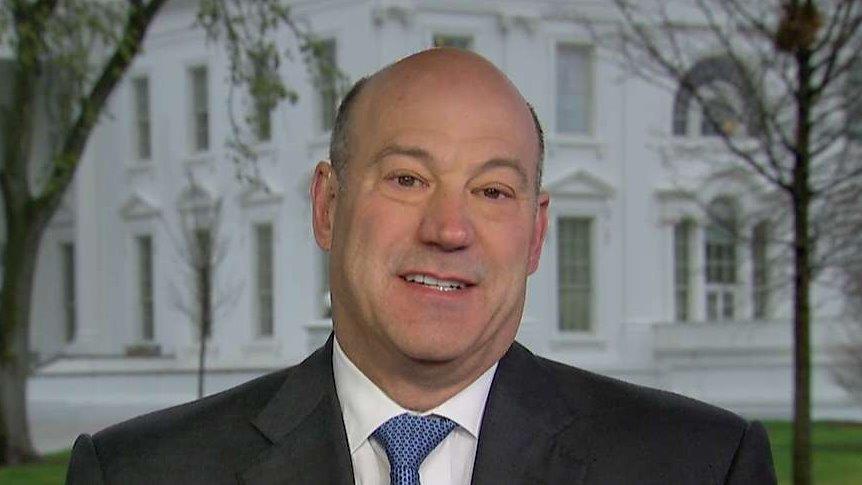 In an interview with the FOX Business Network's Stuart Varney, Cohn discussed the outlook for the economy and Republican efforts to achieve tax reform and repeal and replace Obamacare. "We could absolutely get 3% growth in the third and fourth quarter of this year," Cohn said, adding that his goal is to push growth even higher. "Well, look, we're going to try. We're doing our best."
Cohn said he's confident that achieving tax reform this year could spark even more economic growth.
"When we get our tax plan done, we think that will be very accommodative to [the] U.S. economy, U.S. growth.  And we think that will be very stimulative for the U.S. economy so we are very excited for next year."
More from FOXBusiness.com
Though the administration's goal has been tax reform by August of this year, Senate Majority Leader Mitch McConnell (R-Ky) has suggested it could take longer.  If tax reform is not achieved in the administration's timeline, Cohn does not believe it would have a negative impact on the economy or the markets, and remained confident Trump's goal of accomplishing tax reform this year would be achieved.
"We will continue to work on tax reform until we get it done.  It is a stated objective of the President to get tax reform done this year," he said.  "We're actually prepared to work through the recess.  We're prepared not to go on recess.  We're prepared to stay here and work on it.  But we can work on it in the fall.  We need to get it done this calendar year."
Despite the continuing debate over a potential border tax, Cohn said the administration seemed to remain open to it or any alternative that ultimately leads to a lower individual and corporate tax rate. "All options are on the table. The first thing that we're going to work on, and probably the most important thing that we look at when we look at taxes is rate.  Corporate rate matters, personal income tax levels and rates matter.  We are looking at all options to get the rate lower."
When Varney pressed Cohn on whether he could guarantee there would be a tax cut for individuals and business this year, Cohn responded, "We are 100% committed to work on a tax plan that cuts rates for individuals and corporate."
Though the Republican plan to repeal and replace Obamacare has passed its first two hurdles in the House, it still faces an uncertain future with opposition from Democrats and even some conservatives.  But Cohn remained optimistic the health care plan would ultimately pass.
"We are continuously working on the health care plan.  The president has said, and he continues to believe this, that we are open to amendments that will make the plan better.  We continue to work on making the plan better and yes the votes will be there in the end."
Cohn then reacted to JPMorgan Chase CEO Jamie Dimon's comments that President Trump's economic policies have unleashed 'animal spirits,' saying, "There's some truth to that.  We've seen more optimism in the CEO community in our first 50 days, today marks our 50 days here in the White House, or seven weeks, than we've seen in a long time."