A Week Later, NY Region Struggles to Move On From Sandy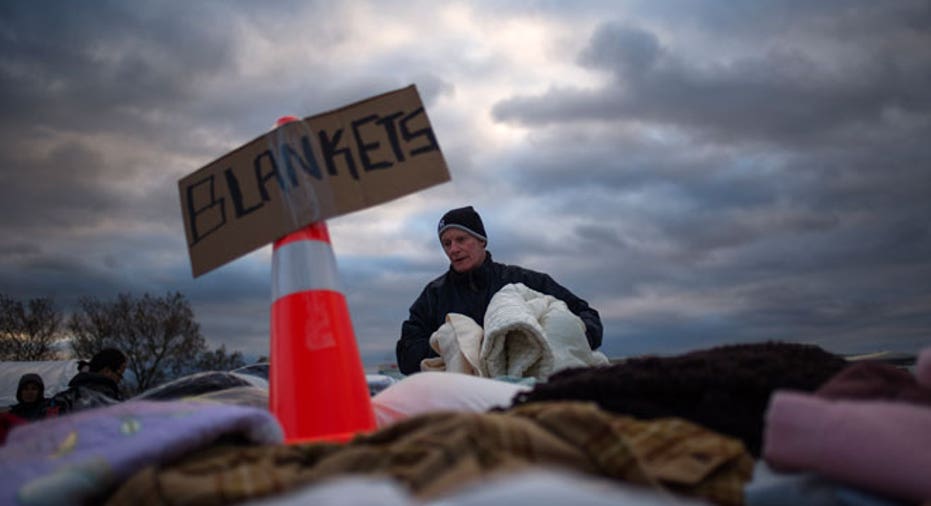 A week after superstorm Sandy wreaked havoc on New York City and the surrounding area, schools were set to reopen on Monday and life expected to slowly return to normal for many, but close to 2 million people still have no power as cold weather sets in.
Hundreds of thousands of commuters faced a frustrating journey into the city as public transportation remained spotty. Service on many rail lines was reduced and the subway was running at about 80 percent of its normal service.
The challenges were more severe for tens of thousands of people unable to return to their homes and many more than that living without power or heat. A strong "Nor'easter" storm was forecast to bring freezing temperatures and more rain and wind by the middle of the week.
Mayor Michael Bloomberg said on Sunday 30,000 to 40,000 people in New York City were in need of shelter, including 20,000 in public housing.
Hurricane Sandy killed 69 people in the Caribbean before turning north and slamming into the U.S. Eastern Seaboard on Monday with 80 mile-per-hour (130-kph) winds and a huge storm surge. The U.S. death toll has risen to at least 113.
Most New York schools were due to reopen on Monday, though some still lacked power and others were being used as shelters.
Concerns are also growing that voters displaced by Sandy won't get to polling stations on Election Day on Tuesday. Scores of voting centers were rendered useless by the record surge of seawater in New York and New Jersey.
New Jersey has said it will allow people displaced by the storm to vote by email. In New York City, some 143,000 voters will be reassigned to different polling sites. Both states are normally easy wins for the Democrats.
About 1.9 million homes and businesses remained in the dark on Sunday as the pressure mounted on power providers to restore electricity to areas hit hardest by the storm.
In New York, utilities came under increasing pressure to restore heat and light to some 650,000 customers. More than half of those were served by the Long Island Power Authority, which was singled out for criticism by Governor Andrew Cuomo.
Tab Hauser, deputy mayor of the still-dark Village of Flower Hill on the north shore of Long Island, said that not only has the clean-up been too slow, Long Island Power Authority "is doing nothing to prepare for the future."
He would like to see the utility consider underground lines and metal rather than wood poles. "Every year it's a Band-aid," he said. "This can happen next year and nothing will change."
Lee Green, 45, a firefighter who owns a property management company in Westhampton Beach on the southern shore of Long Island, said there were parts of the coastline "where the dunes are just completely wiped out and there's a 20 foot drop from the back of the homes to the beach."
He said the fire department had been deluged with dozens of emergency calls around the clock. "Wires down, road hazards, car accidents, telephone pole fires, alarms going off," he said.
"The power grid out here is really old and quirky. And when it shorts out, it causes chaos all over town."
In New Jersey, about a quarter of the state remained without power. For many, that meant they had no heat.
After a peak of 8.5 million outages across 21 states affected by the massive storm, the rate of restoring power each day has eased as line crews must work on increasingly difficult and isolated outages.
Another challenge was finding fuel, as power outages and supply disruptions closed many gas stations.
In New Jersey, where residents were waiting for hours in line at gas stations, Republican Governor Chris Christie tried to reassure people that refineries and pipelines were back online and gas was being delivered. "We do not have a fuel shortage," he said at a news conference on Sunday.
Over the weekend, New Jersey gas stations were besieged by people carrying red gas canisters and miles-long lines of cars, despite a fuel rationing system based on license plate numbers.
In Montclair, New Jersey, some stations ran out of fuel after pumping gasoline on Saturday for cars with odd-numbered plates. This left few stations with gasoline to serve motorists with even-numbered plates, who waited for hours on Sunday.
The New York Harbor energy network was returning to normal on Sunday with mainline power restored, but there were growing concerns about heating oil supplies with cold weather forecast.