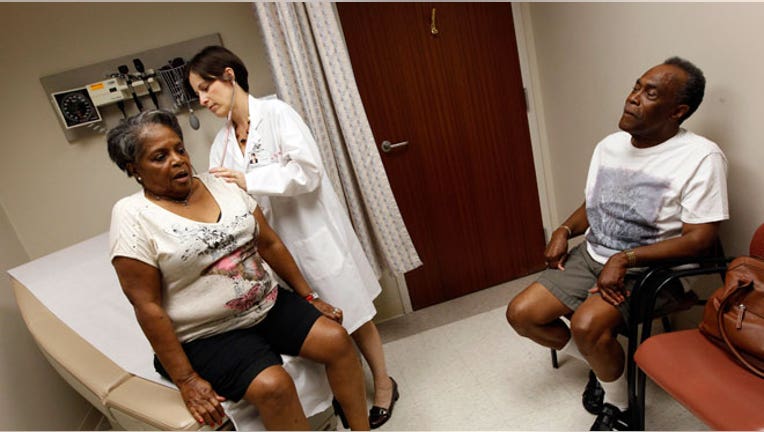 It's a no-brainer.
Let the Internet gang help the government enroll the estimated 18 million low-income uninsured for health coverage in the new state health exchanges under the health-reform law, and explain to the uninsured what these exchanges are all about.
The Internet enrollment would be free -- no cost to consumers or taxpayers. The Internet enrollers instead would get paid commissions from the insurers, plus abide by state and federal privacy laws.
Trouble is, the federal government is ignoring this cost-free idea, despite sanctioning it more than a year ago, and despite the ringing endorsement of Democrat and Republican governors, as well Democrat Congressmen and Senators.
It's no small irony that Internet enrollers are being stonewalled by the federal government, while at the same time the federal government issues press releases about very costly new "navigators" that all 50 states now must hire by the tens of thousands to explain the new exchanges to consumers, and also enroll them.
They're new bureaucrats, which taxpayers must now foot the bill for, a bill that could soar into the tens of millions of dollars.
The government issued no press releases on its new rule last year allowing for free, cheap Internet enrollers, while it did issue press releases touting these costly new "navigators."
The Internet is the easiest, quickest, cheapest way to enroll the uninsured in the new government exchanges under the law, versus hiring "navigators," many of whom will come from community activist groups or unions.
Also, the state health insurance exchanges are spending billions of taxpayer dollars building their exchanges on the Internet, when the private sector Internet companies like eHealth are already doing this work.
"It also will cost billions of taxpayer dollars to find and enroll consumers in health reform, especially low-income people," says Gary Lauer, chairman and chief executive of eHealth. "Why not use a viable entity already doing this work at zero cost to the government?"
An eHealth associate involved in the regulatory process asks: "Is it possible that the Administration and state governments, at a time of sequestration and budget cuts, prefer to pay more tax dollars for less, for these 'navigators' who can't enroll people, and who cannot encourage cost-free private sector options to help enroll lower income uninsured people without any cost whatsoever? Can that be possible? Does President Obama know about this?"
An Administration official tells FOX Business it is looking into the issue.
Many of the uninsured live in rural areas, and if they can't afford computers, they certainly can't afford to drive to government office buildings to sit with "navigators" or fill out paperwork to get health coverage as well as apply for tax breaks -- much less waste time figuring out where to go.
The poor already use the Internet to sign up for the federal earned income tax credit and the Children's Health Insurance Program.
The Internet gang, including companies like eHealth, can help these low-income individuals, many of whom are minorities, apply for qualified health plans in the new exchanges launched under health reform.
Already, the Internet enroller idea has won the support of Senators Tom Carper, Bill Nelson, John D. Dingell, Edward Markey, and Democrat congressmen Emanuel Cleaver, chair of the Congressional Black Caucus, as well as Lois Capps, Chaka Fattah, John Conyers, and Anne Eshoo, all of whom have sent letters as early as May 2011 to Kathleen Sebelius, secretary of Health & Human Services.
The Internet enrollers "will not replace state health exchanges," notes Rep. Cleaver in his October 2011 letter to Ms. Sebelius. "The goal behind enactment of the Affordable Care Act was to expand access to care for all Americans," the Congressman said, adding that Internet companies "will aid in this goal by assisting states in enrolling the maximum number of lower income individuals."
HHS and the Centers for Medicare and Medicaid Services issued new regulations in March 2012 in the Federal Register that plainly allow for the use of Internet companies to backstop government exchanges to help enroll the those now flooding into the system -- all in order to achieve President Barack Obama's stated goal of providing health insurance to all Americans, 100%.
But so far, crickets. Internet enrollers haven't heard a peep about this cost-saving idea, including companies like eHealth, the biggest, national player in this area which has already enrolled three million uninsured over the Internet since 2000, even before health reform -- a stunning 1.2 million, 40%, of whom, never had health insurance before (eHealth gets paid via commissions from insurers).
Letting Internet companies work side-by-side with state exchanges to enroll taxpayers in qualified health plans was a policy change that came about with a strong push from eHealth, headquartered in Congresswoman Eshoo's district.
Internet enrollers merely sign people up for insurance, sending just the names, zip codes, and possibly Social Security numbers over to government exchange officials, who make all eligibility decisions, not the web companies, and who work with the insurers.
It is the exchange officials who get individuals' income information, plus decide whether they can get tax breaks, not the web enrollers. By law the web enrollers must keep names and Social Security numbers private, as they are subject to state and federal privacy laws.
In fact, new rules in the federal register add six explicit consumer-protection requirements for web enrollers that are even stricter than the rules for traditional insurance agents and brokers, who get to sell insurance in the government exchanges.
The new rules say Internet companies must display on their websites the exact same list of qualified health plans sold on the government exchanges, as well as the same information and the same data displayed on the state and federal exchanges.
The intent of the new rules is that health insurance brokered by Internet companies must not charge higher premiums than insurance listed on government exchanges.
The Internet enrollers must also offer plans from insurers with which they have no commission agreements, a tougher standard than the one for traditional agents and brokers in the government exchanges, who get to sell the uninsured only plans with which they have commission deals.
And the Internet enrollers also must show any commission agreements they have with health insurers.
So,.what's with the foot-dragging?