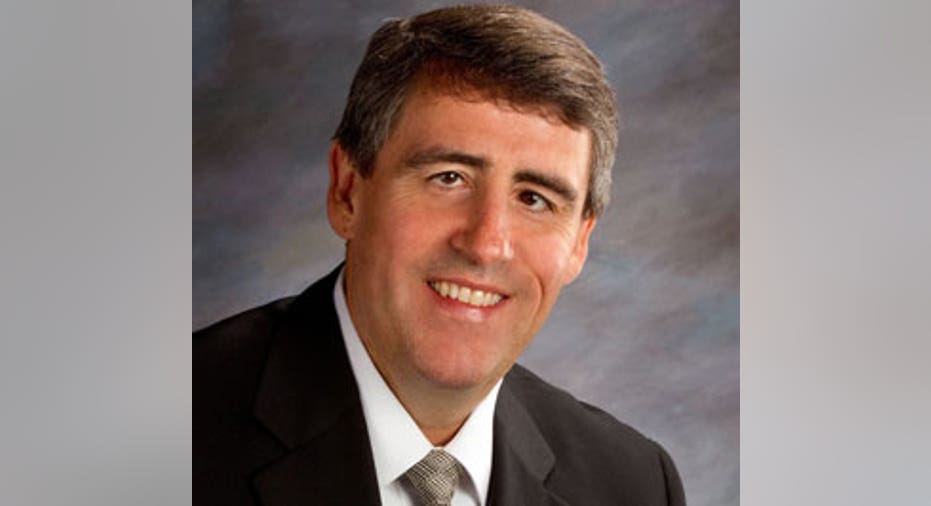 Jim Gibbons became the first blind man to get an MBA from Harvard Business School in 1994. Today, he sees America's horrifying unemployment rate eating away at anything economists would call a recovery. The worst part, he says, is that millions of unemployed now lack the training that modern businesses require.
"We've got to change the attitude of employers to invest in the work force," Gibbons said. Those out of work for a year or two find their skills obsolete--amplifying a really bad trend for years to come. Gibbons says this has to stop.
Gibbons is the CEO of an enterprise that's been booming in the bust. His tale begins in Indiana, where he began losing his vision to a genetic eye disease as a boy.
His parents took his encroaching blindness in stride. A sister, 10 years older, had already gone through the same thing. "My oldest brother always says, "I have a blind brother and a blind sister. My brother went to Harvard Business School. My sister is the smart one.'"
Gibbons' father never relented on chores or responsibilities. Gibbons couldn't complain, "Hey dad, I'm not cutting the lawn because, um, well, I'm going blind."
"He would have said "OK," and then given me three other chores," Gibbons said.
Tall and athletic, Gibbons played sports as his world darkened. "I played baseball until 7th grade, basketball until 8th grade, football until 9th grade. Then I wrestled and threw the shot put and the discus through high school," he said. "As the ball became too small, or the indoor lights were no longer good enough, I had to drop out of the sport."
He went on to play sports for blind athletes, including beep baseball, and at 47, he still occasionally skis and plays golf. "There are some really good blind golfers," he said. "I don't happen to be one."
Reared in the humble Midwestern work ethic, Gibbons evolves instead of quits. He insists that everyone has a role to play, no matter what their setbacks in life.
While studying engineering at Purdue University, he could only find work as a janitor for a large pharmaceutical company. "I realized that every job matters," he said.
"Those guys counted on me to make sure the place was kept up."
From janitor, Gibbons eventually went on to executive roles at AT&T (NYSE:T), working in operations, project management, and mergers and acquisitions. He became president of AT&T's subsidiary, Campus Wide Access Solutions. He went on to serve as CEO of National Industries for the Blind. And since April 2008, he's been CEO of Goodwill Industries International Inc., headquartered in Rockville, Md.
Like I said, he's in charge of a booming enterprise.
"We are a job creator," he said. "This economy has more and more people knocking on our doors."
Gibbons was named to the White House Council for Community Solutions in December. His organization, founded in Boston in 1902, is one of those solutions, providing job training to 2.4 million people a year and generating $4 billion in annual revenue.
Goodwill's employee base has grown by 15,000 to 98,000 during Gibbons' tenure. And it's adding more than 100 thrift stores a year to its more than 2,500 nationwide. People who may have once bought clothes at Wal-Mart now buy them at Goodwill.
"What we're seeing much more of in this economy is dislocated workers," Gibbons said. "We're seeing people who have been dedicated, hard-working employees, who have skills for an industry that doesn't exist anymore."
Gibbons' vision is so basic that sometimes it's hard for others to see: Unemployed individuals have a responsibility to retool their job skills, communities have an obligation to support them on this path, and corporations need to invest more of their profits in communities and work-force development.
It's time for companies to see beyond their quarter-by-quarter horizons. A company whose stock soars after yet another round of layoffs is going to be strong for only a while. And if enough Americans are out of work long enough, they'll eventually stop being the kind of healthy consumers needed to drive corporate profits.
"We've got to think long term," Gibbons said. "Because otherwise, we won't have a long term."
(Al's Emporium, written by Dow Jones Newswires columnist Al Lewis, offers commentary and analysis on a wide range of business subjects through an unconventional perspective. The column is published each Tuesday and Thursday at 9 a.m. ET. Contact Al at al.lewis@dowjones.com or tellittoal.com)