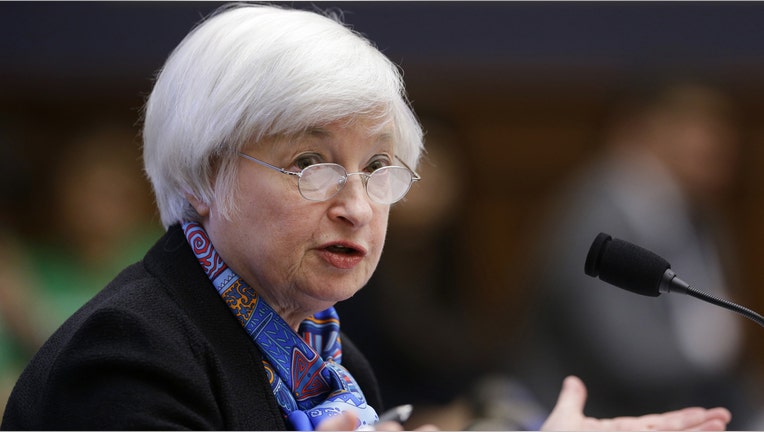 Federal Reserve officials are virtually certain to leave short-term interest rates unchanged at their meeting this week, following the U.K.'s decision in June to quit the European Union and mixed messages from the U.S. labor market. With no press conference scheduled after the meeting and no new economic forecasts to be released, the Fed's policy statement will be scrutinized for any clues to whether a September rate increase is in play. Here are five things to watch in the statement, which is scheduled for release at 2 p.m. EDT Wednesday.
1. How Do They Describe the Labor Market?
Recent news about U.S. job creation has been positive, but signals have been mixed over the past few months. Hiring has decelerated this year, to an average of 147,000 jobs gained a month in the second quarter compared with 196,000 in the first three months of the year. The Fed's June statement noted that "the pace of improvement in the labor market has slowed," reflecting the dismal gain of 11,000 jobs in May. However payroll growth bounced back in June, with employers adding 287,000 jobs, the strongest growth in eight months. Watch how Fed officials characterize the employment picture for signs of whether they have gained confidence it will continue to improve.
2. How Are They Monitoring Global Developments?
The interest-rate-setting Federal Open Market Committee said in June it "continues to closely monitor inflation indicators and global economic and financial developments." Fed officials have made no secret that concerns about global market volatility, such as that which followed the U.K. Brexit vote, have weighed on their minds. Fed officials generally agreed at their June 14-15 meeting that it was "prudent to wait" for additional data before considering another rate rise to see if the economy would keep improving and that new threats wouldn't emerge after the Brexit referendum, according to minutes of the session. But remarks from Fed officials since the referendum indicate they see the Brexit fallout as contained. Atlanta Fed President Dennis Lockhart said in mid-July that markets have been "quite orderly" and "the financial market turbulence we've seen does not seem to have caused direct harm to the country's economy." If officials adjust the "closely monitoring" language to suggest less concern, that could signal they might be more open to a rate increase in September.
3. How Good Is Growth?
The Fed's June statement said growth in economic activity appeared to have "picked up" since April, although policy makers lowered their forecasts for this year and next. Watch the wording of the July statement to see whether they believe growth has bounced back to the "moderate" pace they saw in March. Federal Reserve Chairwoman Janet Yellen said in June testimony to Congress that she expects the economy will continue to grow, although she cautioned that " considerable uncertainty about the economic outlook remains." Officials could judge that stronger consumer spending bodes well for the broader U.S. economy following the Commerce Department's robust reading on June retail sales.
4. How Do They Characterize Inflation?
Fed officials are likely to debate in their meeting where inflation is headed. Fed governor Daniel Tarullo said earlier this month that he wants to be "more convinced" underlying inflation is near the Fed's 2% target, and that a recent uptick in inflation appears to be due to the waning effects of low energy prices. While core prices, which exclude the volatile categories of food and energy, increased 1.6% in May from a year earlier, overall measures of inflation remain weak. The personal-consumption expenditures price index, the Federal Reserve's preferred inflation measure, rose 0.2% in May from the prior month, and 0.9% from a year earlier. According to the minutes from the June FOMC meeting, some participants said then that "persistent disinflationary pressures from very low inflation and weak economic growth abroad" hurt their confidence that inflation would hit the Fed's target in the medium term. Watch the statement's language on inflation for signs of whether the committee has gained any confidence.
5. Will There Be Any Dissent?
Kansas City Fed President Esther George dissented in March and April when the Fed left interest rates unchanged, preferring to raise them. But in June, she voted with the rest of the FOMC to hold borrowing costs steady. However, Ms. George said in a July 14 speech in Oklahoma City that improvements in the U.S. economy should prompt the Fed to continue raising interest rates gradually. That could be a sign she might dissent again at this meeting if the rest of the FOMC opts to hold rates steady.
By Harriet Torry