10-Year Treasury Yield Sinks to Record Low Amid Euro Worries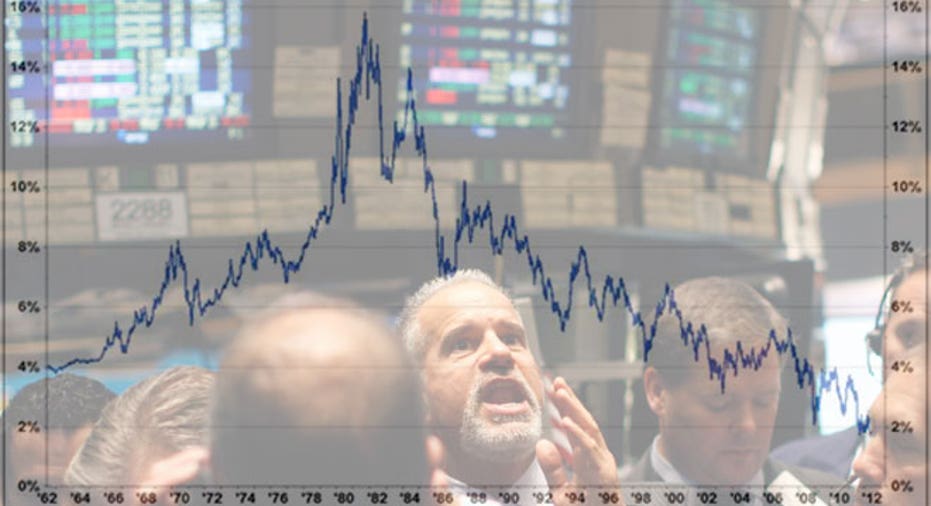 The benchmark U.S. Treasury yield fell to its lowest in at least 60 years on Wednesday as investors fled to safe-haven assets to ride out Europe's deepening financial crisis. Worries of contagion from Spain's ailing banks, Greece's uncertain political situation and Italy's rising borrowing costs conspired to boost risk aversion in the latest stage of a crisis that has dogged financial markets for more than two years. The drop in U.S. Treasury yields has been swift and dramatic. Less than three months ago, when some analysts predicted the end of the 30-year bull run for Treasuries, the 10-year yield peaked near 2.40 percent.
The deterioration in Europe, however, has wiped out the earlier optimism over faster U.S. growth and sent the 10-year yield down more than three-quarters of a point since then.
"The politics in Greece is combustible but the systemic importance of Spain is far greater," said Stephen Wood, chief market strategist with Russell Investments in New York, which oversees $141 billion. "This is an ongoing drama that will not go away any time soon."
The latest investor push into longer-dated Treasuries sent 10-year yields down to 1.627 percent, which is at least a 60-year low based on monthly figures gathered by Reuters. Even though the housing market is still struggling, the one silver lining from this drop in Treasury yields is even lower interest rates on mortgages. Lower mortgage rates could spur home sales which would boost a still fragile real estate market and refinancing would put more cash into homeowners' pockets. U.S. fixed 30-year mortgage rates averaged 3.91 percent last week, a record low, the Mortgage Bankers Association said on Wednesday.
The yield on 30-year Treasury bonds last traded at 2.72 percent, the lowest since October 2011, according to Tradeweb.  The 30-year yield was down 14 basis points from Tuesday's close and is on track for its biggest one-day decline since Oct. 31, 2011 when it fell 25 basis points. "There are a lot of people who are short duration. You have to (buy) 10-year and 30-year Treasuries," Jeff Given, portfolio manager at Manulife Asset Management in Boston, which manages $220 billion in assets. He added that investors were feeling compelled to chase the rally into longer-dated debt. Some analysts said 10- and 30-year Treasury yields could test 1.50 percent and 2.50 percent respectively if the financial situation in Europe were to persist.
The heavy demand for perceived safe-haven assets also propelled longer-dated U.S. Treasury futures to contract highs and seven-year cash note yield to record lows.   U.S. and German government debt yields declined as that on 10-year Spanish sovereign debt rose to six-month highs on concerns over how Spanish banks will obtain capital to stay afloat. "Europe is leading the charge here with the flight to quality into Treasuries and Bunds. There are questions about their banks. There is a trajectory of negative credit quality across Europe," said Robert Tipp, chief investment strategist at Prudential Fixed Income in Newark, New Jersey which manages $332 billion in assets.
On Wednesday, the European Commission advocated direct aid from a euro zone rescue fund to recapitalize distressed banks in an effort that could eventually help Spain.  While Treasuries and German Bunds rallied on fears of a worsening financial crisis in Europe, global stock markets stumbled, with the three major Wall Street indexes falling more than 1 percent.  On the data front, U.S. pending home sales unexpectedly fell 5.5 percent in April, confounding analysts' median prediction in a Reuters poll for a 0.1 percent increase.  While the latest housing data fell short of expectations, they did not materially change the perception that the United States is faring better than Europe. The government's May U.S. payroll report due at 8:30 a.m. (1230 GMT) on Friday must disappoint greatly for that outlook to change, analysts said. "The U.S. economy is looking okay but not great," Russell's Wood said. In a recent Reuters poll, economists expect U.S. employers likely added 150,000 jobs in May, up from 115,000 in April, while the unemployment rate likely held steady at 8.1 percent.