Trump: Europe trade deal 'is next'
President touts USMCA, phase one China deal at Iowa rally
President Trump continued to tout recent trade deals during a campaign rally in Des Moines, Iowa, Thursday, saying a new deal with Europe will follow.
"Europe is next," he said. "I wanted to finish China before we started Europe."
The president's comments came after Commerce Secretary Wilbur Ross told FOX Business' Maria Bartiromo at the World Economic Forum in Davos, Switzerland, last week that a new trade deal with Europe could come this year.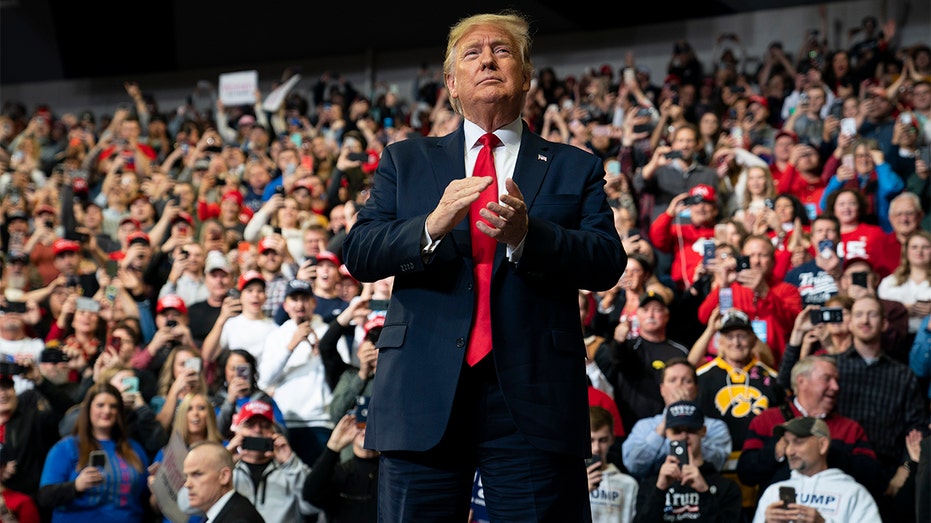 EUROPE HAS 'SENSE OF PANIC' OVER SECURING US TRADE DEAL: WILBUR ROSS
"USMCA all done, China all done — for the farmers, it's done," Trump said. "I can tell you, you're going to need to get bigger tractors and a lot more land."
Trump's trade deal proclamations came at the close of a successful month for his administration. January saw him sign both the phase one partial trade deal with China involving $200 billion in U.S. goods over the next two years and the United States-Mexico-Canada Agreement, which sets terms for $1.3 trillion in commerce.
"It's a massive win for Iowa farmers and workers of all kinds," he said.
GET FOX BUSINESS ON THE GO BY CLICKING HERE
TRUMP SIGNS USMCA, PAVING WAY FOR JOB MARKET BOOM
Trump said the deals would create a "level playing field" for American farmers.
"I want to take care of the small farmers, too, not just the big monsters," he said. "I want to take care of everyone."
Trump also pointed to some automakers' investments in plants based in Michigan and elsewhere as evidence that trade with Japan and South Korea is also more favorable to the U.S. now.
"They're coming in like never before," he said. "They're all coming back."