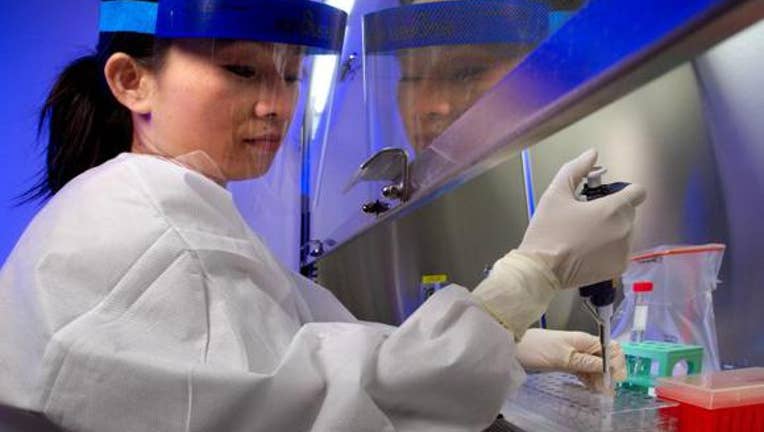 Image source: Centers for Disease Control and Prevention.
What: Shares of Zogenix , a small-cap clinical-stage drug developer aiming to discover therapies to treat central nervous system disorders, galloped higher by 15% in February, based on data from S&P Global Market Intelligence.
So what: On Feb. 10, Zogenix presented at the Leerink Partners' fifth annual global healthcare conference, which appears to be the primary catalyst behind the company's strong surge in February. (However, it would be unwise to discount that a rebounding stock market played a part as well.) As a drug developer that solely generates revenue from its contract manufacturing operations for the time being (an estimated $26 million in fiscal 2015), investors rely on company presentations and clinical updates to guide where its stock price could head over the long term.
Zogenix also announced the initiation of a late-stage study involving lead compound ZX008 in Dravet syndrome, a childhood-onset form of epilepsy, in January. Investors are visibly pleased that they have clear catalysts to look forward to and have bid shares of Zogenix up in response.
Image source: GW Pharmaceuticals.
Now what: Following the divestiture of pain medication Zohydro ER and the $92 million in proceeds Zogenix netted from the sale of its common stock in August, Zogenix closed the third quarter with $162.7 million in cash and cash equivalents. This should be enough for Zogenix to make it through two more fiscal years before funding becomes a possible issue once again. By that point, we should also have a good idea of how well ZX008 and Relday, an experimental once-monthly injection for schizophrenia, are performing.
The big issues for Zogenix will be competition and drug launch (if approved). Dravet syndrome is becoming a highly competitive indication, and there are no guarantees that ZX008 will be the preferred solution. GW Pharmaceuticals initiated a phase 3 trial involving Epidiolex for Dravet syndrome in June 2015, more than half a year ahead of Zogenix. If GW Pharmaceuticals can beat Zogenix to market, it may gobble up significant share before ZX008 even has an opportunity to hit pharmacy shelves.
The other concern is whether Zogenix will struggle with a new drug launch as it did with Zohydro ER. As a small drug developer, the potential for an inexperienced sales staff does come into play.
For now, I'd suggest remaining a casual observer from the sidelines. If ZX008 and/or Relday are approved, you'll have opportunities to see Zogenix's valuation expand over time. Buying in now seems like an exceptionally high risk when the company only has its contract manufacturing service revenue to fall back on.
The article Zogenix, Inc. Shares Galloped 15% Higher in February -- Here's Why originally appeared on Fool.com.
Sean Williamshas no material interest in any companies mentioned in this article. You can follow him on CAPS under the screen nameTMFUltraLong, track every pick he makes under the screen name TrackUltraLong, and check him out on Twitter, where he goes by the handle@TMFUltraLong.The Motley Fool has no position in any of the stocks mentioned. Try any of our Foolish newsletter servicesfree for 30 days. We Fools may not all hold the same opinions, but we all believe thatconsidering a diverse range of insightsmakes us better investors. The Motley Fool has adisclosure policy.
Copyright 1995 - 2016 The Motley Fool, LLC. All rights reserved. The Motley Fool has a disclosure policy.