Zillow Group, Inc. Impresses a Year After the Trulia Acquisition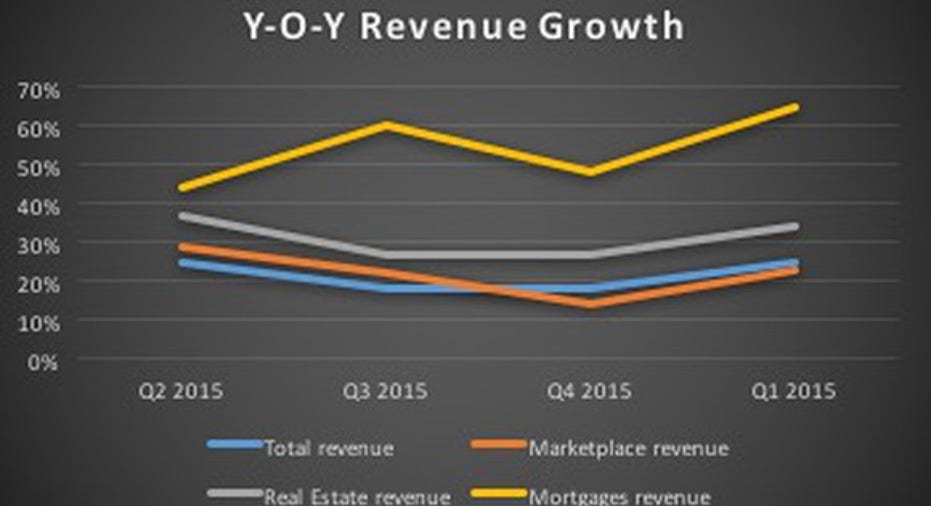 Zillow CEO Spencer Rascoff. Image Source: Zillow Group
One of my processes in evaluating an investment opportunity is to go back to previous earnings calls and management interviews to observe if the management team is executing on past promises. In a world where information is abundant, it's easy to get caught up in current media hype. Taking a step back from today's noise can help you become a better investor.
To that end, in February of last year, Zillow Group closed its $3.5 billion acquisition of Trulia. A couple of months later, Zillow CEO Spencer Rascoff gave the following update:
When I hear the words "transition year" after an acquisition, I think of integration issues, loss of focus on products and service, lower revenue, and lower profit. The market reacted accordingly, with shares falling 10% after Rascoff's comments. The stock remained essentially flat the remainder of the year.
The integration of the two companies was completed last September, and Zillow has reported two quarters of financial statements since then. Let's check in to see where Zillow is in its transition.
Accelerating growth
After three quarters of declining revenue growth, Zillow appears to have regained momentum in a strong way. Total revenue, excluding its divested Market Leader business, increased 25% year over year. All major revenue categories experienced accelerating growth in the first quarter:
Source: company filings. Revenue excludes Market Leader.
Management also increased its guidance for the remainder of the year to be approximately $825 million to $835 million, which, at its midpoint, is an increase of over 27% on Trulia and Zillow's combined pro forma revenue in 2015.
Growing Trulia
In the Q2 2015 earnings call, Zillow's first full quarter with Trulia under its umbrella, Rascoff prioritized growing the audience at Trulia:
A year later, the turnaround in driving Trulia traffic appears to have taken effect. Leads to Premier Agents at Zillow and Trulia are up just under 60% year over year. Although Zillow didn't break out Trulia data independently from Zillow, Rascoff did have this to say about its marketing efforts and lead generation at Trulia:
Growing audience
The first quarter was full of positive surprises for Zillow shareholders. As a result, shares climbed about 10% after the earnings call.
Going forward, investors will want to see continued momentum in revenue growth. Now that the acquisition of Trulia is in the rearview mirror, management has focused on four strategic priorities:
Growing its audience.
Growing its agent advertising business.
Growing its emerging-marketplace business such as mortgages and rentals.
Maintaining a strong culture.
The first priority, growing its audience, is crucial to Zillow's success. Advertisers typically follow eyeballs, so if Zillow can continue to grow its user base, the company will create a powerful network effect, which competitors will have a difficult time matching.
Zillow reported 166 million unique users to its sites in March, up 22% over the prior year. According to comScore, the company commands 63% of online and mobile traffic market share in the online real estate space.
The online real estate market is continuing to grow, and Zillow is looking to take a larger piece of a growing pie. Sales and marketing expense in the first quarter was 53% of revenue, compared with 47% of revenue last year. Over the next year, investors should pay attention to see if the company's marketing efforts are paying off by way of a higher market share of the online real estate market.
Continuing synergies
In addition to higher audience growth, investors should also pay attention to further benefits from the Trulia acquisition. When Zillow announced the Trulia purchase, Trulia was valued at $3.5 billion on expected 2014 revenue of about $253 million, a price-to-sales multiple of nearly 14. Today, Zillow with a combined Trulia is valued at just under $5 billion, at a multiple of about 7.5 times sales. To date, the merger hasn't worked out as expected for shareholders.
Part of the justification for Zillow's acquisition of Trulia was that it can achieve annual synergies of $100 million. Within eight weeks of the completion of the acquisition, the company had laid off 350 employees and reorganized the combined 2,000-person company. Zillow management has continued to state that the company is on pace to achieve its $100 million target in 2016. As it gets closer to year-end, investors should keep a close eye on whether these targets are in fact achieved.
The article Zillow Group, Inc. Impresses a Year After the Trulia Acquisition originally appeared on Fool.com.
Palbir Nijjar has no position in any stocks mentioned. The Motley Fool owns shares of and recommends Zillow Group (A shares) and Zillow Group (C shares). Try any of our Foolish newsletter services free for 30 days. We Fools may not all hold the same opinions, but we all believe that considering a diverse range of insights makes us better investors. The Motley Fool has a disclosure policy.
Copyright 1995 - 2016 The Motley Fool, LLC. All rights reserved. The Motley Fool has a disclosure policy.