Zeltiq Aesthetics Earnings: 3 Million Reasons to Like CoolSculpting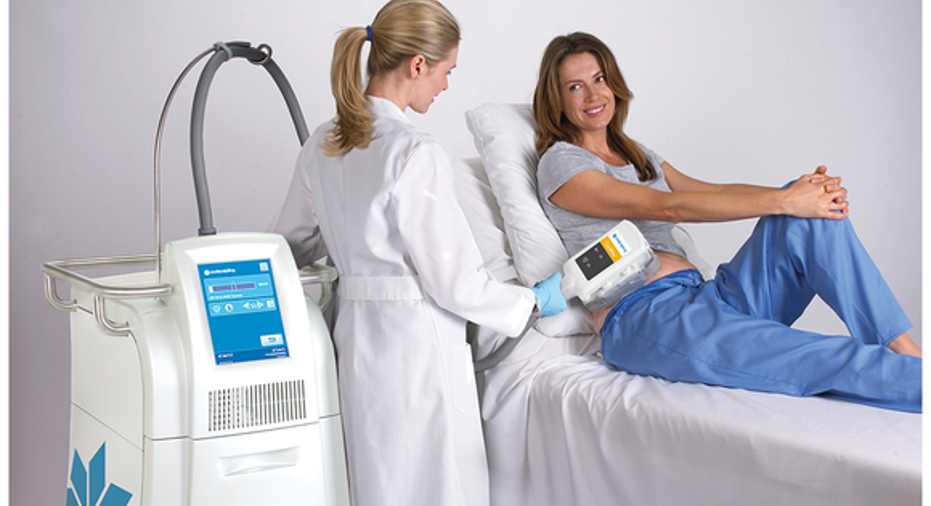 Source: Zetliq Aesthetics.
Zeltiq Aestheticsisn't a household name, but its proprietary CoolSculpting machines that freeze away fat cells continue to gain traction. Zeltiq announced another quarter of healthy top-line growth after Tuesday's market close, and much like the CoolSculpting process itself the report is a painless and non-invasive procedure.
Revenue checked in at $64.5 million during the first three months of the year, 25% ahead of last year's first quarter. That may disappoint investors who were spoiled by Zeltiq's heady recent growth. You have to go all the way back to the second quarter of 2013 to find the last time Zeltiq posted lower year-over-year growth on the top line, accordingtoS&P Global Market Intelligencedata. However, it's still impressive when you consider that Zeltiq had a boost during the first quarter of last year by selling 80 CoolSculpting machines to Ideal Image in a one-time transaction.
The one-time sale a year earlier naturally weighed on hardware sales. System revenue clocked in at $24.7 million, less than the $26.2 million it scored a year earlier. However, revenue cycles shipped -- essentially the number of procedures performed, as Zeltiq gets paid with every treatment -- soared 48% to 307,418. This went on to translate into $39.8 million in consumable revenue, a 57% pop that accounted for all of Zeltiq's overall top-line growth.
Zeltiq shipped 256 of its CoolSculpting systems during the period, bringing its installed base to 4,890 fat cell-freezing machines. System revenue declined, but North American placements would've risen 50% absent the Ideal Image sale.
Zeltiq did post a wider deficit, but the loss isn't a surprise. Zeltiq has always posted a loss during the first quarter. Even now that Zeltiq has turned profitable, it's not a surprise that the only three quarterly deficits in the past nine quarters have taken place during the first quarters of 2014, 2015, and 2016.
Cooling down with CoolSculpting
We're still in the early stages. Zeltiq's system, originally intended to treat love handles, has now been cleared for flanks, thighs, and stomachs. The recent CoolMini applicator can now treat smaller areas, including performing facial aesthetics, starting with the treatment of double chins.
"Despite the fact that we have performed approximately 3 million treatments to date, we believe we remain in the early phases of developing this market, and believe that we are less than 1% penetrated in the global consumer market," CEO Mark Foley is quoted as saying in the earnings release.
Zeltiq is raising its top-line guidance, something it's done nearly every quarter since 2013. It is targeting $320 million to $325 million in revenue for all of 2016, up from the $315 million it was modeling three months ago. It does see gross margin of 70% to 71% -- down from February's goal of 72% -- as a result of increased costs in launching CoolAdvantage and warranty-related expenses.
The revised outlook for 2016 translates into 27% to 29% in revenue growth. That's a far cry from the better than 50% top-line growth that Zeltiq rang up in 2014 and 2015, but we've seen the company historically pad that forecast as the year wears on. Zeltiq isn't growing as quickly as it was in the recent past, but it's still moving in the right direction as it expands market acceptance.
The article Zeltiq Aesthetics Earnings: 3 Million Reasons to Like CoolSculpting originally appeared on Fool.com.
Rick Munarriz owns shares of Zeltiq Aesthetics. The Motley Fool recommends Zeltiq Aesthetics. Try any of our Foolish newsletter services free for 30 days. We Fools may not all hold the same opinions, but we all believe that considering a diverse range of insights makes us better investors. The Motley Fool has a disclosure policy.
Copyright 1995 - 2016 The Motley Fool, LLC. All rights reserved. The Motley Fool has a disclosure policy.